Nigeria Tech
Twitter Officially Launched Periscope
Twitter officially takes the wraps off its standalone video live-streaming app called Periscope. The app is already available for iOS and Android devices with as much as 100,000 users and the number is climbing really fast; this is of course due to the popularity of Twitter.
You will recall that Twitter bought the company in charge of Periscope about two weeks ago in other to compete with Meerkat, a recent video live-streaming app.
Although Meerkat and Periscope may perform the same function in that they allow for the broadcast of live video event to remote viewers via a smartphone however, there are little differences in both apps with Periscope having a slight edge over Meerkat.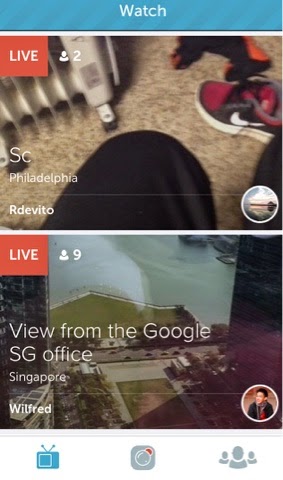 Periscope is very fluid and as far as live video streaming app go, Periscope is certainly the best.
Download Periscope for iOS and Android at their respective stores.
Like our Facebook page and follow us on Twitter for more smartphone gist.
-
Everything You Need To Know About Infinix Hottestone Cmpaign
Lately, a new campaign from Infinix Mobility have been visible on social media sites and in forums. Not so many people know about this campaign or what it actually means but as usual, we are here to shed more light on this. On the 29th of July, Infinix...
-
Samsung Galaxy S6 And S6 Edge: The Good And The Bad
So yeah finally, we have the Samsung Galaxy official specifications, images and all. Reactions are already flying from people's mind straight to different forums. In fact the number of chatter regarding the newly announced Samsung S6 and S6 edge on...
-
5 New Apps For Android That Are Completely Free
There are too many apps in the Google Play Store and it will be very impossible to keep abreast them all and yet new ones are constantly being added on a daily basis. However, we try to point your attention to good apps that may interest you. Here are...
-
Breaking, Saurik Releases Cydia Substrate Totally Compatible With Ios 7
The much expected compatible substrate for iOS 7 have finally being released by Saurik. Initially, we told you that Saurik didn't have the knowledge that Evad3rs was going to release a jailbreak for iOS 7 at the time it was released, thereby taking...
-
Why Bbm For Android Got Delayed
It was almost like we were been pawned by BlackBerry when a lot of us couldn't get the BlackBerry BBM app to download on the Google Play Store at the time it was supposed to be available and even hours after. However, according to BlackBerry, 1.1...
Nigeria Tech