Nigeria Tech
Breaking, Saurik Releases Cydia Substrate Totally Compatible With iOS 7
The much expected compatible substrate for iOS 7 have finally being released by Saurik.
Initially, we told you that Saurik didn't have the knowledge that Evad3rs was going to release a jailbreak for iOS 7 at the time it was released, thereby taking Saurik aka Jay Freeman off guard.
The immediate consequence of this was that Cydia which is a very important component of a jailbroken device was not totally compatible for use on iOS 7 especially in the substrate needed for fluid installation of certain Cydia tweaks.
This has caused issues and have not allowed the installation of certain apps and tweaks.
However, thank God for Saurik, a fully compatible version of the substrate for iOS 7 is now live and valuable for download from Cydia.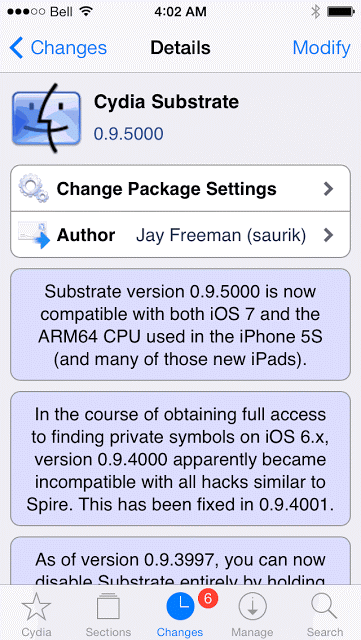 The Cydia Substrate which is now in version 0.9.5000 brings compatibility with iOS 7 and ARM64 CPUs used in iPhone 5S, iPad Air, and iPad mini 2.
It means that most tweaks can now function properly and effectively.
Head over to Cydia for the download. Allow Cydia to refresh and download necessary packages and then search for Cydia Substrate.
After download is complete, respring and you are good to go and yes, you get sbsettings straight.
Like our Facebook page and follow us on Twitter for more Apple iDevices news.
-
How To Jailbreak Your Apple Device On Ios 8 Quickly
The Pangu team have today released a new version of the Pangu Untethered Jailbreak tool. Today's release brings the Pangu tool to v1.2 and only still available for Windows PC, although you can still jailbreak if you are on a Mac computer. To jailbreak...
-
Evad3rs Releases Update For The Cydia Version Of Evasion 7
Evad3rs just released an update of the evasion 7 iOS untethered jailbreak tool to Cydia. The update which brings the Cydia package to version 0.2 seek to put some things in place and to also remove the Taig app store. The update is a version...
-
Shsh Blobs From Cydia Doesn't Allow Downgrade On Ios 6
iOS downgradeJust recently, Apple released iOS 6.1.3 and many people that loved their jailbroken devices blindly updated only to find out that it is impossible to jailbreak iOS 6.1.3.Desperately, many of sort to downgrade back to 6.1.2 or lower for those...
-
Appsync Now Ios6.1 Compatible And Stable
Since evasi0n jailbreak tool lauinch, it was said not less than 2 million hits have been recorded on Cydia. There are many reasons to jailbreak an iDevice and one of them is to install cracked apps with the help of AppSync. However, AppSync have caused...
-
Fix "no Service" Problem After Ultrasn0w Update & Evasi0n Jailbreak
Evasi0n untethered jailbreak of iOS 6 is still one of the best things that have happened in the jailbreak scene since iOS 5.1.1 jailbreak.While many have quickly jumped and grabbed on the oppurtunity to untether jailbreak their devices before Apple patches...
Nigeria Tech