The Phantom Pad mini is a 7 inch tablet with TFT screen having 256,000 colours and resolution of 800 x 1200 given you a PPI of 206.03.
Colours are sharp but not too vivid though in a sunny day.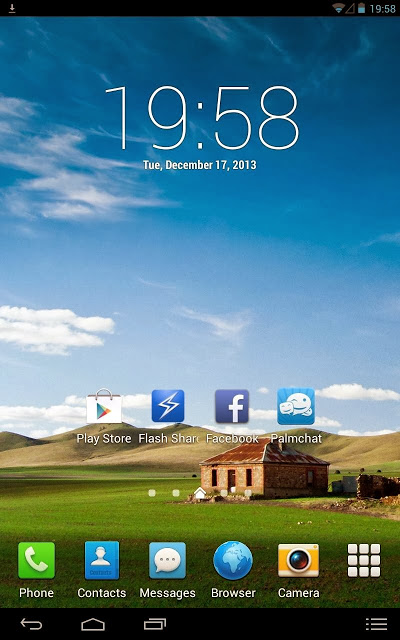 When using the device in a sunny day, you may need to increase the brightness completely so that you can beat the sun to it.
It comes with a single mini SIM which is actually ok for a lot of people.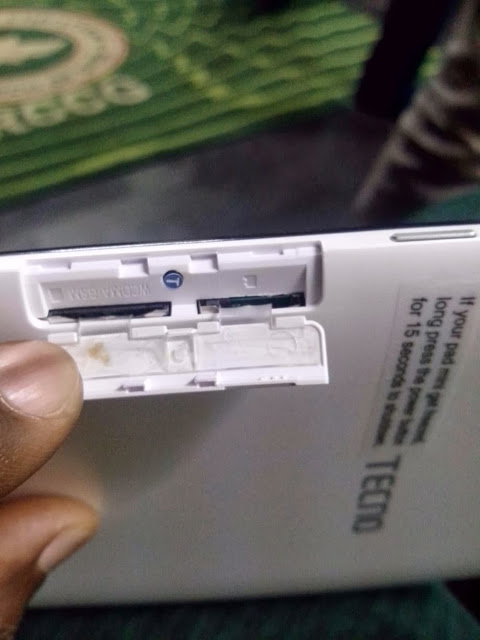 Operating System and Memory
Tecno Phantom P9 comes with our good friend Jelly Bean

4.2.2 and would be running smoothly with the help of the 1GB RAM chip on it and internal memory of 16GB.
The memory card slot can support 32GB of SD card. This would make operating system to be more fluid.
Processor
This mini pad comes with a
MediaTek MT8389

1.3GHz quad core cortex A7 processor and GPU
PowerVR? Series5XT. Although we know that processor can support up to 1.5GHz but the 1.3GHz on the pad will function just fine and will help battery usage consumption to be minimised too.
Connectivity
The P9 is a splendid device. It packs in WiFi, WiFi hotspot capability, USB port, AGPS and a Bluetooth 3.0.
MT8389 supports 3G HSPA+, 2G EDGE and WiFi versions, all of which are pin-to-pin compatible, allowing devices to connect well and we are happy that TECNO didn't restrain in giving the pad all the connectivity features the processor can muster.
Camera
One area that will believe Tecno opened their ears to the outcry of their customers is in the camera department.
Tecno Phantom pad mini comes with the same 5MP rear camera we saw in the Phantom Pad N9 but this time around, the P9 comes with a led flash light located just beside the back camera.
This should appeal to a lot of folks yearning for a flashlight on their tab. Now those pictures taken in low lit areas would be superb and cool.
Furthermore, the front camera comes with a 2MP camera to make video and Skype video calls a breeze. Videos can be recorded in 720p at 30fps, which is a good thing.
Battery and Performance
Battery is very important for any tablet and Tecno made sure that the Phantom pad mini get a good battery power. The pad mini comes with 4000mAh Li-Ion juice running inside it to make the device stay alive for 8hrs on talk and 500hrs on standby according to Tecno.
Sensors
The usual suspects like Gyro, Light and proximity sensors are present in the device. However, a new fellow was added to the herd and that is compass sensor.
Miscellaneous
The tablet comes pre-installed with Facebook, Whatsapp, Gmail, Calendar and a host of other apps to get you started.
Also, FM Radio, calendar, YouTube, image and document viewer are stationed in the device.
Finally, the usual audio and video codecs like MP4, MP3, AAC etc are supported by the phantom pad.
Price
As of right now, the price stands at N28,500 from Divine Anyi Communications, Ikeja, and around N30,000 at slot and Micro - Station.
As far as price goes, its not a bad one at all. This is just wonderful from Tecno releasing lovely devices like this at very minimal price.
Consider you wanting to buy a Samsung or Sony tab with such configurations above? You would shell out more money that is twice the amount of the P9 pad. So, we give Tecno a big knuckle on the price of the Tecno Phantom Pad mini .
Verdict
Its our believe that the Tecno pad mini aka P9 is a great device for those that want something that would serve them as a pad but still very handy. Tecno has made that happen with the minimalistic design and the price is pocket friendly.
However, we believe that Tecno didn't make full use of the processor equipped in the device. The processor can support up to 13MP camera, higher resolution and 1.5GHz speeds among other things.
But that is business, all the features can't be placed on one device. Wait for the next version of the phantom Pad and you would get something that would totally utilize that processor to its full strength.
Therefore, after careful thought, we decided to give the P9 a rating of 8/10 when compared to other pad devices in its price range.
What are your thoughts? Put them in the comments section for us to see.
Like our Facebook page and follow us on Twitter for more smartphone reviews.
Tecno just few days ago released yet a new smartphone to the market to cater for certain folks who probably don't like the Tecno F6. The new set of smartphones are known as Tecno P6 (Phantom A mini) and Tecno H3. However, we will be looking at the...
Tecno Phantom A III is the latest Tecno smartphone released to the market and also the next phablet to succeed the Phantom A II. Phantom AIII which has a model number of M9 is a great phablet that would appeal to a lot of folks out there, especially those...
Tecno Telecoms have released the latest version of the phablet line of devices. Few weeks ago, Tecno Phantom A2 aka F8 was released with specs and designs similar to the Samsung Galaxy Note series. Tecno Phantom A3 is a slight improvement over its predecessor,...
If you are wondering when Tecno will release yet a new device to the market, then I like to tell you that you should wonder less as there is a new Tecno smartphone in the market now with outstanding features and specs. This one is called Tecno M7 as shown...
Its no news that Tecno's Phantom A was a huge success when it was first launched, selling in volumes to the extend that the likes of MTN and Etisalat were also selling to customers. Capitalizing on the success of Tecno Phantom A, the guys at Tecno...