Nigeria Tech
New Tecno M7 Smartphone Specifications, Features and Price
If you are wondering when Tecno will release yet a new device to the market, then I like to tell you that you should wonder less as there is a new Tecno smartphone in the market now with outstanding features and specs. This one is called Tecno M7 as shown in the image below as it came directly from Hong Kong. Its very similar to Tecno Phantom A+ but the price is very low.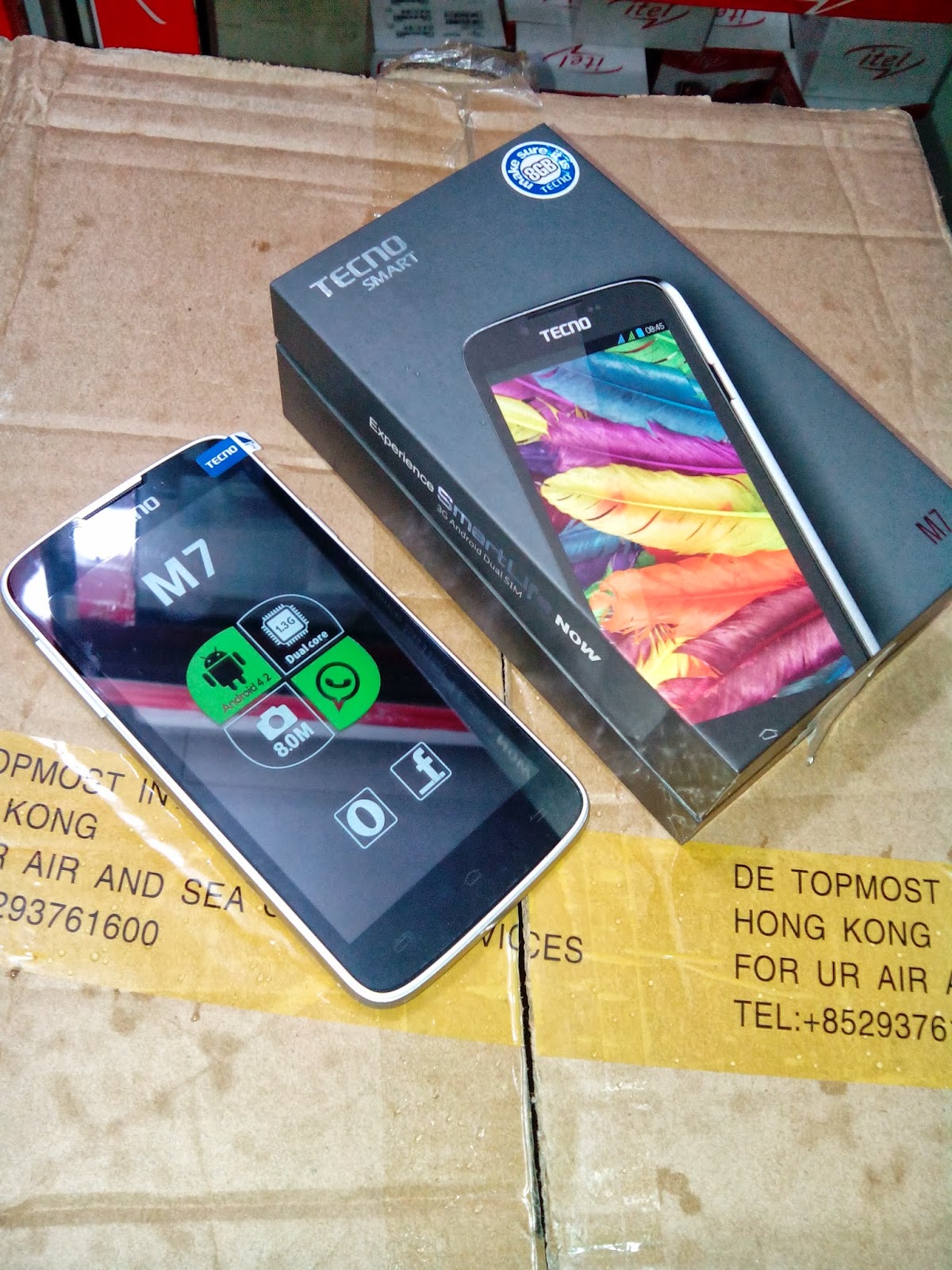 Let me quickly give you the specification and price of this new Tecno phone.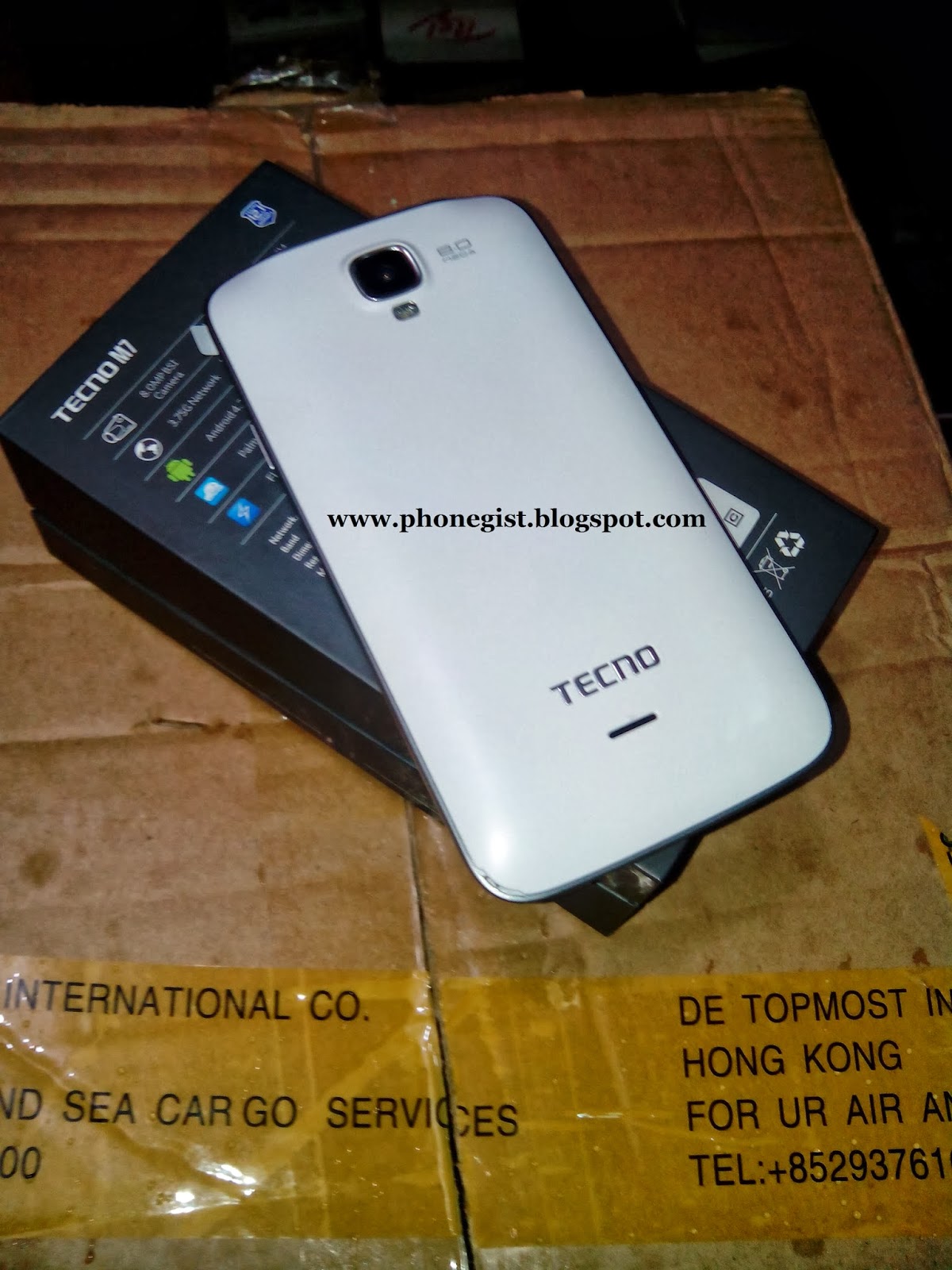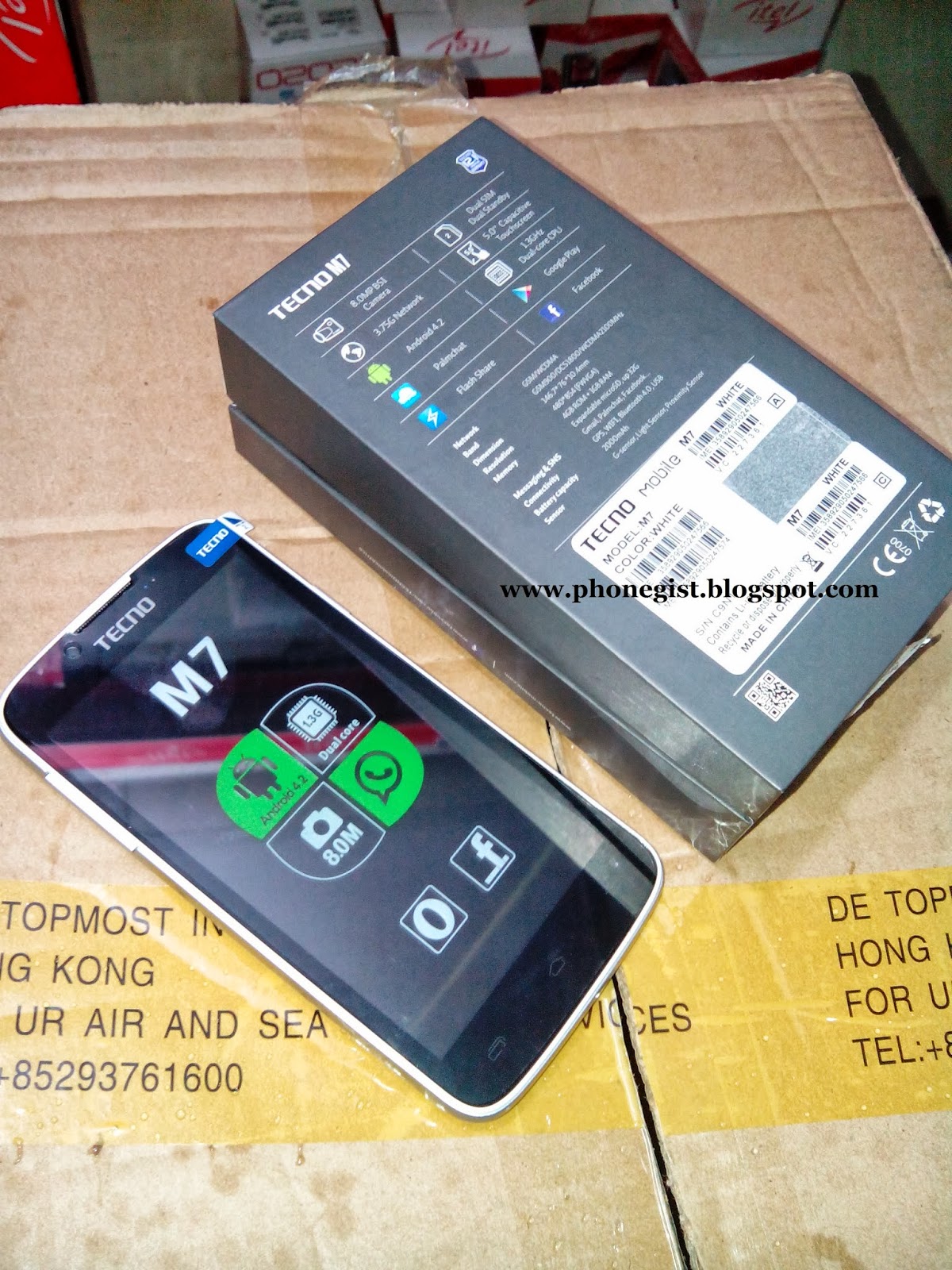 Tecno M7 has dimensions 146.7 x 76 x 10.4mm and weighs about 135g
Network and SIM
Tecno M7 is a 3G/2G network capable of transferring and receiving data at 3.75G network. Its a dual SIM smartphone with SIM 1 operating at both 2G and 3G while SIM 2 is operating just 2G network. Its band is GSM900/DCS1800/WCDMA2100MHz
Tecno M7 is operating on Android 4.2.1 Jelly Bean
Though i was expecting to see quad core in this area, but well, Tecno M7 comes with a dual core processor clocked at 1.3GHz
This device comes with 1GB of RAM and internal memory of 4GB and extra 8GB of MicroSD card already installed. Of course, it can support memory up to 32GB if need be.
Tecno M7 has a 5.0 inch capacitive touchscreen with a resolution of 480 x 854 (FWVGA).
This device is bagging a 8MP BSI back camera and a 2MP front VGA camera. It gives you a high quality image quality. As far as i can tell, it gives up to a resolution of 2448 x 3264px, which is at par with that of Tecno Phantom A+.
As usual, Tecno devices always comes with removable batteries and this is no exception. It comes with a 2000mAh battery that is removable.
It has WiFi, WiFi Hotspot, GPS, Bluetooth 4.0 and of yes a mini USB port to connect to computers.
The usual suspects are the ones we expect here without surprises and as you might have guessed, Proximity, Light and G sensors are all present in the device.
Apps like Gmail, Facebook, Whatsapp, Flash share, Palm chat are all pre-loaded into the phone.
As usual, it supports all popular audio and video files and can play even more with the help of various video and audio players when installed.
Inside The Pack
As you would expect, the packaging is exactly like the Tecno Phantom A. It comes with an earphone, USB cord, a flip case and a two pin adapter with a USB port.
One thing that blew my mind away was the price Tecno is offering this piece of smartphone. Its being sold for N26,000 at Divine Anyi communications computer village, Ikeja, Lagos as we speak. You can call Adom on 08060791362
Are you planning of getting this Tecno M7? Well, its not a bad idea at all, considering that its almost the same thing as Tecno Phantom A with even small price. Furthermore, its running Android 4.2.1 which is what Tecno Phantom A+ is currently running only that Tecno Phantom A+ is quad core and 1.2GHz.
Finally, its far better than the Tecno P5, M3 and L3 in terms of camera, RAM and Screen + Resolution.
Like our Facebook page and follow in Twitter for latest tech info
-
Tecno P6 Specifications And Images
Tecno just few days ago released yet a new smartphone to the market to cater for certain folks who probably don't like the Tecno F6. The new set of smartphones are known as Tecno P6 (Phantom A mini) and Tecno H3. However, we will be looking at the...
-
Tecno Phantom A3 Specification And Review
Tecno Telecoms have released the latest version of the phablet line of devices. Few weeks ago, Tecno Phantom A2 aka F8 was released with specs and designs similar to the Samsung Galaxy Note series. Tecno Phantom A3 is a slight improvement over its predecessor,...
-
Tecno S3 Specifications, Price And Opinion
Sometimes as a blogger you feel a little restraint in writing about a particular kind of phone especially if it disappoints. Tecno S3 was released recently and has you may have guessed, its a low end smartphone with the usual specifications that...
-
Tecno Phantom A Vs Tecno Phantom A+
Its no news that Tecno's Phantom A was a huge success when it was first launched, selling in volumes to the extend that the likes of MTN and Etisalat were also selling to customers. Capitalizing on the success of Tecno Phantom A, the guys at Tecno...
-
New Tecno Phantom A+ Smartphone
Here we are again, there is no end to the way smartphones are released these days. Tecno have released yet another Phantom device, this one is known as Tecno Phantom A+ and its not so different from its predecessor the Tecno Phantom A. The only...
Nigeria Tech