Nigeria Tech
Tecno Phantom A III Hands On Review
Tecno Phantom A III is the latest Tecno smartphone released to the market and also the next phablet to succeed the Phantom A II.
Phantom AIII which has a model number of M9 is a great phablet that would appeal to a lot of folks out there, especially those that fancy big screen and nice designs.
One thing we love is that TECNO have implemented a new packaging for the Tecno Phantom A III, giving it a more modern packaging, slim and wrapped with Nylon. This packaging gives you an added safety knowing that the device had not been peeked into before being sold.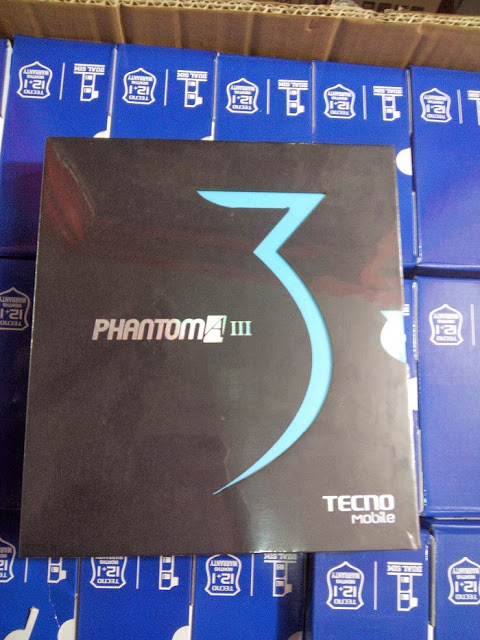 Once you removed the nylon, you can then proceed to removing the dark blue hollow pack and then the light blue pack which together with the dark hollow case gives the "3" insignia. Next, a transparent paper which has the image of the AIII would be removed then the device would be seen. Inside the phone you see the empty SIM, battery and Memory card compartment and a battery.
Tecno Phantom A III also known as Tecno M9 is the latest version of the phablet series manufactured by Tecno and the latest successor to the Phantom A II.
The dimensions of the M9 is 166.5 x 84.5 x8.4mm which shows that its slimmer, longer and wider than the Phantom A II (160 x 82 x 8.9mm).
It has a comfortable feel to the hand when its being held. The design of the plastic gives it a soft feel to the hand. As far as we can tell about the weight, it seems less heavy to the A II which is a good thing.
Also, the TECNO logo isn't splattered at the front side of the phone, only at the back would you see the name TECNO. Just at the base of the back side resides the external speaker of the phone.
Tecno Phantom A III is a dual SIM smartphone with Network 3.75G/3G/2G and bands GSM900/DCS1800/WCDMA2100MHz.
The dual SIM is inserted by opening up the back case, revealing the inside compartment and then inserting the Mini SIM card into the phone. The phone has a dual standby.
Tecno Phantom A III is a 6.0 inch capacitive IPS screen touchscreen phone. The screen is very responsive just as you might expect. It does not have a corning gorilla screen so scratches are almost unavoidable except with the help of a screen protector to avoid or minimising the scratch that could occur on the screen display.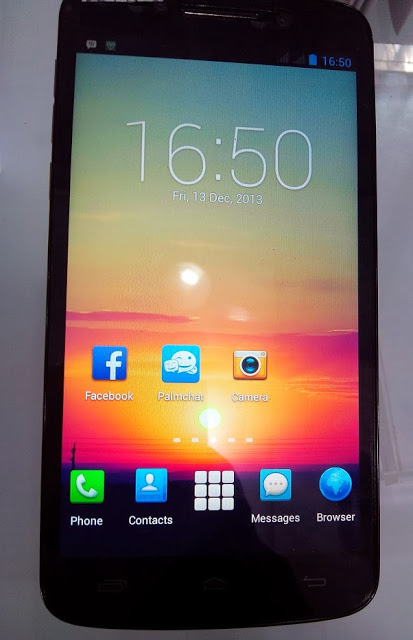 Resolution of the A III is 720 x 1280 which translates to 244.77 PPI which is not too bad though but could have been better. A newer version of a product is supposed to be better.
Operating system and Processor
Tecno Phantom A III comes with Android Jelly Bean 4.2 OS which is the norm for all 2013 Android phones manufactured by TECNO so there is no surprise in this department.
furthermore, its the same near stock Android version without any form of bloatware.
As far as processor goes, Tecno AIII is running a Quad - Core MediaTek MT6589T processor which is clocked at 1.5GHz. This is the latest and improved version of the MT6589 processor. It has a faster GPU clocked at 326MHz and would handle games and high graphic apps better than the MT6589 enabled Mediatek processor.
Consequently, as far as speed is concerned, it performed with great speed especially when playing dungeon hunter 4 on it.
The Tecno pahntom A III comes with 13.0MP AF Back camera with BSI sensor with LED flash. The front camera is 8.0MP AF front camera with BSI sensor. The camera is good and capable of bringing out good photographs.
The flash is located just below the camera and not by the side. The flash is strong enough and allows for clear pictures when taken in the dim or low lit place.
Memory and RAM
Tecno Phantom A III comes with internal memory of 16GB which is a nice upgrade compared to the 4GB one would find in the predecessor AII. However, this time around, a memory card isn't provided. One would have to buy a memory card to insert into the memory card slot. The phone can support memory card storage up to 32GB for that extra space.
RAM stands at 1GB. Its not necessary to comment further on the RAM as we already know that all Tecno products will be 1GB RAM as far as the year 2013 goes.
Tecno AIII comes with Bluetooth 4.0, WiFi, WiFi Hotspot capabilities, GPS, 3.5mm earphone port and a USB port for connecting to the computer.
The usual suspects in this department are Light, Proximity and Gyro sensors. No surprises.
Battery Capacity and Performance
Tecno Phantom A III comes with 2600mAh battery capacity which can last according to Tecno 8 hours on 3G browsing. That would be tested by constant everyday usage by users. However, we believe that the Tecno Phantom A III can perform as it should.
Miscellenous
FM Radio, Gmail, Facebook, BBM, Palmchat and Whatsapp are pre installed on this device. Also other functions which you would find on most tecno smartphones are present.
Finally on this point, you get a free power bank and a pouch when you get this phablet phone and everyone is happy.
Price
The Tecno A III comes in two colours, Black and White and can be bought from Micro Station store for N49,800, Slot for about the same price and Divine Anyi for about N45,000.
Personal Opinion
We think the Tecno Phantom A III aka M9 is a great phone for those lovers of phablets out there.
On a scale of 1 - 10, we would rate the Tecno Phantom A III 7/10.
If you are looking for a phablet device to serve you, the Tecno Phantom A III should be among the options.
Like our Facebook page and follow us on Twitter for more smartphone news.

Please do not copy the content of this article outrightly, its not fair. If you must do, make a reference to do original using a link.
-
Tecno P6 Specifications And Images
Tecno just few days ago released yet a new smartphone to the market to cater for certain folks who probably don't like the Tecno F6. The new set of smartphones are known as Tecno P6 (Phantom A mini) and Tecno H3. However, we will be looking at the...
-
New Tecno Phantom Pad Ii Specifications And Price
Finally, Tecno have released the Tecno Phantom pad II aka Tecno G9. This is now the elder brother to the Phantom Pad P9 that was released in December last year. For the purpose of clarity, we shall refer to this new Tecno phantom pad II as Tecno...
-
Tecno D9 Versus Tecno M9 Comparison
Do you think that Tecno D9 is just a version of the AIII ? Or do you think the extra cash expended on the AIII is worth it? Lets find out. Tecno D9 is the latest smartphone in the phablet series that is in the medium end range. A lot of folks love it...
-
New Tecno M7 Smartphone Specifications, Features And Price
If you are wondering when Tecno will release yet a new device to the market, then I like to tell you that you should wonder less as there is a new Tecno smartphone in the market now with outstanding features and specs. This one is called Tecno M7 as shown...
-
Tecno Phantom A Vs Tecno Phantom A+
Its no news that Tecno's Phantom A was a huge success when it was first launched, selling in volumes to the extend that the likes of MTN and Etisalat were also selling to customers. Capitalizing on the success of Tecno Phantom A, the guys at Tecno...
Nigeria Tech