Nigeria Tech
Tecno D9 Smartphone Detailed Hands-On Review
Tecno is presently a force to be reckoned with in the Nigerian smartphone industry with the consistency at which their budget friendly products are being released.
One of the newly released products is the Tecno D9 smartphone which was released few weeks ago. The D series is a medium end smartphone from Tecno with large screens that is supposed to appeal to those with tight budget but still want to have a taste of high end smartphone.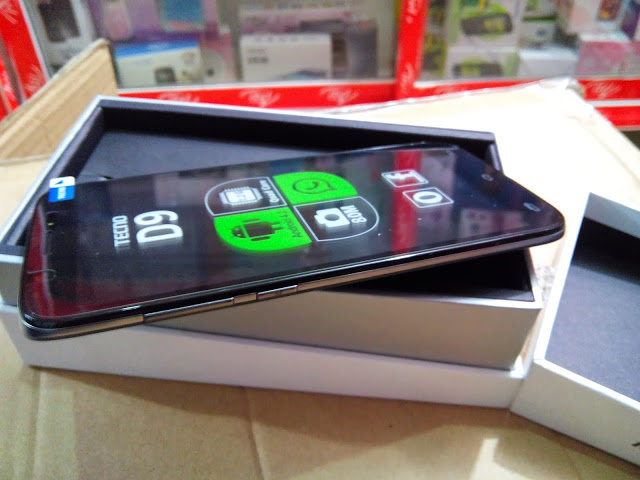 Well, Tecno went all out this time around, trying to satisfy the "D" series lovers and we are about to give you a good detailed review after the break.
Tecno D9 is a well built device with very stylish modern finish. Holding it on your hand alone, you would know that Tecno didn't rush things when it was being manufactured. Although, it comes in two different colours (black and white) we had the privilege of handling and toying with the black version of the D9.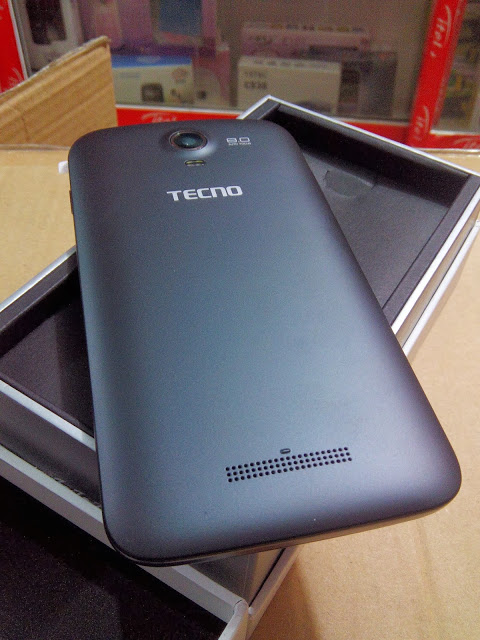 At the top side of the device sits the USB connector and a 35mm earphone port. At the base of the phone, at the back side, you would see the loudspeakers with a mesh kind of opening to allow for a good and audible sound and also the microphone sits quietly and tiny just at the flip side.
Still at the top-back side of the D9 smartphone you would see the more than capable rear camera and a flash light located just below the camera.
Now, moving to the sides of this lively phone, you would notice a dedicated camera button sitting just below the Volume-Down button. This is a good thing as it makes it super fast for those camera loving people to quickly evoke the camera app and start taking pictures within seconds. At the opposite side of the phone, you would see the power button all alone and ready to swing into action anytime is services are needed.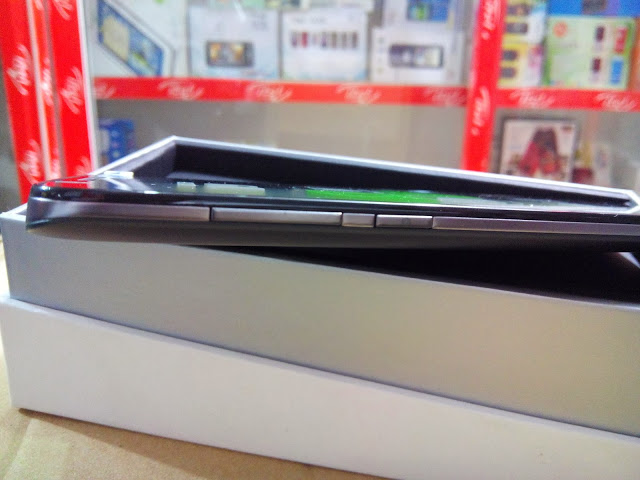 At the top-front side of the D9, you would notice the front facing camera and the slightly large speaker allowing for clear communication and immediately on the left of the speaker sits the front facing camera and sensors on the right side of the speaker.
The Tecno D9 smartphone is a dual SIM smartphone with SIM 1 capable of using both 3.75G, 3G and 2G networks and the SIM 2 using just the 2G technology. The bands supported are GSM900/DSC1800/WCDMA2100MHZ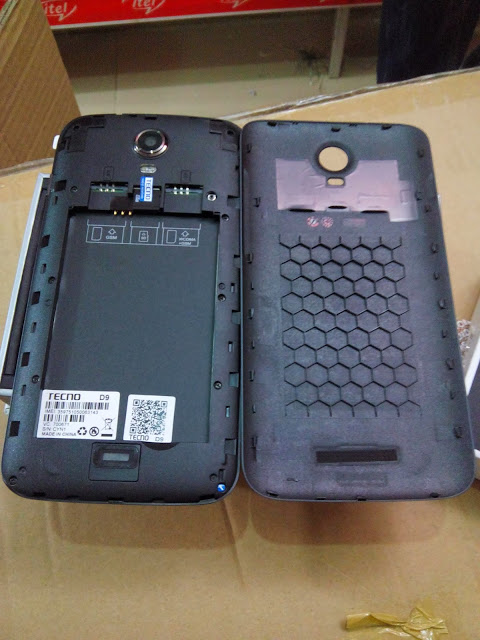 Both SIMs are inserted into the device by removing the battery and then inserting SIM 1 to the right and SIM 2 to the left, both ports are separated by the memory card slot as shown in the image above.
The Tecno D9 is having dimensions 165 x 84.2 x 10.4 mm. Its thicker, wider and longer than the Tecno Phantom AIII even though they are both 6" in screen size.
Tecno D9 comes with a 6.0" IPS touchscreen and a resolution of 540 x 960, that is roughly 184 PPI and 250,000 colours. While the screen resolution may not be like much, it would be okay to say that it would serve as intended since is a medium budget to start with.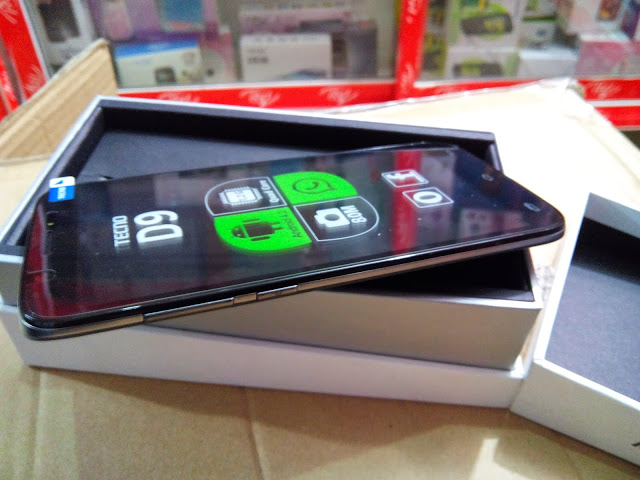 Tecno D9 comes equipped with a quad core 1.2GHz processor capable of making things run as smooth as possible. The processor is further assisted by a 1GB RAM to make all those applications to be well catered for. Although the predecessor, D7, came with a 1.3GHz processor, the D9 triumphs in the number of cores it has. Consequently, it is expected to handle tasks more efficiently than its predecessor.
It was particularly amazing how the HTML 5 enabled browser performed in opening web pages especially when the desktop view was requested. It was really rendered well.
Operating System and Storage Space
Android Jelly Bean 4.2.2 has always been the most favoured Android version for most Tecno devices for this year and that has not changed. Tecno D9 comes with Jelly Bean 4.2.2 as expected.
Internal memory stands at 4GB in which about on 3.75GB is available for use. However, do not fret as the device comes with an SD card slot already pre-installed with 8GB but can support up to 32GB if need be.
Connectivity and Sensors
Surprises? No. We are left with the usual suspects. If you are expecting an HDMI ports or something grand, sorry. What we have is the usual USB port, 3.5mm earphone port, WiFi, WiFi Hotspot, Bluetooth 3.0, GPS and AGPS.
Also, the sensors you would find in the device are the Light, Gyro and Proximity sensor. No new surprises, no compass or barometer. Lets leave that with Samsung and their overkill.
With pleasure, Tecno inserts a 8.0MP rear camera into the Tecno D9 smartphone and improvement over the D7. The camera is sharp as far as we can tell. We notice that image size can be up to 6mb and can have at least 2448 x3268px. It has the usual editing features and an ability to either enable location information into the image. The flash light is super and it helps photos taken in low light to be vivid.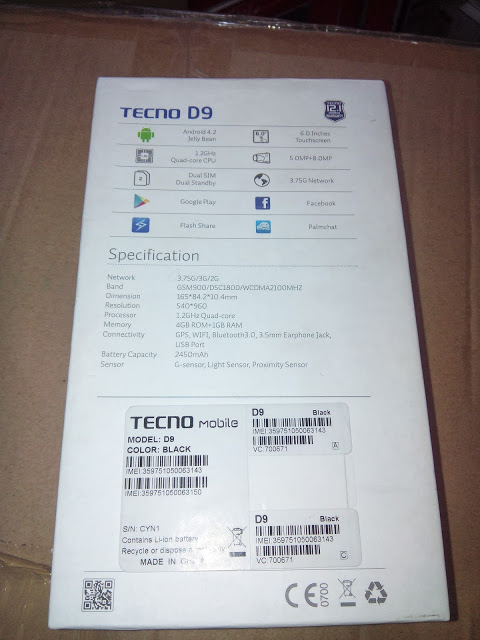 The front camera stands at 5.0MP which is also an improvement of the D7 which was just 2MP. The camera is sharp and takes good quality images when used.
Battery for this wonderful device is 2450mAh which is able to keep things going for the duration it can last. There is no way to actually ascertain the strength of the battery just by a using it for few minutes but we believe that it would perform as intended.
Yes we did it, we peered into the pack of the phone and we saw a large battery, earphone, earphone buds and a charger. Also, buying the phone gives you a flip case.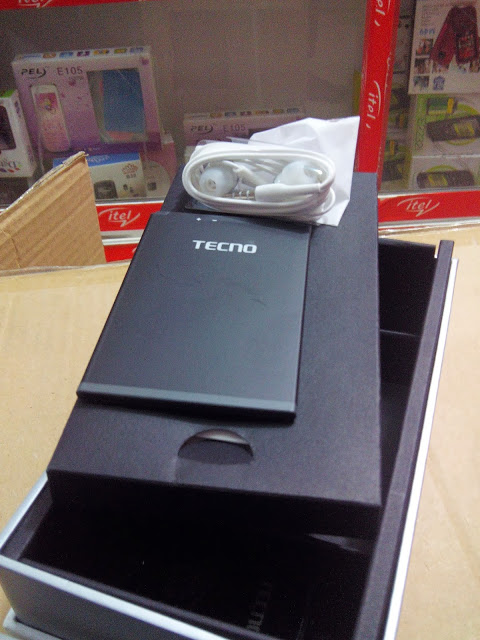 The phone has a FM Radio and apps like Google Play Store, Facebook, Palmchat, Flashshare, BBM, Whatsapp, Bible, Opera browser and other utility apps like Calendar, Calculator etc. Popular audio and video codecs like MP4, MP3, Divx, Avi, AAC etc are supported.
This is the one that people are always very interested in. Without much further ado, Tecno D9 is currently being sold for 35 -38k in Naira depending on the store. You can get it for 35k from Divine Anyi Communication Computer Village Ikeja. they are Tecno distributors so their devices are always cheap.
We believe that the Tecno D9 is a great piece of device and a worthy successor to the D7. It out performs the D7 in all areas and of course its reflected in the price too.
If you are in for a phablet device but don't have enough to shell out for the Tecno Phantom A III which currently cost about N49,000, the Tecno D9 is a good one and costs far less.
Like our Facebook page and follow us on Twitter as we give you comparison between D9 and AIII.
Please do not copy the content of this article outrightly, its not fair. If you must do, make a reference to do original using a link.
-
New Tecno Phantom Pad Ii Specifications And Price
Finally, Tecno have released the Tecno Phantom pad II aka Tecno G9. This is now the elder brother to the Phantom Pad P9 that was released in December last year. For the purpose of clarity, we shall refer to this new Tecno phantom pad II as Tecno...
-
Tecno Phantom A Iii Hands On Review
Tecno Phantom A III is the latest Tecno smartphone released to the market and also the next phablet to succeed the Phantom A II. Phantom AIII which has a model number of M9 is a great phablet that would appeal to a lot of folks out there, especially those...
-
Tecno Phantom A3 Specification And Review
Tecno Telecoms have released the latest version of the phablet line of devices. Few weeks ago, Tecno Phantom A2 aka F8 was released with specs and designs similar to the Samsung Galaxy Note series. Tecno Phantom A3 is a slight improvement over its predecessor,...
-
Tecno M5 Hands On Detailed Review
TECNO M5 is the latest addition to the "M" series of medium end smartphone. Its one of the smartphones that a lot of people have been waiting for and finally it dropped last week. Well, we have had the opportunity to lay our hands on one, both black...
-
New Tecno M7 Smartphone Specifications, Features And Price
If you are wondering when Tecno will release yet a new device to the market, then I like to tell you that you should wonder less as there is a new Tecno smartphone in the market now with outstanding features and specs. This one is called Tecno M7 as shown...
Nigeria Tech