Nigeria Tech
Tecno M5 Hands On Detailed Review
TECNO M5 is the latest addition to the "M" series of medium end smartphone. Its one of the smartphones that a lot of people have been waiting for and finally it dropped last week.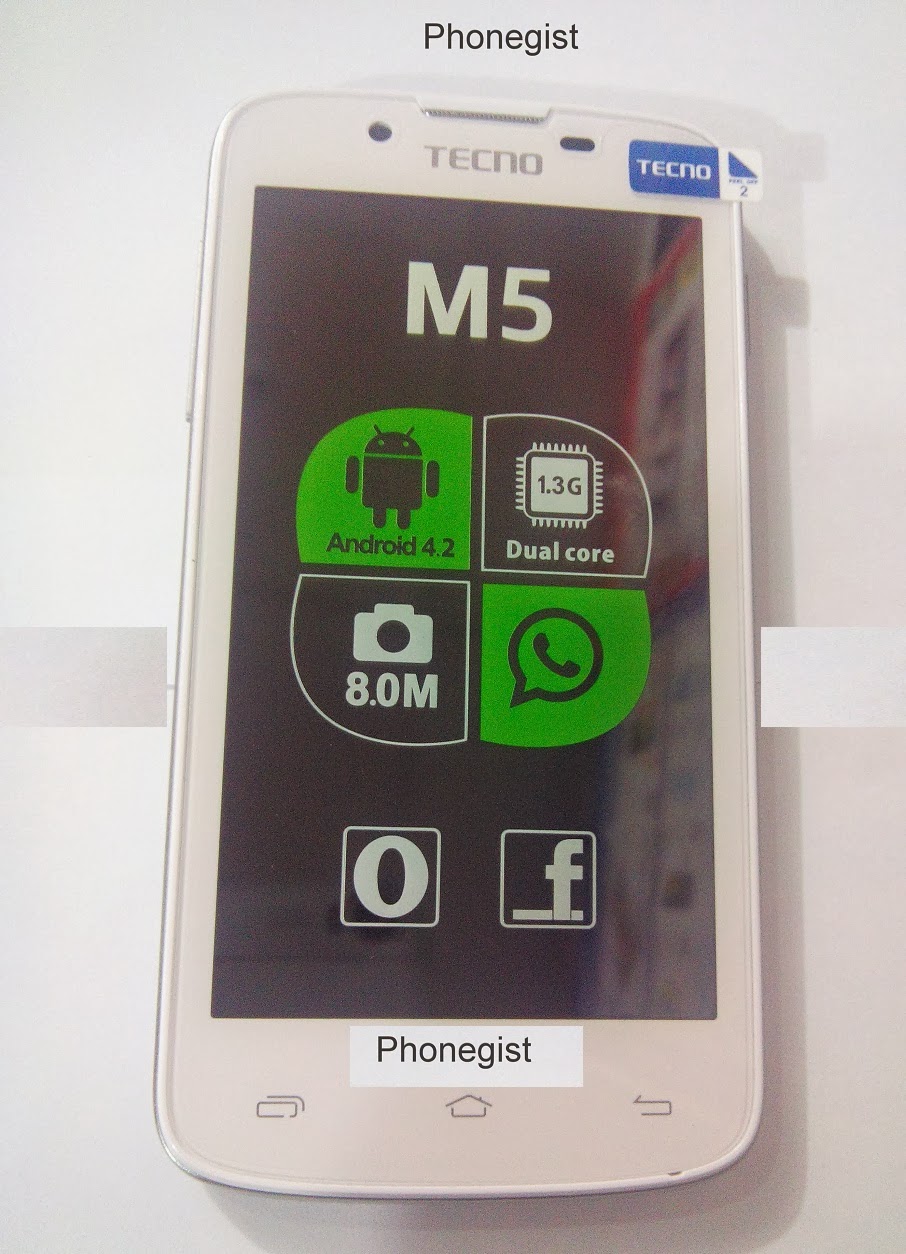 Well, we have had the opportunity to lay our hands on one, both black and white colour and we will be giving you a good hands on review of what we saw after the break.
Dimensions, Weight and Contents
TECNO M5 is a medium range phone with dimensions 135.6 x 68.3 x 10.5 mm which makes it a very handy and as slim as the M7. It has a fairly curve body which helps in giving a nice grip when holding the phone. The M5 is weighing almost the same as the M7.
On first buy, you get a flip case and the contents in the pack are battery, charging kit, earpiece and manuals.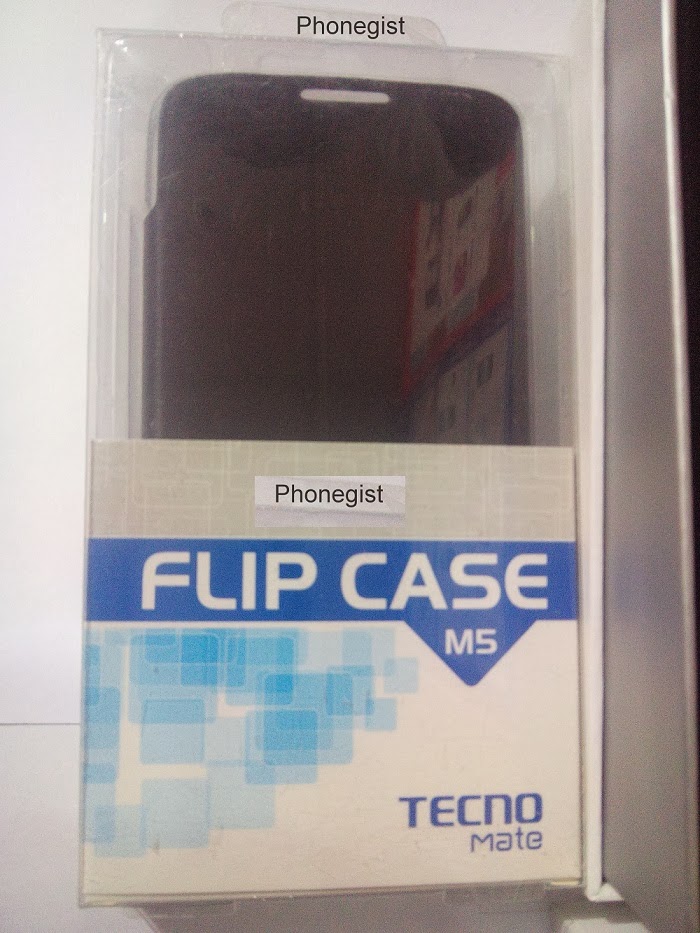 As usual, the volume keys are at the top left side of the phone while the power button is situated at the opposite side of the Volume keys. Loud speaker is situated at the bottom back side of the phone with a small aperture to convey its sounds.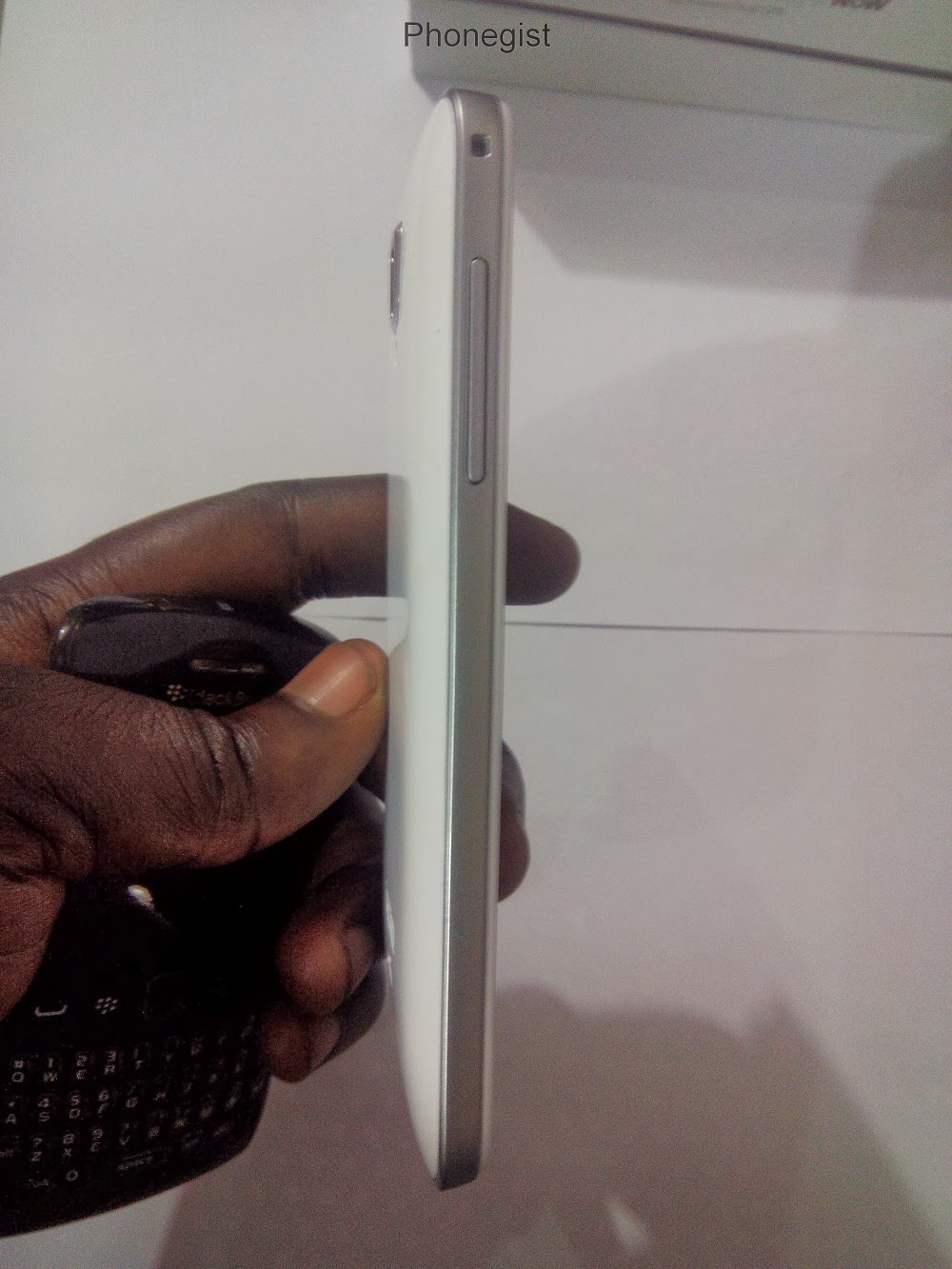 At the top of the device, you would find the USB port and a 3.5mm earphone port with a small distance apart. Furthermore, the back side of the phone is carry a 8MP camera with the powerful flashlight just immediately below the camera for a night time shot.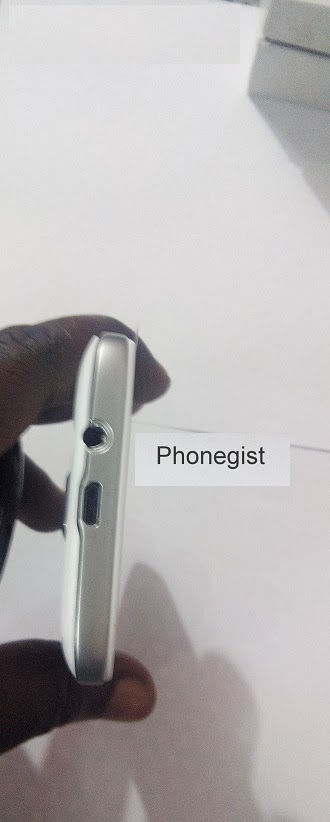 TECNO M5 is a dual SIM smartphone with both SIMs at standby just like its predecessors before it. It uses normal macro SIMs which can be inserted into the phone by opening the battery cover to reveal the SIM compartments and also the 8GB installed memory card.
Network Bands are GSM900/DCS1800/WCDMA2100 and can transfer data with the 3.75G network since its a 3G supported smartphone.
SIM 1 can connect using the 3G/2G network while the SIM 2 is allowed to connect using 2G network alone.
Camera, Display and Resolution
TECNO M5 is spotting a 8.0MP back camera and a 1.3MP front camera capable of taking very nice shots. Also at night, good quality pictures can be taken with the help of the flash light located just below the camera. One thing though is that sometimes, the flashlight light get picked up by the lens and therefore in bright day, the image can appear brighter than normal.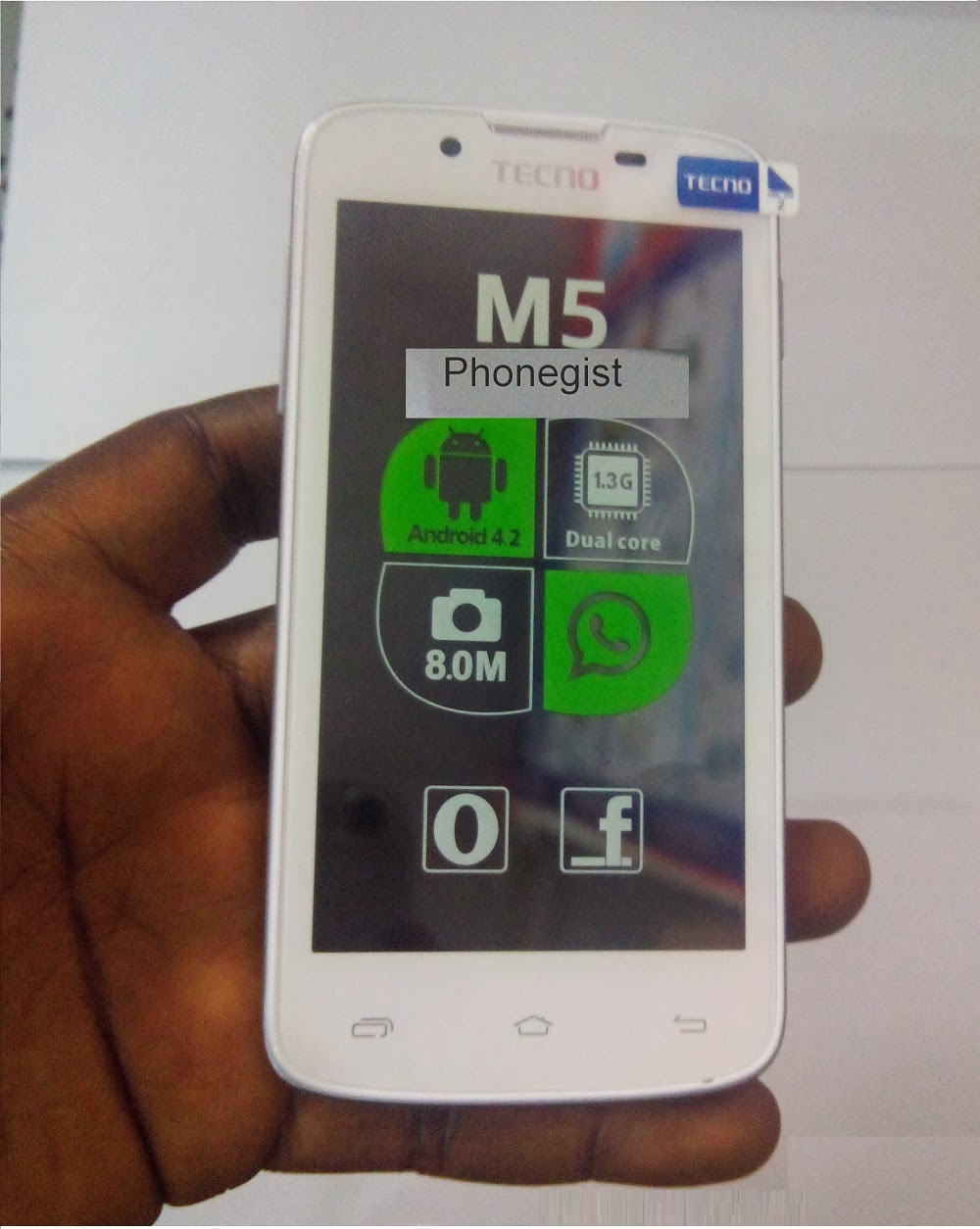 Once those beautiful pictures are taken on the TECNO M5, they can be viewed on the display with good clarity, thanks for the resolution of the device which is 480 x 854. The resolution is further help by the fact that the screen is a 4.5 inch capacitive touchscreen display.
The front camera is good for video calls and Skype calls even though its just 1.3MP
Operating System and Processor
TECNO M5 comes with Jelly Bean 4.2 android which is then powered by 1.3GHz dual - core Mediatek processor.
For a medium end phone one could say that the processor speed and type is fairly good and should handle things well.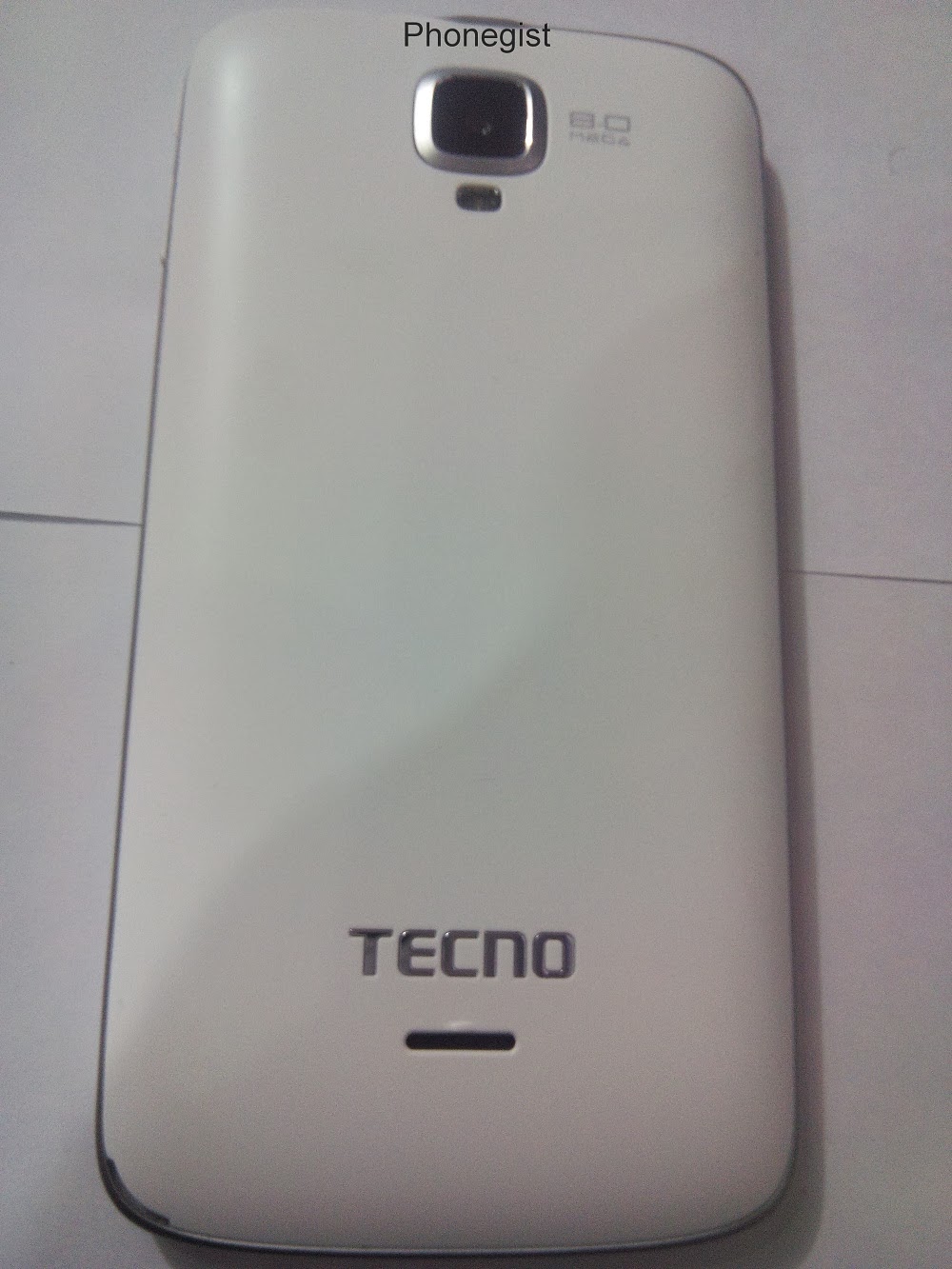 Memory and RAM
TECNO M5 comes with an internal memory of 4GB and an 8GB SD card pre-installed into the memory slot. The phone can support up to 32GB memory if you are so keen to increase the memory space.
This is obviously one of the things that would appeal to a lot of people; that is, being able to increase memory space of their device.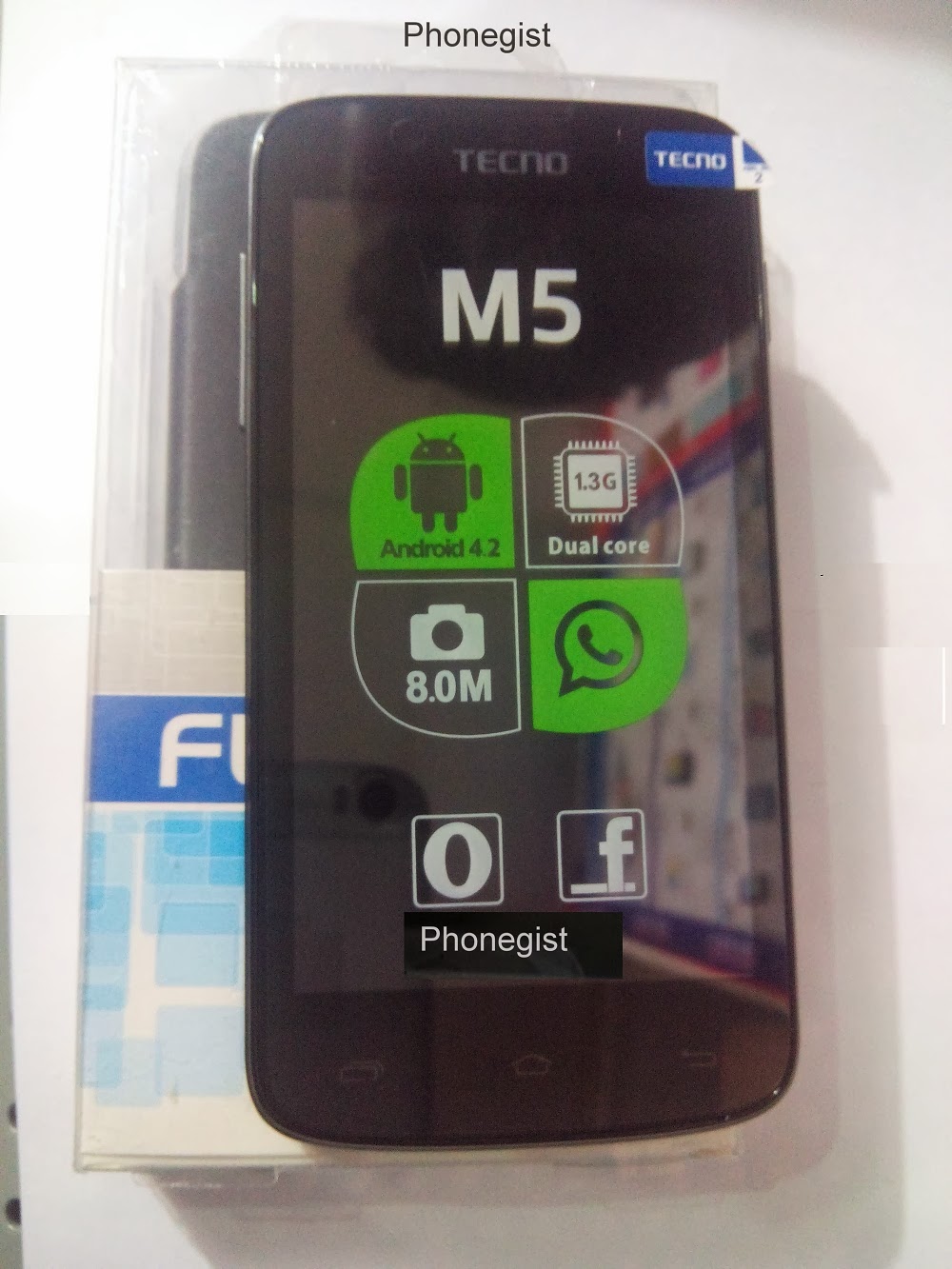 Furthermore, TECNO M5 comes with a 1GB RAM to keep everyone happy. 1GB RAM is good enough to handle things well, besides, its a medium end smartphone.
TECNO M5 comes witha 1800mAh removable battery that can last you for hours when using the device. Another plus is that its removable which will of course appeal to a lot of folks out there.
TECNO M5 has Gyro, Light and Proximity sensors, which are the norm in most smartphones today. Also, Bluetooth 4.0, AGPS, GPS, WiFi and WiFi Hotspot are connectivity features of this device.
No NFC chip though.
Price tag for the TECNO M5 starts at N23,000 for most of the stores that I have seen (Divine Anyi Communications, you can order yours by calling the number: 08060791362).
However, there are words that Tecno is offering it for N18,000. Am yet to see anyone buy for that price though.
By default, Whatsapp, YouTube, Gmail, Facebook, Calendar and Flashshare are pre-installed into the phone. Other applications like Google+ etc are also included but not installed.
Other features include FM Radio, documents viewer, SNS integration, popular audio and video codecs are supported.
What We Think
We think the Tecno M5 make a pretty good medium end phone. The specifications are well balanced and well suited to the tasks its suppose to perform.
However, on the price tag side of things, we expected a more reduced price than what is being offered out there.
Tecno M7 is still very new and the M5 is almost at par with the price tag of the M7.
Aside this, its believed that M5 isn't too bad a device and those that would want a piece of it can get it and should love it.
What are your thoughts regarding the Tecno M5? lets hear it
Like our Facebook page and follow us on Twitter for more timely info on smartphone releases.
-
New Tecno R5 Specifications And Features
You know there are times when all major smartphone producers just produce something because they can't afford not to have anything new in the market? Mostly Samsung is guilty of this, the good thing is that, money comes in and that is what counts....
-
Tecno M6 Specifications And Features
Tecno is currently on a phone releasing spree and even though the phones are sometimes alike in terms of physical form there are some differences in terms designs and specifications. For example the placement of the back camera may be top-right or top-center. ...
-
Tecno D9 Smartphone Detailed Hands-on Review
Tecno is presently a force to be reckoned with in the Nigerian smartphone industry with the consistency at which their budget friendly products are being released. One of the newly released products is the Tecno D9 smartphone which was released few weeks...
-
New Tecno M7 Smartphone Specifications, Features And Price
If you are wondering when Tecno will release yet a new device to the market, then I like to tell you that you should wonder less as there is a new Tecno smartphone in the market now with outstanding features and specs. This one is called Tecno M7 as shown...
-
Tecno P5 Now Available: Specifications
The much anticipated Tecno P5 smartphone have finally being released. Of course, the "5" designated Tecno devices are medium end phones for those with low budget it's expected to have medium to basic features and specifications and this...
Nigeria Tech