Nigeria Tech
Samsung Galaxy Note 4 -10 important things to know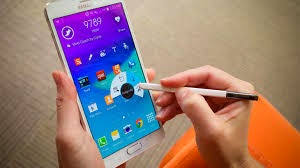 The Galaxy Note 4 is one of Samsung's boldest and most beautiful device yet, and it's put a ton of work behind making this device a great piece of technology. There's a brand new aluminum frame that looks and feels fantastic, as well as a new QHD screen that you can't stop staring at. And that's all backed up by a new processor, more memory and of course Samsung's software offerings that give you everything but the kitchen sink.
To help get you started on understanding it all, we've compiled a list of the top 10 things you need to know about the Galaxy Note 4. Whether you're on the fence about picking one up, already have one on the way or are just curious about the phone. Read long for the full list.

1. It is made out of metal
Samsung Galaxy Note 4 has a metal frame. It's made out of aluminum and magnesium, actually, and wraps around the entire outside of the device. It gives the Note 4 improved rigidity, but most importantly for many of us improved feel that just can't be rivaled by plastic phones of previous years. The chamfered edges are definitely more prone to scratching than the hard plastic ones of previous versions ? they look beautiful.

2. The back plate is still removable, and you can add an SDcard
Even though a big portion of the Note 4 is metal, the back plate is still plastic and can be removed just like you know and love from previous Samsung phones. That gives you access to the Micro SIM, MicroSD card and removable battery, naturally. That SD card slot will accept a card up to 128GB in size, if for some reason the 32GB internal storage isn't enough.

3. Optical Image Stabilization helps your shaky hands when taking photos

The Note 4 fixes one of the biggest pain points of the Galaxy S5's camera by including Optical Image Stabilization (OIS). This great little feature helps stabilize the camera inside the phone, reducing motion blur in low light photos and videos.
The OIS is immediately noticeable in low light photos, helping the Note 4 properly expose scenes without getting a bunch of grain and blur from your shaky hands involved. OIS isn't a one-stop fix, though, and Samsung still has some work to do on the sensor and software to improve it further.
OIS is still a very welcomed feature for video recording, helping smooth out video shots when you're panning or walking with the Note 4 handheld rather than in a tripod. And when you're shooting UHD video with no software stabilization available, having the hardware stabilization makes all the difference.

4. Software features can help you deal with the huge size

The Note 4 is still a really big phone, despite actually being a touch narrower than the Note 3. With a 5.7-inch display there are few people in the world who have hands big enough to reach across the screen, but Samsung has included a few software features to help you out.
Under the "One-handed operation" area of the settings, you can turn on features that let you reduce the size of the entire screen for one-handed use, as well as options to slide the keyboard and lock screen over to one side or the other. You can also turn on a "Side key panel" that gives you access to the Home, Back and Recents buttons in soft keys on the side of the device.
It doesn't make the Note 4 any smaller, but it does help bridge the gap and let you use your phone a bit when you only have one hand free.

5. Adaptive Fast Charging gives the battery a quick boost in 30 minutes

The Note 4 supports both Samsung's own Adaptive Fast Charging and Qualcomm's Quick Charge technology so it can be powered up quickly from a compatible wall charger. Samsung claims that the Note 4 can receive up to a 50 percent charge in just 30 minutes with the right charger, and we found that to be roughly the case depending on how much you use the phone while it's charging.
You'll notice an "Adaptive Quick Charging" logo on the charger in the box, and its special output at 9V / 1.67A will give you those crazy fast charging times. If you opt to go with a standard high-output charger ? such as a 5V / 2A one from a tablet ? you'll see improved, but a bit slower charge times.
Samsung's Adaptive Fast Charging is great if you need a quick boost to fill up that 3220mAh battery before you head out for a long day (or night), and more than enough reason to keep Samsung's own charger handy

6. The S Pen is still powerful, if you're the type of person who needs to write

Samsung may not have changed the S Pen dramatically coming from the Note 3, but we'd argue it didn't have a whole lot to improve. The S Pen is now ribbed to make it easier to grip, and has a single button still, but it's the software that has seen the biggest improvements.
Air Command is much the same, but all of the apps it launches into ? including Action Memo and S Note ? have received design refreshes and small usability improvements. Action Memo notes can be saved to your home screen as a widget, and S Note is cleaner and easier to navigate.

7. You can take "panorama selfies" for a wide-angle shot

At this point we're sad to say that selfies are actually a "thing" for many people. If you're the selfie type, you can rest assured the Note 4 has you covered with features that help you indulge. The 3.7MP front-facing camera actually takes really good photos, but the big new feature is a "panorama selfie" mode that lets you take a super wide-angle shot.
Switch to the front-facing camera and turn on the panorama selfie mode. You'll then press the shutter key once and sweep back and forth ? the software will stitch together the pictures and give you a single, wide-angle shot to fit in extra amounts of background or a big group of people. Selfies can be awkward, but with this mode at least they'll be composed nicely.

8. Multi Window is a little hidden, but it's even easier to activate once you know where to look

Multi Window is a huge draw for those who pick up the Note 4 with its 5.7-inch display, and it's easier to launch into now. When you open up the Recents (multitasking) menu you'll now see an icon on every compatible Multi Window app's card that lets you launch right into Multi Window with that app in the top.
You can also now long press the back button to pull up a familiar sidebar and drag in two apps to run side-by-side. In either case it's a step quicker than the old method of having a little tab on the side of your screen, and now you don't have to have it getting in your way when you're not using it.

9. Playback times can get out of hand when recording slow motion video

With 1/2, 1/4 and 1/8 speed slow motion video and OIS the Note 4 can take some great video at super low speeds, but when you shoot this way you need to be mindful of the recording times. If you take a 20 second video of flowers blowing in the wind at 1/8 speed, that's a 2.6 minute video ? and nobody really wants to watch over two minutes of flowers blowing in the wind.
When shooting in slow motion, be sure to mind the recording times and keep them short, lest you bore all of your friends with your slow motion shots.

10. This is the same Heart Rate Monitor and Finger Sensor as the Galaxy S5

Samsung really hasn't made the biggest deal out of the inclusion of a finger sensor and heart rate monitor on the Note 4. They're the same parts in the same places ? heart rate monitor on the back under the camera, finger sensor in the home button ? backed up with the same software as the Galaxy S5, and that's probably why.
If you're looking for regular (at least daily) heart rate monitoring to keep track of your health in the S Health app that sensor will likely be somewhat useful, but as far as the finger sensor in the home button goes you probably won't find a ton of need. Considering the large size of the Note 4 it's quite difficult to swipe on the home button properly to unlock, and aside from PayPal authentication there's not much else you can do with it. Sure, they're there, but there's not much to write home about.

For all full details and images visit http://www.androidcentral.com/10-things-know-about-samsung-galaxy-note-4?nopaging=1



-

Samsung Galaxy S6 And S6 Edge: The Good And The Bad

So yeah finally, we have the Samsung Galaxy official specifications, images and all. Reactions are already flying from people's mind straight to different forums. In fact the number of chatter regarding the newly announced Samsung S6 and S6 edge on...

-

Samsung Galaxy Note 4 Specifications And Images

Samsung is not just one of the world's largest producer of smartphones, phablets and tablets but also a giant when it comes to the technology that is found in her devices. One of such technology advancement is being able to use the new Samsung Galaxy...

-

Samsung Galaxy Note 10.1 2014 Edition Specs & Features

Samsung is giving its latest Galaxy Note series a stylish and hardware specs makeover with soft, leather-like back. It feels like you're holding a fancy leather-bound journal. The 2014 edition Samsung Galaxy Note 10.1 is a hell of a tablet....

-

List Of Expected Smartphones Of 2015 (top 7)

Technology keeps advancing each day and there are a host of smartphone makers with a number of devices aimed at improving technology. No doubt, advancement and innovation will keep coming year in, year out. A lot of innovations were witnessed in 2014...

-

Top 3 Android Phones Of 2014

TOP 3 ANDROID PHONES OF 2014 No 1 SAMSUNG GALAXY NOTE 4 The Samsung Galaxy Note 4 has an ultra-sharp display, an excellent camera and a stylus that provides a top-notch handwriting experience.The Galaxy Note 4 introduces a new sleek and stylish...

Nigeria Tech