Nigeria Tech
Samsung Galaxy Note 4 Specifications and Images
Samsung is not just one of the world's largest producer of smartphones, phablets and tablets but also a giant when it comes to the technology that is found in her devices. One of such technology advancement is being able to use the new Samsung Galaxy Note 4 with an Oculus VR headset for immersive 3D viewing as shown in the image below.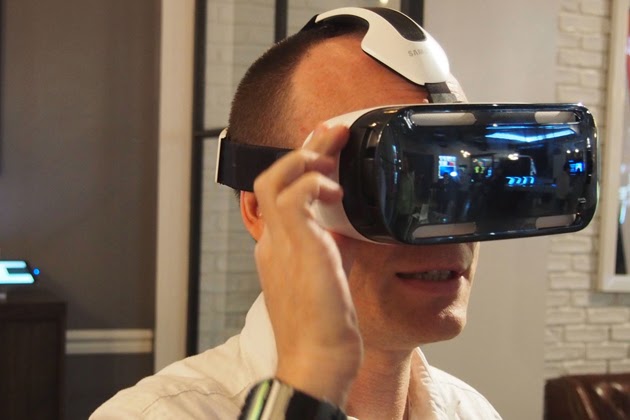 The S-Pen which as always come with all Note series have gotten better over time and the in the Samsung Galaxy Note 4, another new feature known as the Snap Note; it allows you take pictures of a piece of paper and allow you to change what's on the paper with the pen.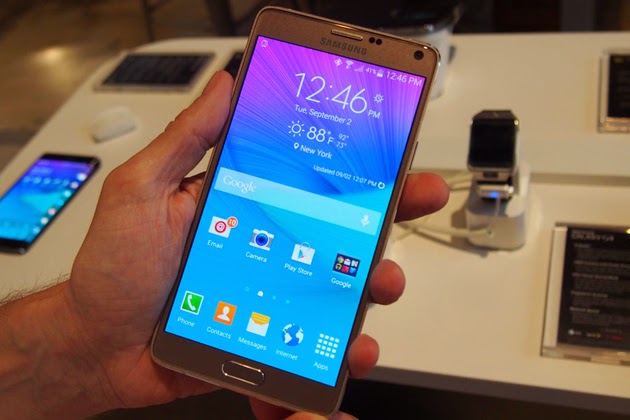 Recently, Samsung announced the Samsung Galaxy Note 4 which is the successor to the Samsung Galaxy Note 3. When it comes to specification comparison between the Note 3 and Note 4, its like Samsung decided not to seriously do more than he did on the Note 3. Below is a rundown of the Samsung Galaxy Note 4.
The Samsung Galaxy Note 4 which we shall refer to as SGN4 is a wonderful piece of device. Its a single SIM with 2G,3G,4G and LTE network capability. A very efficient device with great speeds when it comes to data transfer and internet connectivity.
The SGN4 has dimensions 6.04 x 3.09 x 0.33mm and weighs just 6.21oz. The screen of the device is exceptionally beautiful and colourful. This is due to the 5.7inch super AMOLED screen with a Quad HD resolution of 2560 x 1440; i.e a 515 PPI screen.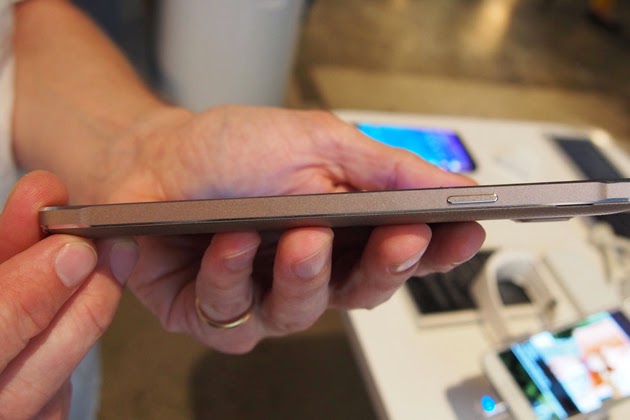 When it comes to mobile chips, Samsung opted for the Qualcomm Snapdragon 805 chip with 4K Ultra HD processor for outstanding video and gaming rendering. The device which spots a 2.7GHz Quad Core processor and a powerful Adreno 420 GPU. It is been said that the battery efficiency of this Qualcomm Snapdragon 805 chip is outstanding.
When you buy the Samsung Galaxy Note 4, you get the latest Android 4.4.2 KitKat on it and as usual there will be room for an upgrade once Google's latest Android L becomes available. Knowing how well the KitKat OS manages RAM, it will easy to state that the 3GB RAM inside the SGN4 will be well and enough to keep the device running without lag.
For those that are into taking pictures and selfies, it would interest to know that the Note 4 comes with a 16MP rear facing camera with geo tagging, face detection, optical stability and can record 4K, 1080p video. The phablet has a powerful led flashlight just below the camera which assists in taking brilliant pictures in low lit areas. The front facing camera of the phablet is 3.7MB and its very much efficient for those video calls and taking selfies.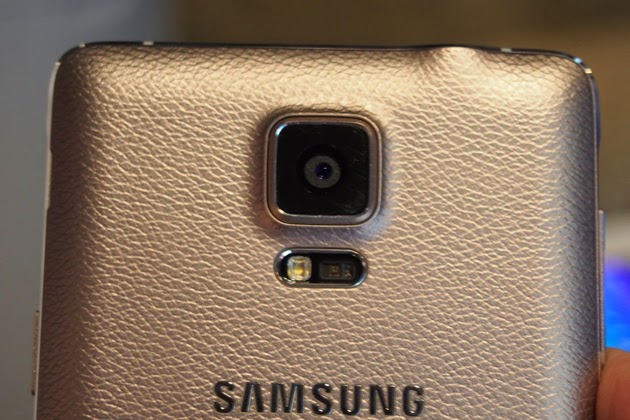 The internal memory of the Samsung Galaxy Note 4 is 32GB and can be expanded with the help of a memory card. The memory card slot can support SD card up to 64GB.
As in the usual fashion of Samsung, Note 4 comes with light, proximity, gyro, compass sensors. Also, it comes with Bluetooth 4.1 which is the latest Bluetooth version. Furthermore, it has WiFi 802.11 a/b/g/n/ac with Qualcomm VIVE 2-Stream and NFC support.
Samsung Galaxy Note 4 will according to rumors have a battery power of 3030mAh which should be good enough to keep the phone alive for a long period of time during use but again, battery power in smartphones no matter how much is never enough.
Finally, the device is expected to be ready before the end of September and would be available at Best Buy, Amazon.com, Walmart and other stores including AT&T and the likes. Rumored prices is around $800 for the contract-free and unlocked version.
Like our Facebook page and follow us on Twitter for more smartphone gist and info.
-
Full Samsung Galaxy Note 4 Specs Gets Leaked
Rumors of Samsung Galaxy Note 4 had been in the wild for a while but no actual word on specifications and pricing until now. An online retailer have released the specifications and tentative price tag of the Samsung Galaxy Note 4. From the...
-
Samsung Note 3 Hits 10 Million Sales In 2 Months
Samsung devices are always selling in numbers but the Samsung Galaxy Note 3 has broken records. Samsung Note 3 which was released 2 months ago has sold about 10 million pieces in just its 2 months of release even surpassing that of Galaxy Note 2 which...
-
Samsung Annouces Samsung Galaxy J: S4 Now Look Weaker
the smartphone industry is too dynamic! you can't afford to sleep or stay still if you are in the smartphone business else you lose customers. As far as we know, Samsung Galaxy S4 is suppose to be the biggest boy and the most advanced of the Galaxy...
-
Galaxy Gear Smartwatch Specs Revealed
Galaxy Gear Smartwatch is that wrist watch that Samsung is going to reveal alongside Galaxy Note III come September 4th 2013 at the Samsung Unpacked Event. Up until now, we do not know what specs and features to expect from Galaxy Gear but thanks to GigaOM,...
-
Samsung Galaxy Note 5 Launched In India - Specifications
Samsung Galaxy Note 5 that was unveiled in August has finally been launched in India. The smartphone is offered in two storage variants: 32GB variant and 64GB variant. The Note 5 will be available in Black Sapphire, Gold Platinum, and Silver Titanium...
Nigeria Tech