Nigeria Tech
iPhone 6s and iPhone 6s plus Reportedly Have 2 GB RAM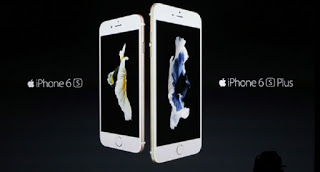 A lot of rumors heard before could be after all true, as a Reddit user claim to work for Apple Support
says both the new iPhones have 2 GB of RAM. Initially, Apple, the iPhone maker declined to mention how much RAM the iPhone 6s and iPhone 6s Plus have during its Sept. 9 event, and Apple's website does not mention RAM or processor details at all.
Apple only mentions that the new iPhones run on its new A9 chipset, which it says is significantly faster and more powerful than the A8 chipset. However, word has it that A9 is a 64-bit, dual-core processor that clocks at 2.2 GHz. Meanwhile, the iPhone 6s is rumored to have a 1,715 mAh battery, slightly smaller than the 1,810 mAh battery on the iPhone 6, while the iPhone 6s Plus is said to have a 2,750 mAh battery, down from the 2,910 mAh battery of the iPhone 6 Plus.

However, Operating anonymously under the nickname __________, said he has access to an internal Apple website at
asw.apple.com
and posted a screenshot of the website as proof of his legitimacy. He does not, however, show a screenshot of a specs list somewhere to prove that his claim of 2 GB RAM claim was real, saying that the PDF document will have his employee ID watermarked all over it. The document, he says, is located "in a PDF under the iPhone tab." For now, its not certain for sure if the source actually has access to classified Apple information, but his claim is in line with earlier rumors that the iPhone 6s and iPhone 6s Plus will finally have an upgraded RAM. Until someone decides to do a teardown of both smartphones, we'll have to hold out any conclusions for now. Other details Apple left in the dark are the processor speed and battery.
Read more from the source
Source: www.techtimes.com/articles/83905/20150912/somewhat-confirmed-iphone-6s-and-iphone-6s-plus-have-2gb-ram.htm
-
Screenshots Of Ios 8 Homescreen Leakes
iOS 7 is becoming gradually old even though iOS 7.1 was just released few days back. Rumors of iOS 8 isn't new as its well known that by now, Apple would obviously be working on the next Apple device and the iOS version on it. For now, we do...
-
High Quality Image Of Iphone 5s And 5c Leaked
New high quality images of the iPhone 5S and 5C have appeared online again. Apart from the factory image of these devices that was leaked, another image just surfaced online again. These latest leaked images have come from Apple researcher Sonny Dickson,...
-
Apple Will Stop Iphone 5 Production And Retailing For Iphone 5s
We are nearer to the launch of Apple iPhone 5S and 5C which have been slated for September 10th. As we wait earnestly to see what exactly the fruit company packs into this new iteration of iPhone, new information have surfaced suggesting that Apple would...
-
Gold Iphone 5s With 128gb Storage
KGI Securities analyst Ming-Chi Kuo has issued a new research note claiming that the iPhone 5S will be available in gold and have a 128GB storage option. We also forecast the new model will add a new look, a golden casing, and a new option for...
-
Apple To Release Less Expensive Iphones Soon
Apple is set to release the low budget iPhones soon. You would recall that Apple have been thinking about meeting some target markets lately especially in places like India where there are a lot of people with lower income compared with those with higher...
Nigeria Tech