Nigeria Tech
Infinix JoyPad 10 Detailed Review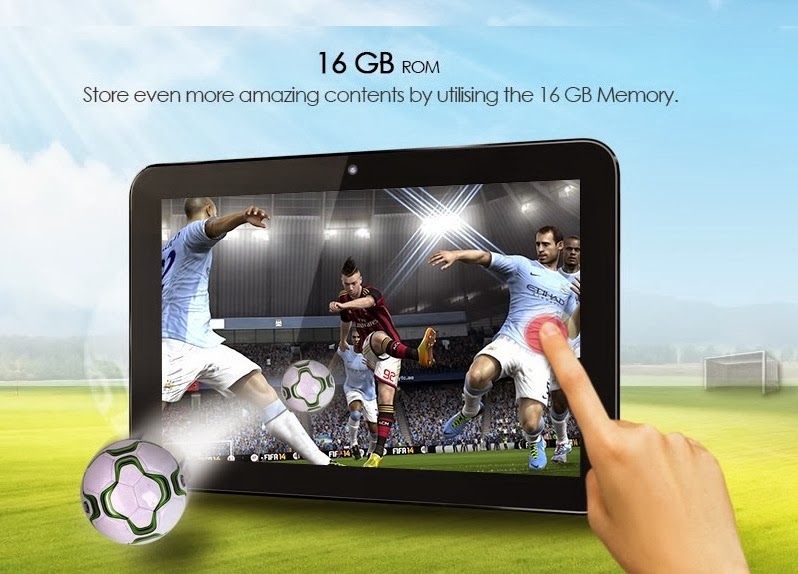 I have been waiting for a tablet that is of premium quality, 10.1 inch, and affordable for a long time; finally, I found one.

Infinix just launched their next big tablet, the Infinix X1000; this is the tablet that has all the things that are needed in the tablet world. Infinix X1000 is built for the young entrepreneur, for the business man and for the go Getter; and we had the opportunity of having and using one. Therefore, we shall be giving you a detailed and comprehensive review of the product - The Infinix X1000 or JoyPad 10 tablet.

Outer Body, buttons and ports
The JoyPad 10 has a diagonal dimension of 10.1 inches, a silver back-plate and a black bezel at the front side. A front camera is situated at the top - middle of the display and a small led light at the right side of the camera. The led light is to show when the cable is plugged in mains or in computer. It turns from red to green when full.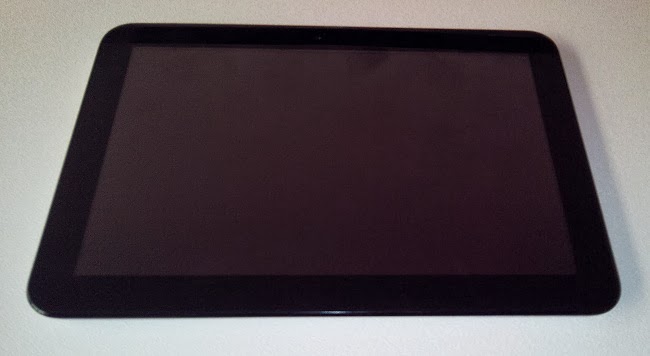 At the top of the tablet, you would find 3 ports. One located on the far right which is the standard USB port for charging and connecting to PC for transferring of files. Next port is located at the left, which is a HDMI port used for connecting the device to a LCD screen or HDMI supported device.

Because the device is aimed at young business guys and entrepreneur, making presentations with the tab is of great importance. That is why the HDMI port becomes an important part of the tab, allowing you to connect your device to a projector and then make presentation from it. I only wished that the Mirroring thing android is working on would support 4.2.2 jelly bean devices.The final port is the 35mm earphone jack.

At the top side, the power button is located at the far right side of the tablet and a microphone just above the back camera and finally, a stylus pen neatly tucked into a slot at the left edge of the tablet.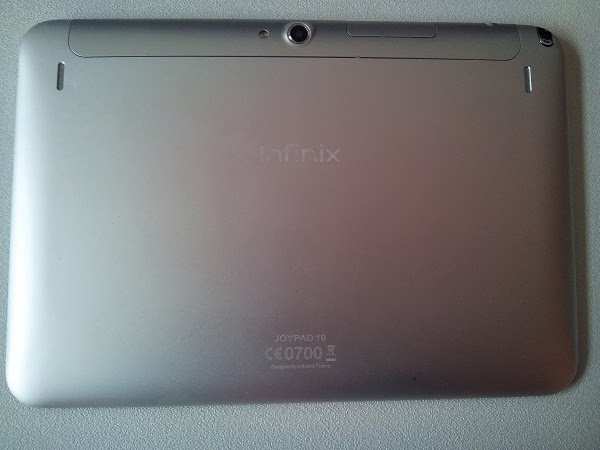 At the back of the tablet, you would see a camera located at the top-middle of the tablet. A flash light is located at the side of the camera. A compartment that houses the micro SIM and the memory card is visible and is well flushed to the body of the tab.

At the left and right side of the back side of the tablet, you would see a good and loud speaker outlet. The sound quality is outstanding I must say. Blasted sound from it and I was impressed.

Now lets go to the internals of this lovely tablet.

Processor and RAM
The Joypad 10 comes with a MediaTek MT8389 quad - core processor clocked at 1.2GHz. It has GPU type PowerVR SGX 544MP. The performance of the MT8389 chip is very good. In fact its the same performance you get from the Infinix X570 smartphone. The benchmark when analyzed is 9348 and AnTuTu is 5967 so performance isn't an issue with this device.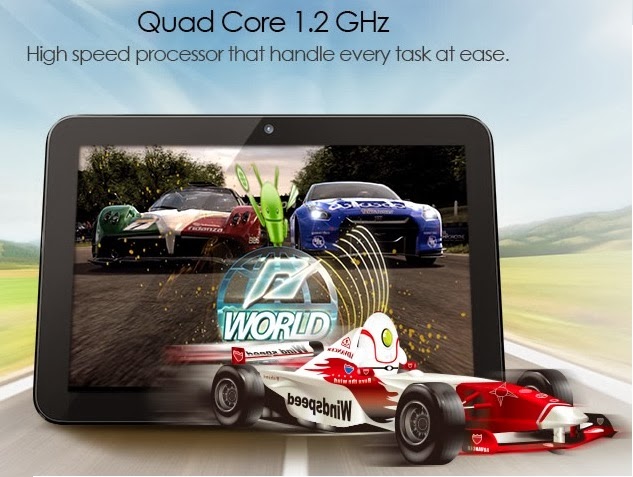 Joy Pad 10 has a 1GB RAM inside of it to make things run as smoothly as it should. Providing a 1GB RAM is a good idea and after using this piece of device for some hours, I can say that the response is fascinating.

Network and SIM
The Infinix Joypad 10 is a single micro SIM tablet with HSPA+, 3G and 2G network capabilities. This is expected as its a full tablet and it would be unnecessary to have it use dual SIM functions. Data can be transferred at high speed reaching up to 27mpbs.

I personally love the way the SIM slot and memory card compartment are placed together. You do not need to worry about opening multiple ports before you can place your SIM and memory card.
One thing though you can't make phone calls with this tablet using normal voice call function; which isn't a big deal considering that its a 10.1 inch tab. However, with the usage of Skype and other VoIP apps, internet calls can be made.
The sim function is so that one can browse the internet where there's no WiFi signal by using network data service.
This being said, the drawback is that it would be less easy to recharge the line due to lack of a dial pad. A way around this is with the help of services like quickteller; one can recharge the line. Also removing the sim and placing it in a proper phone for recharging and subscribing for data package can be done.

Screen and Dimensions
Infinix Joypad 10 is the first 10.1 inch tablet from the french phone maker. The device comes with a nice colourful IPS WXVGA touch screen with resolution 800 x1280 (~150PPI) and a stylus pen known as T-pen for those that would really love to use a stylus pen on the device.

The T-Pen (stylus) can be turned OFF or ON. If its off, the stylus won't be detected by the screen anymore. The pen is very light weight, about 3inches long and very slim. We tested the joypad 10 with Samsung Galaxy S-pen and it didn't work with it so you need to be sure the stylus pen will work if you intend buying another pen to work with the joypad x1000 either for more drawing purposes or related purposes.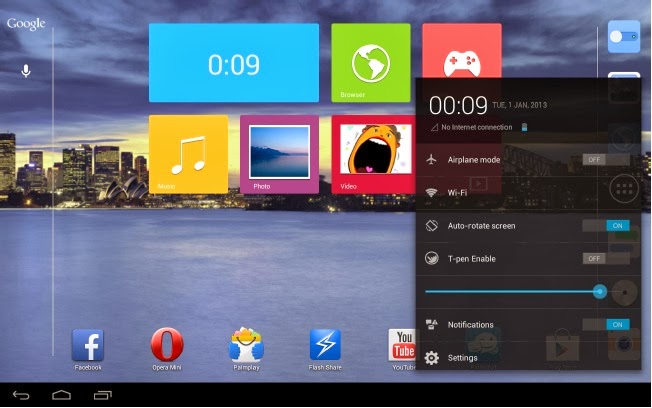 With the Stylus, you can select apps, make notes and do other gesture activities. For example you can drag on the seek line of a song or video playing. If you have an app that supports drawing with stylus like papyrus, you will be pleased that the stylus on the X1000 will come very handy. In fact, the stylus is a very effective extension of the hand. You would type faster on the keyboard when using the stylus to select letters from the keyboard.

The device has a dimension of 256*175.5*10.9 mm which suggests that its quite slim and very handy; slightly thicker than Galaxy Note 10.1 and weighs 0.7kg

Operating System and Internal Memory
Joypad 10 comes bundled with our very good friend Android Jelly Bean 4.2.2 with a good and responsive interface. The device has a RAM of 1GB which is able to handle task well and smoothly.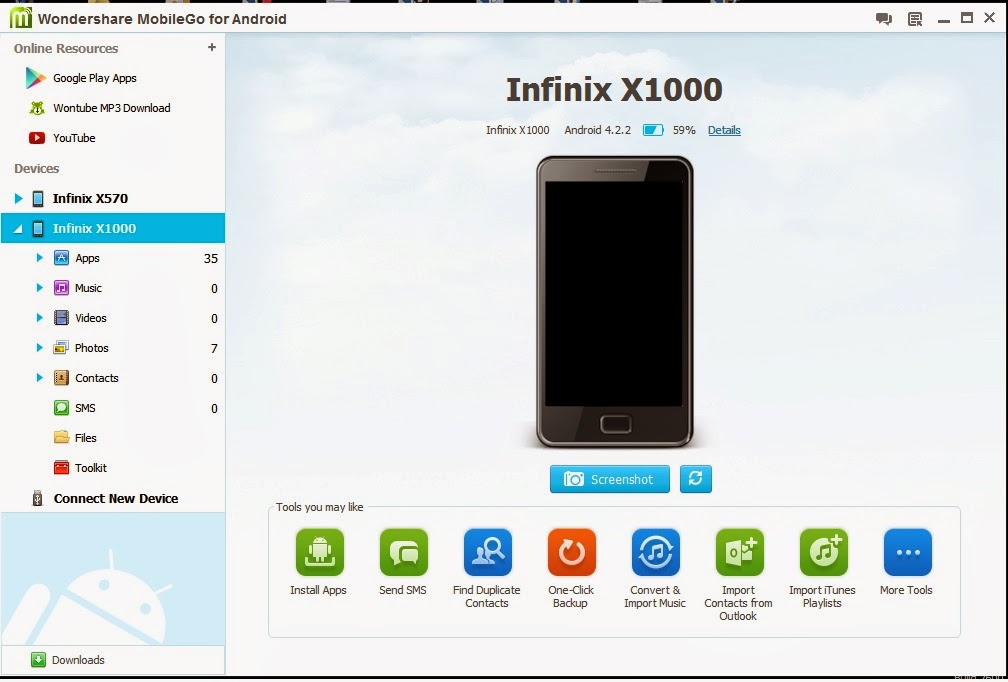 The good part is that of the internal memory which is 16GB and yes it has SD slot which gives you the ability to add an extra 32GB SD card if you are so much keen to it. This afford the opportunity to have a huge 48GB memory maximum.

Now imagine combining that much memory with you stand to get from Dropbox and Google drive; that is a huge memory space.

Camera and Battery
Infinix Joypad packs in a 5mp camera for both front and back camera meaning that great images can be taken by both cameras. Also, making video or Skype calls would be great with the device and the back camera has LED flash attached at the side of the lens for low light photo capture. This led flash light also serve as flashlight in case you wan to use it as a flash light to see well in the dark.

Battery capability of the Joypad is a good 7000mAh; this would ensure that the device last as long as it should; 8hrs non-stop usage. Watching of movies and playing of games on the device would really be a joyful thing as the battery will laster longer.

Sensors and Connectivity
As you may have guessed, G-Sensor, Proximity sensor and magnetic sensors are the sensors you would find in the device. Also, WiFi, WiFi hotspot, Bluetooth 4.0, GPS and USB connectivity are provided in the device.
I like the fact that there is a port to connect your tablet to a projector or to a HDMI port. It makes so much sense as you are now able to transfer what is on the screen of the tab to a projector or a LCD or PLASMA TV.
The Infinix x1000 has FM radio with it and its very thoughtful of Infinix to have included that. Most tabs don't have FM Radio. This will in fact be a good point for the Infinix Joypad x1000. Also, it has a recorder to record audio sounds.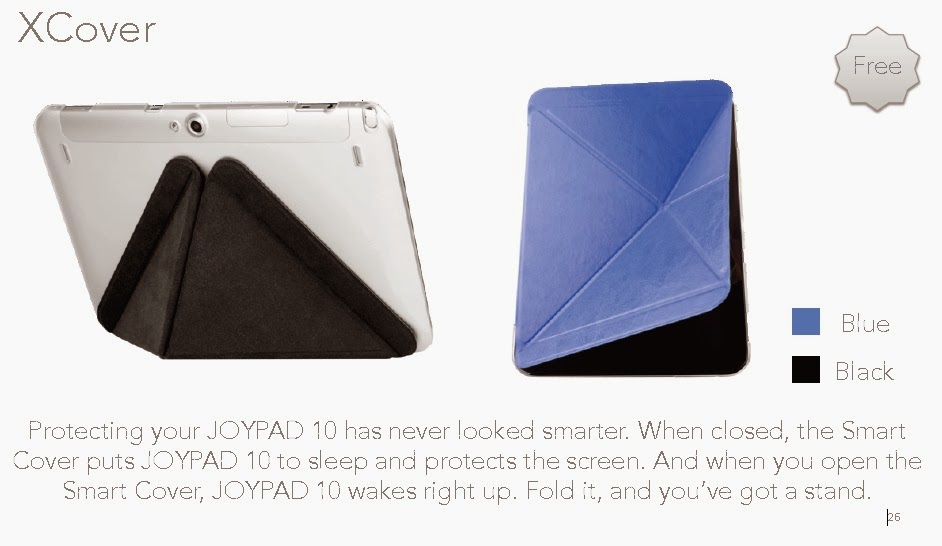 The tablet comes bundled with Gmail, Facebook, Voice Search, YouTube, PalmChat, navigation, Playstore, Calculator and other relevant apps. Apps like adobe reader, quickoffice and other document and drawing apps can be downloaded from the Google Play Store free of charge.
Apart from these pre-installed apps, it comes with a xcover (pouch) to protect the screen of the tablet. The tablet pouch is free of charge and comes in two colours; black and blue.
Price
The x1000 is currently selling for N50,000 but you can get it for 49,000 using a link from this page.
This little price tag to something this great; makes me love Infinix the more; especially seeing how much other devices in its group cost. For example, Galaxy Note 10.1 cost N90,000, almost double the price. The price of the Infinix tab is one of its strong point if you ask me.
Verdict
If you ask me, I will say the Infinix JoyPad 10 is a beautiful, well made tablet that will serve not only the entertainment loving individual but also the business oriented person.
Its a great tablet and with respect to the over quality and price, we give it a 8/10.
What are your thoughts about this great piece of hardware? Drop it in the comments section.
Like our Facebook page and follow us on Twitter for more smartphone news and guides.
-
Infinix Joypad 8s Android Tablet
If you are looking at getting a tablet that you can count on or trust it's quality, I believe that you've got one already - The infinix Joypad 8S. Infinix has once more released a new tablet known as the Infinix JoyPad X801 or simply Joypad...
-
Infinix Joypad 10 Versus Samsung Galaxy Note 10.1 N8000
When it comes to splendid and premium device, everyone would agree that Infinix devices can be mentioned as one of such devices. Infinix just released their latest and first 10.1 inch tablet which blew away the minds of so many people. This is in no...
-
Tecno Phantom Pad Mini (p9) Specifications And Review
With great pleasure, we announce to you the release of a new phantom pad yesterday by TECNO. The pad is called the Tecno Phantom Pad Mini with a model number of P9. What is the specifications of the P9 you might ask? Don't worry, we are doing justice...
-
Tablet, Phablet And Smartphone: Which One Is Best
I recently saw someone in a market place making a call with something that looked awkwardly large. She was almost going to hold it with two hands. So i drew in closer to see what kind of phone it was. To my surprise, it was a Samsung Note 7.0 tab. A tablet....
-
Infinix Joypad 10 Tablet, Spec, Features And Price In Nigeria
Infinix Joypad 10 | X1000 | Quad Core 1.2Ghz | 3G, 1G, 16GB HDD | 10-Inch Tablet | Silver A Pad, a 3G smart Phone (Data Only), and a game console, The Infinix Joypad 10 is an amazing tab. The Joypad Enables all three in one. Driven by Qualcomm...
Nigeria Tech