Nigeria Tech
Infinix JoyPad 10 Versus Samsung Galaxy Note 10.1 N8000
When it comes to splendid and premium device, everyone would agree that Infinix devices can be mentioned as one of such devices.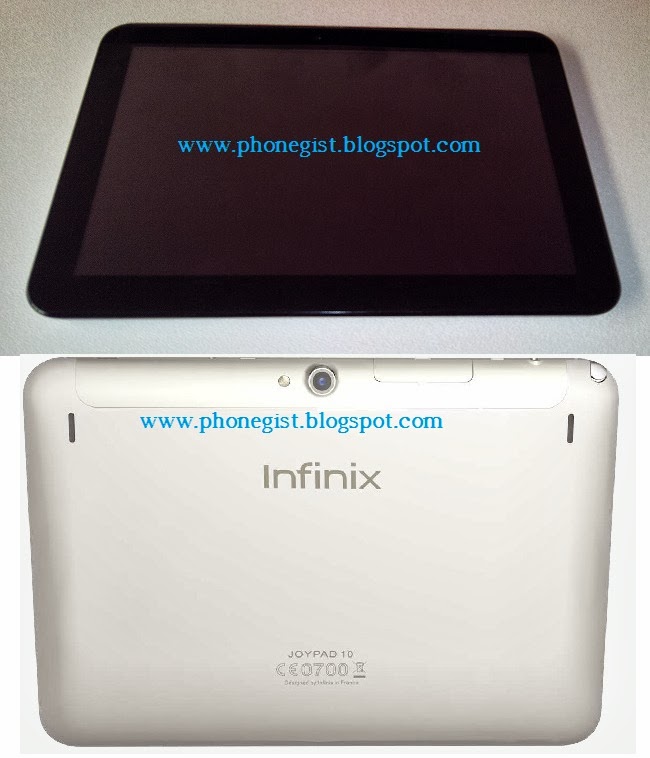 Infinix just released their latest and first 10.1 inch tablet which blew away the minds of so many people. This is in no doubt a small table considering the specs and features. The device is so damn great we can compare it side by side with the Samsung Galaxy Note 10.1 N800.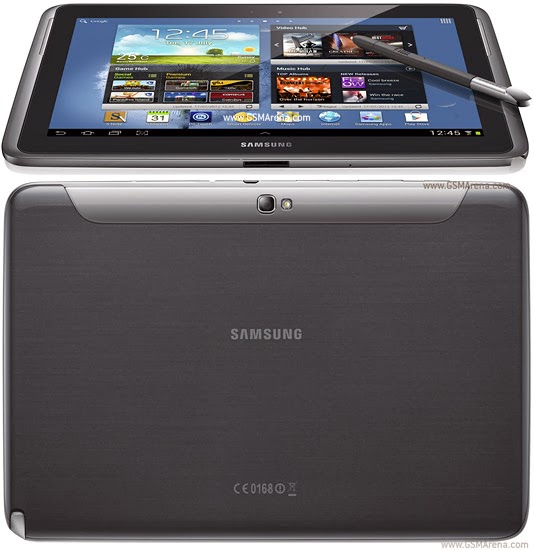 At the end of this comparison, you would be able to decide which is better between the two devices. The comparison will be in the form of colour code table format where Yellow represents strength and Green represents weakness when compared relatively.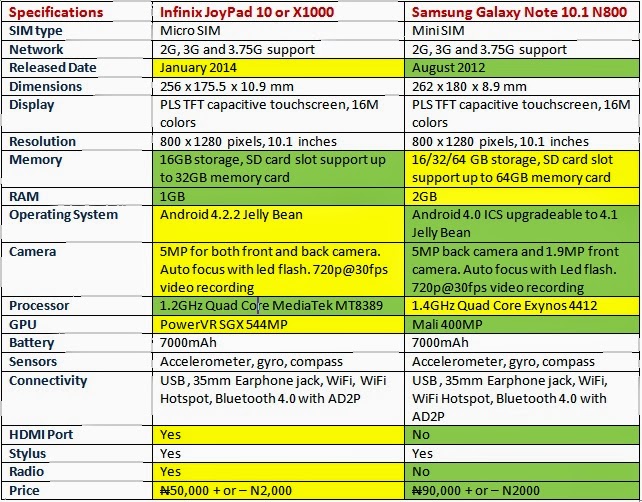 Judging from the table above, you will notice a good resemblance in specs between the two devices; however, differences exist especially in the area of HMDI port, FM Radio, GPU, Processor and RAM.
Finally, the price of the Samsung Galaxy Note will put a whole in the pocket while that of the Infinix device is very pocket friendly. This could of course be the deciding factor when considering both devices.
The Infinix x1000 is indeed a great device and you should get one when considering a solid tablet with good performance and at a low cost that you need. What do you think?
Like our Facebook page and follow us on Twitter for more smartphone information and help.
-
Infinix Set To Release New Hot Note Pro Smartphone With These Specs
It is safe to assume that Infinix Hot Note smartphone released earlier this year was a success. One of the specifications that contributed to its widespread acceptance aside from its design and features was its long battery life -- a battery that can...
-
Comparison Between Tecno R7 Smartphone And Infinix Zero Smartphone
Tecno R7 have been in the market for a while now and its still selling in numbers due to the good features it comes packed with. Therefore we are putting it side by side with Infinix's newly announced smartphone known as the Infinix Zero which is...
-
Comparison Between Gionee Elife E6 Versus Tecno R7 Smartphone
It is not often that we compare Tecno devices to Gionee devices, however, this time we are taking time to look at spec comparison between Tecno R7 and Gionee Elife E6 smartphones. we compared their basic specifications side by side in other to see which...
-
Infinix Joypad 8s Android Tablet
If you are looking at getting a tablet that you can count on or trust it's quality, I believe that you've got one already - The infinix Joypad 8S. Infinix has once more released a new tablet known as the Infinix JoyPad X801 or simply Joypad...
-
Infinix Joypad 10 Detailed Review
I have been waiting for a tablet that is of premium quality, 10.1 inch, and affordable for a long time; finally, I found one. Infinix just launched their next big tablet, the Infinix X1000; this is the tablet that has all the things that are needed...
Nigeria Tech