Nigeria Tech
Infinix Joypad 10 Tablet, Spec, Features and Price in Nigeria
Infinix

Joypad 10 | X1000 | Quad Core 1.2Ghz | 3G, 1G, 16GB HDD | 10-Inch Tablet | Silver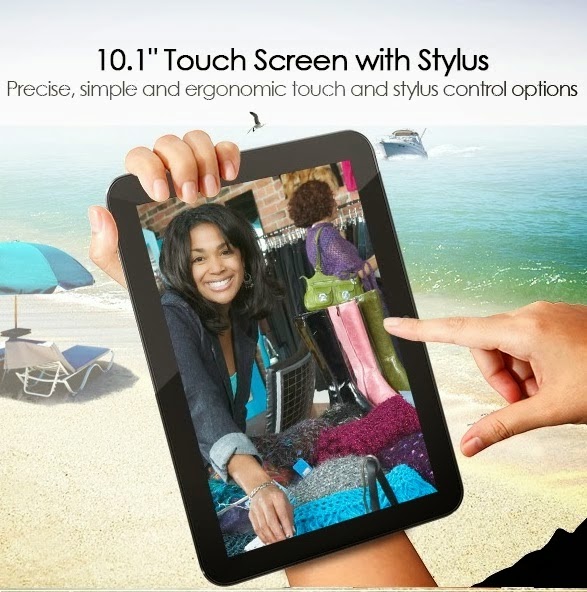 A Pad, a 3G smart Phone (Data Only), and a game console, The Infinix Joypad 10 is an amazing tab. The Joypad Enables all three in one. Driven by Qualcomm 3G technology, you?re never limited to downloads, applications and games anytime, anywhere. The Infinix Joypad 10 features an Android Jelly Bean 4.2.2 Operating system with an exceptional Quad Core 1.2Ghz Processor and 1G RAM. Its incredible 16GB Internal ROM Storage allows you to store music, videos, files and pictures of your loved ones and also allow you share them easily on social media apps like Facebook, Twitter, Instagram etc.The infinix Joypad 10 also comes with 5 MP primary and secondary Camera that enables you take pictures wherever you are and allows you share your world with family and friends. This is just a perfect device for you.
The Infinix Joypad 10 comes with a nice colourful IPS WXVGA touch screen and a stylus pen for those that would really love to use a stylus pen on the device. The Joypad has a dimension of 256*175.5*10.9 mm which suggests that it?s quite slim and very handy.
Joypad 10 comes bundled with an efficient operating system Android Jelly Bean 4.2.2 with a good and responsive interface. The device has a RAM of 1GB which is able to handle task well and smoothly. Furthermore, the tablet comes with 16GB internal memory without a memory card slot to expand the memory.
Infinix Joypad has a 5MP camera for both front and back camera meaning that great images can be taken by both cameras. Also, making video or Skype calls would be great with the device and the back camera has LED flash attached at the side of the lens.
Battery capability of this device is excellent with 7000mAh this would ensure that device last as long as it should. Watching of movies and playing of games on the device would really be a joyful thing while there is nothing to worry about.
Product Information

Brand

Infinix

Product Type

Tablet

Model

Joypad 10
General Features

Sim Type

Single Sim

OS

Android OS

Network

3G
Dimensions

Depth

175.5 mm

Width

10.9 mm

Height

256 mm
Display

Screen size

10 inches

Primary Camera

5 MP

Secondary Camera

5.0 MP

Video Recording

Yes

Camera Flash

LED flash

Type

IPS capacitive touchscreen, 16M colors
Connectors

USB

Yes, microUSB v2.0

Bluetooth (Connectors)

Yes, v2.1 with A2DP
Internet

Edge

Yes

GPRS

Yes

WiFi (Internet)

Wi-Fi 802.11 a/b/g/n

Connectivity

WiFi + 3G
Are you interested in buying the new Infinix Joypad 10 Tablet now ? Konga.com is the best place to buy it and get it delivered to you anywhere you are in Nigeria at an affordable price of #30,000 only.
Buy Infinix Joypad 10 Tablet NOW
-
Infinix Joypad 8s Android Tablet
If you are looking at getting a tablet that you can count on or trust it's quality, I believe that you've got one already - The infinix Joypad 8S. Infinix has once more released a new tablet known as the Infinix JoyPad X801 or simply Joypad...
-
Infinix Joypad 10 Detailed Review
I have been waiting for a tablet that is of premium quality, 10.1 inch, and affordable for a long time; finally, I found one. Infinix just launched their next big tablet, the Infinix X1000; this is the tablet that has all the things that are needed...
-
Tecno Phantom Pad 2 G9, Specification And Price In Nigeria
Phantom PAD ? has surpassing Android 4.2, 7.8 inch IPS touchscreen, a powerful 1.3G Quad-core processor. Its metal body and slim design present a sense of "armored warriors", embracing the concept of strength and beauty. It's also comfortable to...
-
Archos 53 Platinum Phone - Specs - Features - Price - Smartphone
Have you ever imagine an android phone running on 4.2.1 Jelly Bean OS with 4GB internal storage (expandable to 64 GB) at just #14,500? The Archos 53 Platinum phone also operate on 8.0 Mega Pixel (back) and 2.0 Mega Pixel (front). This is a cool and best...
-
Lenovo A3300 Quad Core 1.3ghz | 3g, Wifi, 8gb | 7-inch Tablet | Black
Lenovo A3300 Quad Core 1.3GHz | 3G, Wifi, 8GB | 7-Inch Tablet | BlackHave you dreamt of your own tablet device before 2014 runs out? Here is your biggest chance of owning a lenovo A3300 Quad Core at the cheapest price ever in Nigeria on Konga....
Nigeria Tech