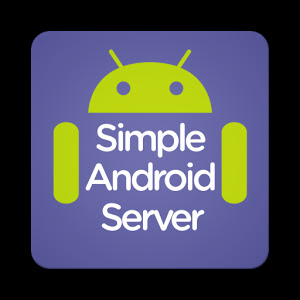 It has been a while now that the Simple Server connection has been given many people a difficult time to browse and surf the net on their android smartphone, although the connection is still well going on PC. The reason for this is that the Simple Server (APK) has been changed from the old version to the new version and it?s now a totally different app. The Simple Server for PC is still the same, but if you don?t know how to set it up for your Computer then read this post -
How To Browse unlimited with MTN Simple Server on PC.
Now, let?s go the main business?..
First of all, download the New MTN Simple Server on Google Play Store here on your computer if you want, or go to Play Store on your phone and search for it to download. After installation, click on
play store
>
My Apps
> then Simple Server to see if there is any necessary update, you need to make sure it is up-to-date before it will works perfectly.
(As you are reading on, you will see some added links, don?t hesitate to read the added links in this post if you have not done what is expected in those areas, because that is the only way you can benefit maximally. I advise you read this post fully before you start).

Now, Navigate to your phone settings and set up your APN as follows:
Name: Simple Android Server
APN: web.gprs.mtnnigeria.net
Proxy: 127.0.0.1
Port: 8080
(NOTE: Your phone must be rooted before the Simple Server will work perfectly well on your phone because this New Simple Server doesn?t use Auto proxy or Proxy Droid
. If you want see how to root your phone click HERE or read How to root all Android Smartphone with KingRoot/Root Without Computer ).
After you have set up your APN, and your phone is well rooted, open the new Simple Server and set up the 5 categories as follows: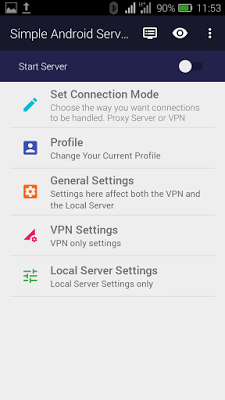 1. Set Connection
? Select local server
2. Profile
? leave it to the default
Profile 13. General Setting ? Proxy Settings
Enable proxy ? Yes
Proxy Host ? 10.199.212.2
Proxy Port ? 8080
Injection Settings
Enable Injection ? Yes
Host Replacement ? ON
Injection method ? GET
Injection Query/URL ? http://web.blackberry.com
Injection Host ? web.blackberry.com
Injection Line ? Tap Enter key four (4) times and select ok
4. VPN setting
? Please don?t touch that, just leave it
5. Local Server Settings
Listener Settings
Listen Port ? 8080 Advanced Settings
Use Global Proxy = YES (This is why you don?t need Auto Proxy or ProxyDroid, but only on rooted device)
Buffer size ? 8092
Concurrent connections ? 1000
Log level ? NONE
After you have set up your Simple Server, subscribe to any BBLITE of your choice either a daily, weekly or monthly Plan.
Daily Plan ? This plan cost #70 for 24hours. Although, you will receive a message that it is 10MB, but with the Simple Server is it extended to 5GB. To subscribe, dial *131*6*3*7*3#
Weekly Plan ? This plan cost #350 for 1 week. You may receive a message that your subscription is 70MB, but with the Simple Server is it extended to 5GB. To subscribe, dial *131*6*3*7*2#
Monthly Plan - This plan cost #100 for 1 month. Although, you may receive a message that it is 280MB, but with the Simple Server is it extended to 5GB. To subscribe, dial *131*6*3*7*1#
After you have subscribed to any plan of your choice, Turn on your Simple Server and start browsing and downloading as you like.
If you are facing any problem to download or set up the simple server, or you don?t know how to root your phone to work perfectly well with the simple server, Contact Us, or drop your comment or questions in the comment box below this post, I will contact you immediately for assistance.
Read More on:
>> How to Browse for Free with MTN Using Psiphon HUI
>> How to Browse Unlimited for Free on Your PC with MTN Simple Server
>> How to Generate and Use Blackberry IMEI on Your Android Smartphone
>> How to Download all kinds of Videos and Movies to Your PC and Smartphones
>>How to Download Apps and Games on Your Android Smartphone/Tablet Via Google Play Store on PC
BlackBerry finally brought BBM to Android and iOS earlier this week, but in an effort to prevent the server problems that halted its initial debut, the Canadian company decided to implement a waiting list that allows it to control how many users gain...
This post is quite long overdue to put you guys in the know on what is happening with BBM for Android which should have dropped to Google Play Store since 12noon Nigerian time. However allegedly due to some issues with the Android version which includes...
Rooting of smartphone is simple and easy, especially with the recent apps found on Google Play Store that are just a one click rooting process. With these apps many people still found it difficult to root their smartphone, may be they don?t follow the...
Browsing with the fastest and cheapest network today can be difficult, especially with the huge charges by different network providers in Nigeria. Because of this, many softwares have been developed by software developer to aid the browsing experience....
Recently, the itel note prime 1701 has been many people's favourite tablet in market, may be because of its affordability. And the Nigerian favourite online shop Jumia sells this tablet at an affordable price anyone can afford. Since its getting...