Nigeria Tech
How To Bypass The Queue List On BBM For Android and iPhone
BlackBerry finally brought BBM to Android and iOS earlier this week, but in an effort to prevent the server problems that halted its initial debut, the Canadian company decided to implement a waiting list that allows it to control how many users gain access.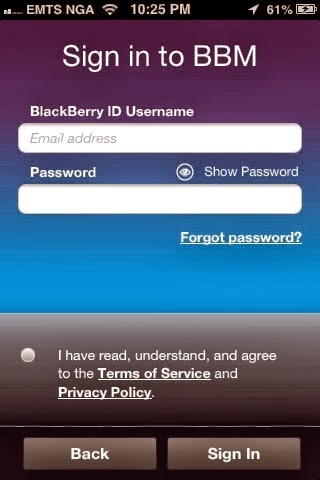 But if you were late to the party and you?re stuck at the back of the line, you?ll be pleased to know there?s a quick and easy way to bypass that waiting list. Just follow the simple steps below.
After installing the BBM app on your Android or iOS device, open it up and register your email address to join the queue.

Now return to your home screen and force-close this app. On iOS, this can be done by double-tapping the home button and swiping the BBM app away. On Android, just enter the multitasking menu and do the same, or go into the Settings app, select ?Apps? and then BBM, and then tap ?Force Close.?

Relaunch the BBM app and you should now be able to create a new BBM account and use the app.
The workaround was first discovered by CNET, and it?s quite surprising how simple it is. It?s worth noting that BlackBerry could disable it at any time, however, so if you want to bypass the waiting list, do so as soon as possible.
Like our Facebook page and Follow on Twitter for latest news on smartphones.
-
Auxo Multitasking Tweak Now Available For Ios 5.1.x
Auxo which is a multitasking tweak now supports iOS 5.1.x. Knowing how stagnant & boring the iPhone multitasking pane is from the inception of multitasking, it is no news hy a lot of folks would appreciate a little change in the way the multitasking is...
-
Tracking Your Apple Device
Purchasing an iPhone is not cheap and not always easy. Some people have to queue up for minutes and hours just to buy their phones while some just pay Fedex to ship it to them. Whichever way you got your device, am sure you worked hard for it and it will...
-
How To Browse With The New Simple Android Server On Your Smartphone ? Mtn Bblite 5gb Plan
It has been a while now that the Simple Server connection has been given many people a difficult time to browse and surf the net on their android smartphone, although the connection is still well going on PC. The reason for this is that the Simple Server...
-
How To Root All Android Smartphone With Kingroot / Root Without Computer
Rooting of smartphone is simple and easy, especially with the recent apps found on Google Play Store that are just a one click rooting process. With these apps many people still found it difficult to root their smartphone, may be they don?t follow the...
-
How To Use Some Important Features Of Windows 10 And Download
Microsoft Company started in 1981 and since then there have been different OS released by this company. These include Windows 95,98,2003 and most recently Windows 7 and 8. On July 29, 2015 Microsoft announced the release of Windows 10, which is the latest...
Nigeria Tech