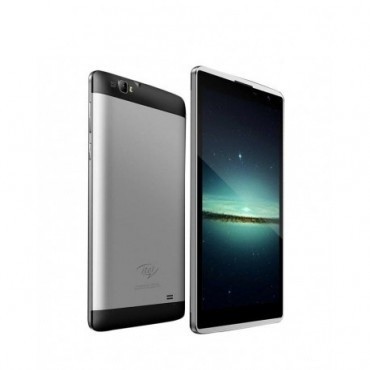 Recently, the itel note prime 1701 has been many people's favourite tablet in market, may be because of its affordability. And the Nigerian favourite online shop Jumia sells this tablet at an affordable price anyone can afford. Since its getting common, a lot of people wants to root it in other to use the subscription of their choice.
A friend of mine bought this tablet some weeks ago on JUMIA and we started to try many tricks in other to root it and finally we succeeded. That's why I decided to share the method with everyone. It's easy and simple, just follow the steps as mentioned below. It also works on many android phone if not all.
It's a single click method using
KingRoot
.
KingRoot is a one-click rooting tool, literally. All you have to do is just tapping a button and wait for the process to be finished. But, you must install the app through an APK file first.
STEP 1: First go to your phone's Settings and select the Security option. Here you need to click the check box for "Unknown sources" and save it. Only this way You can install apps from outside the PlayStore!
STEP 2: Enable USB Debugging in your Android device's Developers Settings before you start! Settings > About phone > Developer Options or Software Information > More. Then tap it and turn on USB Debugging from the menu on the screen.
STEP 3:
Now download and install the app called
KingRoot
from play store on your phone, OR if you have a PC you can download it, send it to your phone and install it by clicking HERE.
STEP 4:
Once it is finished, then you need to launch the app and Tap the one and only "TRY TO ROOT" button! (see screen shot below)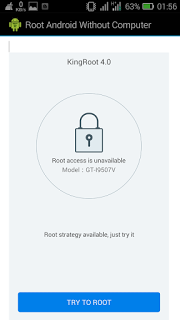 STEP 5:
Wait a few seconds until it reaches 100%.
(see screen shot below)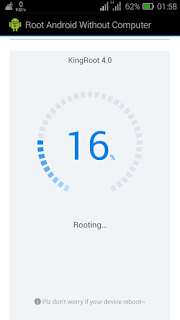 After that Your Android phone is successfully Rooted.
(see screen shot below)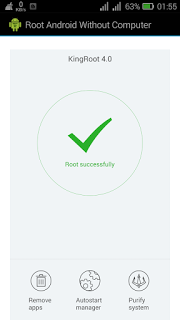 (
STEP 6:
Download Root Checker app
to know and verify the phone is really rooted or not.
)
Now your phone is successfully rooted. All you need to do is to change your IMEI number so that your network provided will see your phone as Blackberry. To change Your IMEI number to that of BB, Click here (
How To Generate Blackberry IMEI on Your Android Phone)
Related Posts:
Updated: Itel Note Prime 1701 Specifications
How To Generate Blackberry IMEI on Your Android Phone
I know a lot of Android users can not do without rooting their devices. One of the reason to root is to have full access to the device settings. The tutorial below will help you root your Infinix Zero 2 aka 509 without any issues. Please before...
A large portion of Android device users like to tinker with their devices, they like deleting unneeded items and files, they like rooting their phones, and installing customs ROMs that appeal to them. Thanks to the open source nature of the operating...
It has been a while now that the Simple Server connection has been given many people a difficult time to browse and surf the net on their android smartphone, although the connection is still well going on PC. The reason for this is that the Simple Server...
Browsing with the fastest and cheapest network today can be difficult, especially with the huge charges by different network providers in Nigeria. Because of this, many softwares have been developed by software developer to aid the browsing experience....
Many Android users find it difficult to subscribe because of the cost of the various Android subscriptions by different network provider. But Blackberry subscriptions are less costly, but it will not work on Android phones.The trick there is just to...