Nigeria Tech
Apple Releases iOS 8.1.3
Talk of Apple releasing another iOS 8 update is been circulating for sometime and it has finally materialized today.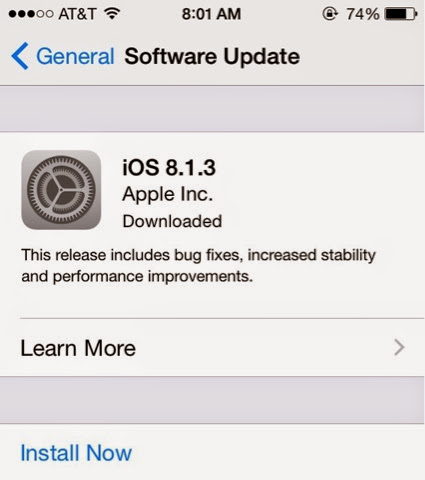 The iOS 8.1.3 update was released and most peo. e that haven't jailbroken their device can immediately download the update from the software update menu in Settings/General/Software Update.
The update comes with bug fixes and security enhancements according to the information displayed if additional information regarding the update is requested.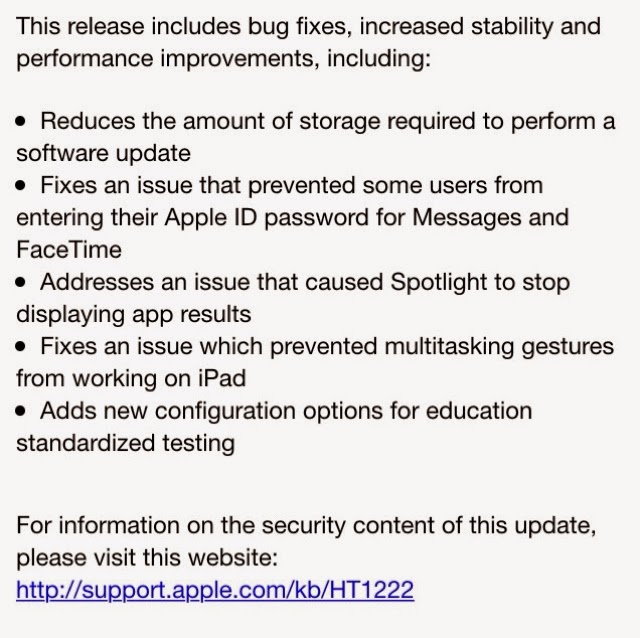 To install the OTA update, click on install now, scroll down to agree to the Terms and Conditions presented by Apple. The update size is 136MB for iPhone 4S, it could be more for other Apple devices like the iPad or even the iPhone 6. However, the update shouldn't take more than 10mins.
If you are not comfortable with OTA update, you can download the full firmware from here and then install on your phone. Its also a better choice for those that may want to jailbreak their phone in the future.
Currently there's no jailbreak for iOS 8.1.3
Like our Facebook page and follow us on Twitter for more smartphone news.
-
How To Upgrade Infinix Hot 2 To Android 6.0 Marshmallows
Infinix is not resting in making sure her customers gets the best and latest as far as product design and operating system go. Recently, the French based smartphone company started rolling out Android Marshmallows 6.0 to those using the Infinix Hot 2...
-
Download Jailbreak Tool For Ios 8.4
Apple have released the new iOS 8.4 firmware update which comes with various bug fixes and enhancements but most importantly it comes with the most awaited music streaming app known as the Apple Music. The update is only about 153 MB and can be downloaded...
-
Stay Away From Ios 8.1.1 For This Reason
Apple have released an update to the iOS 8.1 firmware for all iOS 8 capable devices. The latest iOS 8.1.1 firmware according to Apple fixes bugs and makes older devices more snappier during use. This of course is a great thing, however, for those willing...
-
Evad3rs Releases Update For The Cydia Version Of Evasion 7
Evad3rs just released an update of the evasion 7 iOS untethered jailbreak tool to Cydia. The update which brings the Cydia package to version 0.2 seek to put some things in place and to also remove the Taig app store. The update is a version...
-
Download Apple's Ios 6.1.4 For Iphone 5
While we are yet waiting for iOS 7 to drop during the WWDC conference by June 10th, Apple have decided to release a new firmware update. This update iOS 6.1.4 was released few minutes ago and is only compatible for iPhone 5 device. In case you are in...
Nigeria Tech