Nigeria Tech
Stay Away From iOS 8.1.1 For This Reason
Apple have released an update to the iOS 8.1 firmware for all iOS 8 capable devices. The latest iOS 8.1.1 firmware according to Apple fixes bugs and makes older devices more snappier during use.
This of course is a great thing, however, for those willing to keep their jailbreak, there is a drawback when this update is applied as pointed out by seasoned hacker +MuscleNerd
+MuscleNerd earlier today made a tweet warning jailbreakers to stay away from the new iOS 8.1.1 update if they intend to have a jailbroken Apple Device. From the tweet below, the message is clear and concise.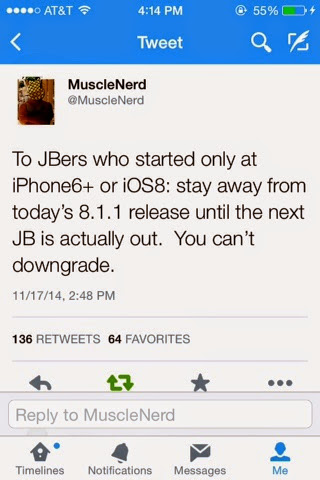 If you are on iOS 8.1 and haven't upgraded to iOS 8.1.1, you can jailbreak your device using the Pangu jailbreak tool in shown in one of our "How To" guides here.
Therefore, if you still to hold on to your jailbroken iPhone, you are advised to stay away from iOS 8.1.1 update. However, if you don't care for a jailbroken iPhone you can go ahead to upgrade your iPhone to the latest iOS 8.1.1 update.
It is usually advised that you upgrade via iTunes instead of OTA updates - something we've too often.
Like our Facebook page and follow us on Twitter for more smartphone news and tutorial
-
Apple Releases Ios 8.1.3
Talk of Apple releasing another iOS 8 update is been circulating for sometime and it has finally materialized today. The iOS 8.1.3 update was released and most peo. e that haven't jailbroken their device can immediately download the update...
-
Upgrading And Jailbreaking Ios 7. 1
Apple have released its latest iteration of the iOS firmware, iOS 7.1, to the public after much testing of the betas. iOS 7.1 have been seen as a more stable and faster firmware than iOS 7.0 and this was in part why it is noticed that iOS 7.1 run more...
-
How To Update To Ios 7 And Jailbreak It Untethered
iOS 7 for all supported Apple devices have been available for sometime now however not everyone has updated their compatible devices to this latest iOS version. This can be partly due to the drastic makeover that iOS 7 brings doing away with the skeuomorphism...
-
Ios 6.1.3 Untethered Jailbreak
iOS 6.1.3 Untethered Jailbreak? well, consider the following. Apple released iOS 6.1.3 to fix minor bugs and also to patch the exploits used by Evasi0n to jailbreak all iDevices running iOS 6. Consequently, many Apple device users who didn't adhere...
-
How To Jailbreak Ios 6.1.3
Apple have released the next update of their iPad, iPod and iPhone operating system to version 6.1.3. Earlier in the March when the betas were out, it was suggested that jailbreakers shouldn't upgrade to this version should it become live because...
Nigeria Tech