Nigeria Tech
Untethered iOS 6 jailbreak
Four months after iOS 6 is released, there's still no public release of untethered jailbreak for idevices except for old bootrom iPhone 3GS.
All other devices with the A4 processor have only tethered jailbreak while newer devices have no jailbreak at all.
However, with recent news from Pod2g and Planetbeing, it thus suggest that an untethered jailbreak will soon be released for even newer devices .
This assumption is as a result of the tweets that were made by these two individuals earlier today.
iOS 6.1 should be dropping anytime soon, therefore, it will be wiser for the untethered jailbreak exploits to be held unto until iOS 6.1 is finally released to know how much changes Apple have made and how it will affect the already achieved progress of these wonderful hackers.
Whichever, its very comforting to know that good progress on untethered jailbreak is being achieved and that very soon a public release of this jailbreak will become available.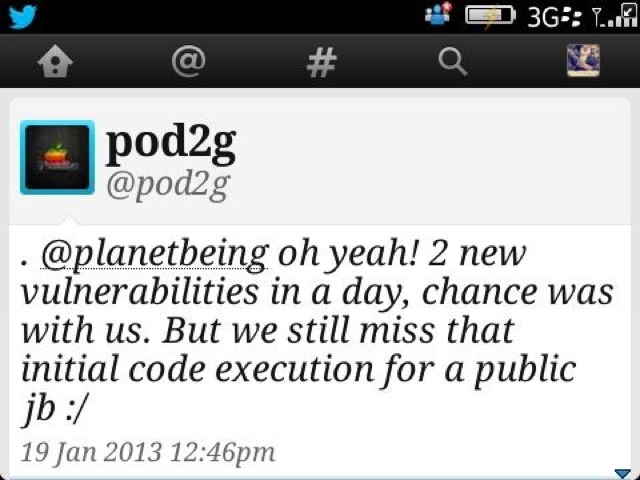 -
Ih8sn0w Confirms Untethered Ios 7.1 Jailbreak
Just recently, @winocm tweeted that he was able to untethered jailbreak his iPhone 4 running Apple's newest iOS 7.1 firmware. In similar fashion, @iH8sn0w announced through hi tweeter account that his iPhone 4S running iOS 7.1 now has untethered jailbreak...
-
Ios 6.1.3 Untethered Jailbreak
iOS 6.1.3 Untethered Jailbreak? well, consider the following. Apple released iOS 6.1.3 to fix minor bugs and also to patch the exploits used by Evasi0n to jailbreak all iDevices running iOS 6. Consequently, many Apple device users who didn't adhere...
-
Apple Patches Evasi0n Untethered Jailbreak Exploit
The usual cat and mouse game between Apple and vast majority of jailbreaker and hackers have started again.Evasi0n was the tool that brought about untethered jailbreak to all iDevices running iOS 6.0 - 6.1.2 for a while and seems as though the cat...
-
Ios 6.0.2 Untethered Jailbreak Now Available On Iphone 5
Popular hacker Planetbeing have brought hope to many with his statement today via reditt saying that he has an untethered iOS 6.0.2 jailbreak running on his iPhone 5. He however insisted that it cannot be released now because of the release of iOS 6.1...
-
Ios 6, 6.0.1 And 6.1 Beta 2 Jailbreak Status For Idevices
Updated: Is there hope for untethered jailbreak for iOS6, 6.0.1, 6.1 beta 2 on even new devices? Maybe, considering the recent tweet by popular hacker: @p0sixninja as depicted in the twitter images below. With the recent release of iOS 6.1 beta 2 to developers,...
Nigeria Tech