Nigeria Tech
iOS 6, 6.0.1 and 6.1 beta 2 Jailbreak Status for iDevices
Updated:
Is there hope for untethered jailbreak for iOS6, 6.0.1, 6.1 beta 2 on even new devices? Maybe, considering the recent tweet by popular hacker: @p0sixninja as depicted in the twitter images below.
With the recent release of iOS 6.1 beta 2 to developers, hackers will have to slow down the pace a little bit so that a more stable jailbreak tool can be released for all devices.
It could be recalled that the same thing happened for iOS 5.0 Hackers had to wait till 5.1.1 for a universal untethered jailbreak tool to be released. Maybe the same will happen in the case of iOS6.1 or 6.1.1.
If, Joshua Hill's research yield fruit and he was able to crack what he's talking about in his tweet below, saying that "...only at least 2 exploits needed to be found in t he bootrom for it to be untethered for life" we may not need to worry anymore as to jailbreaking any iOS version and idevice. Lets keep our fingers crossed for the awesome hackers out there to do their thing.
Many people hold the opinion that a jailbroken iDevice is more powerful than an iDevice that is not jailbroken. The same goes for a rooted android device. For this reason, idevice users usually seek to jailbreak their devices while some others rely on both a jailbreak & unlock to use their devices.
Needless to say, many need to know the status of jailbreak available for iDevices so as not to get stuck. For this reason, i have listed the jailbreak status for the different Apple devices below.
JAILBREAK STATUS FOR IOS6 AND 6.0.1
iPhone 3GS old bootrom
Untethered jailbreak exist using the latest redsn0w 0.9.15b3. The instructions to achieve this can be found here
iPhone 3GS new bootrom
Tethered jailbreak available with redsn0w 0.9.15b3. The instructions to achieve this can be found here
iPhone 4
Tethered jailbreak available with refsn0w 0.9.15b3. The instructions to achieve this can be found here
iPhone 4S
No jailbreak available yet. Only Failbreak*
iPhone 5
No jailbreak available yet. Only failbreak*.
*failbreak means a jailbreak that is not yet stable or available for public use.
iPod touch 4G
Tethered jailbreak available.
iPod touch 5G
No jailbreak available.
iPad 2
No jailbreak available yet.
iPad 3
No jailbreak available yet.
iPad 4 (iPad with retina display)
No jailbreak available yet.
iPad mini
**
No jailbreak available yet.
**I heard that jailbreak had been made illegal on this device in the US.
Is there any hope of an untethered jailbreak in the near future? Well we don't know yet. However @p0sixninja tweeted that he is working on something big as seen in the tweeter image below.
With this tweet, one can say that anything could happen in the near future that will bring smiles to the face of apple fans. Till then, you can refrain from updating to iOS 6 so as the keep the full power you have over your device on iOS 5.1.1.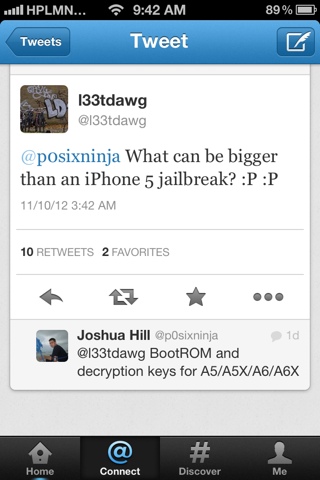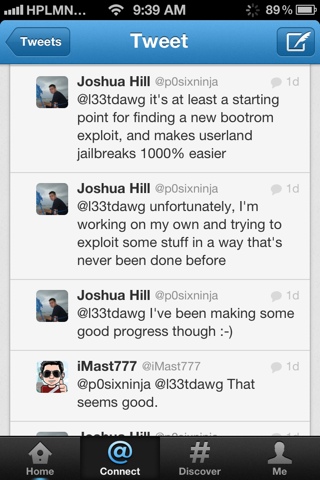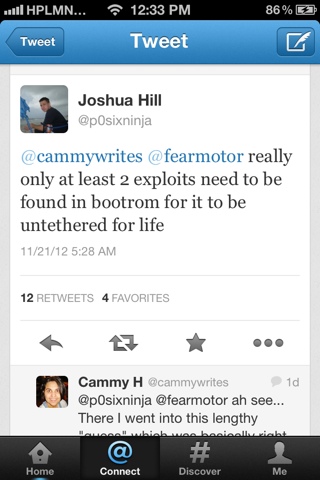 -
Untethered Ios 6.1.3 Jailbreak For Iphone 4 Has Been Found
There's a strong possibility that iOS 6.1.3 will see an untethered jailbreak soon for iPhone 4 as tweeted by a hacker by the Twitter handle @Winocm. Presently, only iPhone 3GS old bootrom can be jailbroken untethered on iOS 6.1.3. iPhone 4 and 3GS...
-
How To Jailbreak Ios 6.1.3
Apple have released the next update of their iPad, iPod and iPhone operating system to version 6.1.3. Earlier in the March when the betas were out, it was suggested that jailbreakers shouldn't upgrade to this version should it become live because...
-
Apple Patches Evasi0n Untethered Jailbreak Exploit
The usual cat and mouse game between Apple and vast majority of jailbreaker and hackers have started again.Evasi0n was the tool that brought about untethered jailbreak to all iDevices running iOS 6.0 - 6.1.2 for a while and seems as though the cat...
-
Beware Of These 5 Fake Jailbreak Tools
One of the most anticipated tool is that tool that is supposed to jailbreak the iOS 6.1 untethered on all Apple devices. Contrary to the popular ones we have always had from Chronic Dev-team, this one is coming from the Evad3rs team and the name of the...
-
Untethered Ios 6 Jailbreak
Four months after iOS 6 is released, there's still no public release of untethered jailbreak for idevices except for old bootrom iPhone 3GS. All other devices with the A4 processor have only tethered jailbreak while newer devices have no jailbreak...
Nigeria Tech