Nigeria Tech
New Tecno R5 Specifications and Features
You know there are times when all major smartphone producers just produce something because they can't afford not to have anything new in the market? Mostly Samsung is guilty of this, the good thing is that, money comes in and that is what counts. Tecno is now following in the footsteps of Samsung with respect to the number of devices released with a period of 3 months
Tecno R5 was released few days after Tecno L7, L6 and M6 were released but it also has its own uniqueness and that is why this posts would be beneficial to those that like the Tecno "R" series smartphones.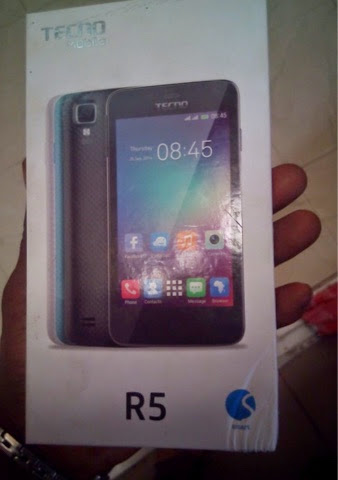 The Tecno R5 is a low end smartphone and targeted towards those that want to enjoy a decent android smartphone without breaking the bank or putting a whole in their pockets. The device which is small but packs almost the same power as the Tecno M6 is very lovable. Below are the specifications.
SIM card and Network
Tecno R5 is a dual SIM/standby smartphone which means that two SIM cards can be used on the device and both SIM card will be active simultaneously. Furthermore it supports 3.75G, 3.5G, 3G and 2G networks.
Operating System
The Tecno R5 comes with Android KitKat 4.4.2 right from the box and it has a cool, flat and clean user interface with makes it pleasant to the eyes.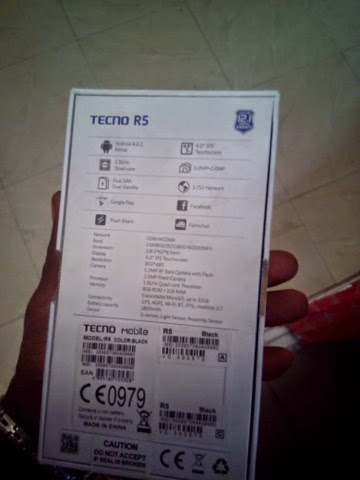 Screen Dimension and Type
The Tecno R5 has a 4.0 inch IPS touchscreen with 16 million colours and a resolution of 800 x 480.
Processor and Memory
The Tecno R5 spots a quad core MediaTek processor clocked at 1.3GHz which is at least enough to keep the device running without issues. You will recall that this is the same processor speed you will find in the Tecno M6 smartphone. Tecno R5 also has a RAM of 1GB which is enough to keep things running especially knowing that it is a low end smartphone
Internal Memory and Memory Card
The device comes with 8GB internal memory and SD card slot that supports up to 32GB memory card. Hence, if you ever feel like the 8GB memory isn't enough, you can always bump up the memory by installing a memory card into the device.
Camera
Tecno R5 has a 5.0 mega pixel back camera which is located at the top-right corner of the phone and the LED flash light located just below the camera.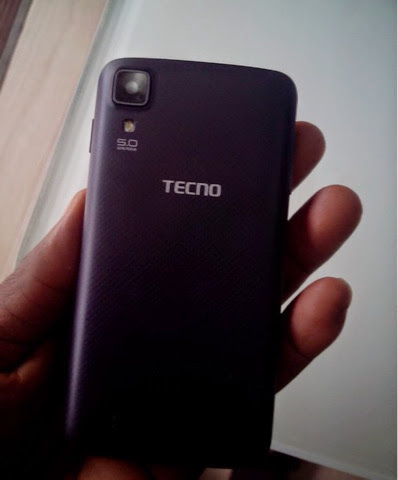 Likewise, the front side of the smartphone has a 2.0 front mega pixel camera attached to it for all your selfies and video calls. The 5.0 back camera is good enough for taking pictures during the day and night time with the help of the flashlight.
It can also record videos, do geo-tagging, face detection and the you can also adjust the image size before taking pictures.
Battery
The Tecno R5 comes with a 1800mAh non removable battery which should last a day of basic use for a period of time.
Sensors and Connectivity
As we all know, the sensor department for Tecno phones have been stagnant for a long time. All you can hope for is proximity, light and gyro sensors and the Tecno R5 is no different in this regard.
However, when it comes to connectivity set, a new addition has been added to the mix. This new addition is called the HotKnot. The HotKnot feature allows you to share files very quickly without the need to pair devices as required by Bluetooth. In fact, the HotKnot is a smaller version of the NFC.
With the HotKnot feature, all you have to do is select the item you want to share and tap the other HotKnot enabled device with your device and immediately you will see the shared item on the recipient device. No pairing of any sort required.
If you are looking for wireless charging which is fast becoming the norm these days; am sorry to burst your bubble. You only get the WiFi, WiFi hotspot, Bluetooth v4.0, 3.5mm earphone port and the new HotKnot 2.0 feature. It also has support for USB OTG, GPS and AGPS.
Miscellaneous
As usual it comes pre-installed with GMail app, calendar, Whatsapp, Opera and some other slew of apps including Facebook and the likes. It also has a FM radio transmitter for those that like listening to radios, flashlight and palmchat app.
Price
Finally, the last time i checked, the price for the Tecno R5 is N16,000 and you can get yours at Divine Anyi Communications, Zeenco Plaza Ikeja, Lagos or call the numbers +2348060791362, +234703110938
Verdict
For the price and the nice neat design, we can say that the Tecno R5 is a pretty good, affordable and OK smartphone.
Although, we believe that the battery power isn't good and also the resolution is not too great hence a score of 6/10 is what we give the Tecno R5 smartphone.
What are your thoughts? Drop it in the comment section of this page.
Like our Facebook page and follow us on Twitter for more smartphone news.
-
Tecno L6 Specifications And Price
Just recently, Tecno released a new smartphone known as Tecno L6. Tecno L6 is not so much as a new phone but an already known phone with similar specifications with other Tecno android phones but just with a different name and model number. You will recall...
-
New Tecno L7 Specifications And Price
Tecno - Mobile have released yet another smartphone that is expected to cater to those that don't want to spend money on a high end smartphone but don't want a low end smartphone neither. Hence, the smartphone Tecno L7 serves just that purpose....
-
Tecno P6 Specifications And Images
Tecno just few days ago released yet a new smartphone to the market to cater for certain folks who probably don't like the Tecno F6. The new set of smartphones are known as Tecno P6 (Phantom A mini) and Tecno H3. However, we will be looking at the...
-
Tecno H5 Smartphone: Our Opinion
Update Tecno Mobile have announced their latest phone called the Tecno H5 with features similar to the Tecno P5 smartphone; hence it's a low end smartphone for those want an Android smartphone without ripping their bank accounts. Personally, we...
-
New Tecno M7 Smartphone Specifications, Features And Price
If you are wondering when Tecno will release yet a new device to the market, then I like to tell you that you should wonder less as there is a new Tecno smartphone in the market now with outstanding features and specs. This one is called Tecno M7 as shown...
Nigeria Tech