Nigeria Tech
Samsung Galaxy S7 - Coming In 5.2 and 5.8-inch.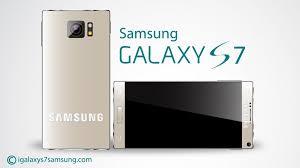 Samsung upcoming Galaxy S7 will be offered in two sizes 5.2 and 5.8-inch according to the latest report.
If the source of this report is to be believed, the standard version of the Samsung Galaxy S7 will come with a 5.2-inch display, but Samsung is also said to launch a 5.8-inch version of the Galaxy S7. Without any doubt, the Samsung Galaxy S6 edge and the Samsung Galaxy S6 edge+ is a proof to this. Because they are identical, but just a slight difference of shape and screen.

The report also notes that the Galaxy S7 will come with a 4K display, but the source does not mention if this will be the resolution of the 5.8-inch display, or for the 5.2-inch version as well. (Guess both would have it then.) Allegedly, the Galaxy S7 will come with 4GB of RAM,

The information provided before by the report is that both Samsung Galaxy S7 versions will be released by the end of 2015. Well, this obviously seems very unlikely, because many sources have it that the 2 smartphones will be released by the end of February 2016.

Read more at PhoneArena
-
Samsung Galaxy S7 Smartphone Specs Revealed
Samsung Galaxy S6 is still very fresh in the minds of the smartphone community but recent leaks and reports suggest that a new Samsung Galaxy S7 is in the works. Samsung Galaxy S7 which was first noticed by GSMArena when the device made its way to Geekbench...
-
Samsung Galaxy J Unveiled Globally
Samsung have recently unveiled Samsung Galaxy J globally. Initially, it was unveiled in selected countries like Japan, Korea etc but now, it was announced globally. Samsung Galaxy J is expected to launch in 2014 in various countries with tentative price...
-
Samsung Annouces Samsung Galaxy J: S4 Now Look Weaker
the smartphone industry is too dynamic! you can't afford to sleep or stay still if you are in the smartphone business else you lose customers. As far as we know, Samsung Galaxy S4 is suppose to be the biggest boy and the most advanced of the Galaxy...
-
Galaxy Gear Smartwatch Specs Revealed
Galaxy Gear Smartwatch is that wrist watch that Samsung is going to reveal alongside Galaxy Note III come September 4th 2013 at the Samsung Unpacked Event. Up until now, we do not know what specs and features to expect from Galaxy Gear but thanks to GigaOM,...
-
Samsung Galaxy S7 Coming In January - Specifications
Samsung Galaxy S7 release date has been Leaked as confirmed by Samsung Electronics, with latest reports suggesting the handset will be formally unveiled in January. Samsung Electronics announced that in January 19, 2016 they will be announcing the next...
Nigeria Tech