Nigeria Tech
Full Samsung Galaxy Note 4 Specs Gets Leaked
Rumors of Samsung Galaxy Note 4 had been in the wild for a while but no actual word on specifications and pricing until now.
An online retailer have released the specifications and tentative price tag of the Samsung Galaxy Note 4.
From the specs which you can see below, it's obvious that Samsung is pushing the boundaries of smartphone displays and RAM size. Also, the spec shown is a huge upgrade to last year Note 3. Although camera spec is missing from the image below, one could guess a 16 mega pixel camera to come with the Galaxy Note 4. We shall allow the spec properties in the image speak for itself.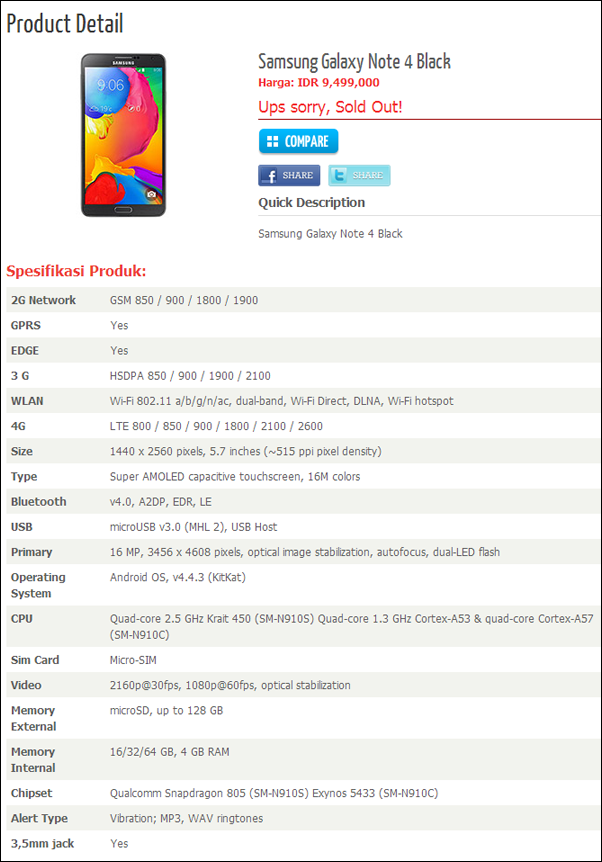 Honestly, it's better owning a Samsung Galaxy Note 4 if power and productivity is important to you than to get galaxy S5 or Galaxy Prime smartphones especially when funds is not a problem.
Due to the large success of Samsung line of Phablets, other competitors like Sony, HTC and even Apple have become are bringing in devices in the Phablet category.
What are your thoughts regarding Samsung and the Note line of products it offers? Drop comments below.
Like our Facebook page and follow us on Twitter for more smartphone news.
-
Samsung Is Dishing Out All These For Free
Samsung is giving out a lot of freebies to customers that would be buying the new Samsung Galaxy Note 4 and Samsung Galaxy Edge smartphones. These freebies are meant to entice and are detailed below. There are four categories of apps and services: Productivity,...
-
Samsung Note 3 Hits 10 Million Sales In 2 Months
Samsung devices are always selling in numbers but the Samsung Galaxy Note 3 has broken records. Samsung Note 3 which was released 2 months ago has sold about 10 million pieces in just its 2 months of release even surpassing that of Galaxy Note 2 which...
-
Samsung Annouces Samsung Galaxy J: S4 Now Look Weaker
the smartphone industry is too dynamic! you can't afford to sleep or stay still if you are in the smartphone business else you lose customers. As far as we know, Samsung Galaxy S4 is suppose to be the biggest boy and the most advanced of the Galaxy...
-
New Press Image Of Samsung Galaxy Tab 3 7.0
New image of Samsung Galaxy tab 3 7.0 in blue have surfaced online. This new image shown below is that of Samsung Galaxy tab 3 7.0 in blue and was leaked by @evleaks who usually show images of unreleased products. Earlier this year, April to be precised,...
-
Samsung Galaxy Note 5 Launched In India - Specifications
Samsung Galaxy Note 5 that was unveiled in August has finally been launched in India. The smartphone is offered in two storage variants: 32GB variant and 64GB variant. The Note 5 will be available in Black Sapphire, Gold Platinum, and Silver Titanium...
Nigeria Tech