Nigeria Tech
Meet The New Infinix Zero Smartphone: Images, Specs and Features
Earlier this year, we told you that Infinix is readying to release a smartphone with true octa (8) processing cores. The processor which is the latest and one of the most advanced processor from MediaTek is now on the Infinix device. Well, information has reached us that the device is now ready and would be available for sale within the next few weeks.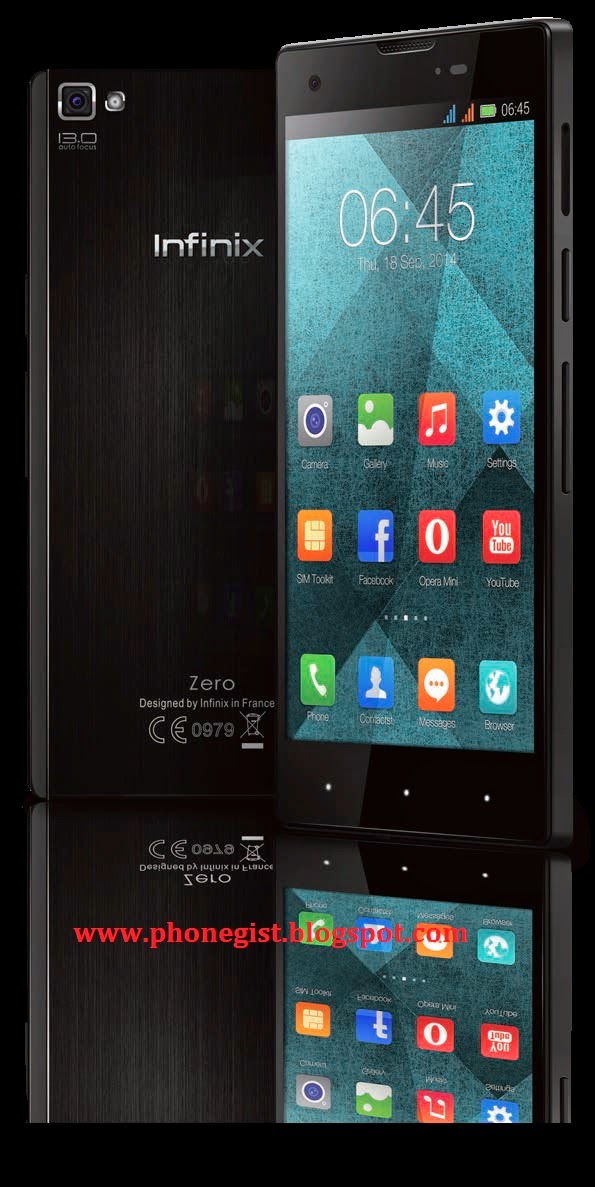 Infinix has named their first smartphone with 8 cores as the Infinix Zero aka Infinix X506. If you have been thinking of getting a smartphone, now is the time to hold on that thought because the specifications and features of the Infinix Zero will definitely appeal to you especially with respect to its price. This phone from Infinix is a game changer. Below is Infinix Zero specifications and features.
Update
There would be 2 variants of the device: one with 16GB internal memory with 2GB RAM and the other with 8GB internal memory with 2GB RAM.
This change in RAM and storage size will also reflect on the price of the Infinix Zero smartphone.
Specification & features of Infinix Zero Smartphone
Bandwidth: GSM: 850/900/1800/1900 MHz, WCDMA: 850/2100 MHz
SIM: Dual Sim card/Dual Standby
Operating System: Android 4.4.2 KitKat
Dimension: 140* 70*7.9 mm
Display: 5.0" IPS HD Capacitive Touchscreen
Resolution: 1280 x 720
Processor: Octa Core 1.4GHZ
GPU: Mali 450
Battery: 1920 mAh
Camera: 13 megapixel camera , AF, BSI with 2 megapixel front facing camera
Internal Memory: 8GB/16GB with SD card slot that supports up to 32GB memory card.
RAM: 1GB/2GB RAM
Flashlight: Yes
Video Recording: Yes
Video Calling: Yes
Sensors: Proximity, Gyro, Hall
Connectivity: Bluetooth 4.0, WiFi (802.11 b/g/n), WiFi Hotspot, USB Port.
OTA Updates: Yes
Colour: Available in White, Black, Gold, Red, Blue, Purple
Price: N30,000
According to the privilege information we've received, the Infinix Zero is due to hit stores by early August this year.
We are definitely very excited that the X506 is coming with a KitKat 4.4.2 right from the box. You don't need to update or do anything like other Android devices.
We don't have hands-on on the device yet but we shall be bringing to you a full performance review on the smartphone once we have the opportunity of having it withing reach.
Like our Facebook page and follow us on Twitter for more smartphone news.
-
Infinix Set To Release New Hot Note Pro Smartphone With These Specs
It is safe to assume that Infinix Hot Note smartphone released earlier this year was a success. One of the specifications that contributed to its widespread acceptance aside from its design and features was its long battery life -- a battery that can...
-
Infinix Hot Is Now Available For Purchase
Infinix HOT smartphone also known as the Infinix X507 is now available for sale exclusively on Konga website. The device which we already covered in an earlier post here and a video review on YouTube here is currently being sold for N12,900...
-
New Infinix X507 (aka Hot) Smartphone Specifications Released
Infinix Mobility is doing well in the smartphone industry in Nigeria and some other parts of the world. The recent Infinix Zero was well received and a success as far as sales in concerned. Well, a new smartphone would be released by Infinix Mobility...
-
Infinix Zero Versus Tecno Phantom Z Smartphone Comparison
Infinix Zero smartphone is a wonderful phone, one that will impress, wow and make a lot of sale. This smartphone which we have had the opportunity to play with for a long time has won our admiration and thumbs-up. Conversely, Tecno Phantom Z is a very desirable phone...
-
Innjoo Note Pro - Specifications, Features And Price In Nigeria
Innjoo, the Dubai based company is running the mobile market in Africa, Asia and other parts of the world with series of Android smartphones from the company. We have already seen the Innjoo Note and Note E . The Innjoo Note Pro is an amazing "step up"...
Nigeria Tech