Nigeria Tech
Infinix HOT Is Now Available For Purchase
Infinix HOT smartphone also known as the Infinix X507 is now available for sale
exclusively
on
Konga website
. The device which we already covered in an earlier post here and a video review on YouTube here is currently being sold for N12,900 including free data and other instant bonuses.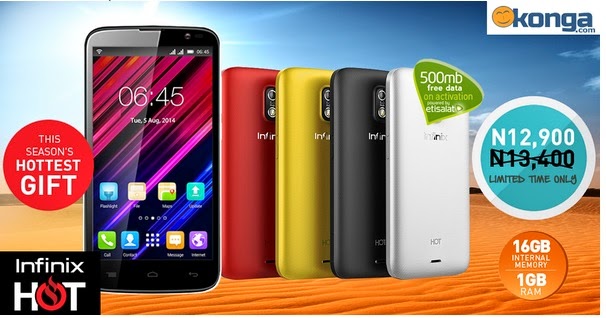 The phone?s release comes just in time for the year-end festivities, providing the perfect gift for loved ones this special season.
The Infinix Hot comes in several amazing colors - silk white, brilliant yellow, radiant red, bright green, charcoal black - complementing different tastes and personalities. Its unique luminous cover stands out at night and is designed to thrill young extroverts who love the nightlife.
With a lower price tag than the Infinix Zero, the Infinix Hot delivers incredible value to its users. It is expected to out-sell the Infinix Zero, which sold an incredible 20,000 units on Konga website within just 3 weeks of its release.
A quick rundown of the specs is listed below for those that haven't had the chance to know the specs.
Infinix Hot X507 Key Features:
16GB internal memory with a SD card slot that supports up to 32GB SD card

Android 4.4.2 Kitkat operating system

5.0 inch IPS with 16 million colors

Quad Core 1.3GHz processor MediaTek

5.0 mega pixel back AF camera with flashlight and a 2.0 mega pixel front facing camera 2000mAh battery power

Colors: Red, Yellow, Black, White and Green with unique texture design.

Popular games such as Asphalt 7 powered by Gameloft.
Other specifications can be found in or detailed hands-on review of the phone via this link.
To buy the infinix HOT smartphone, just navigate to the link here or click on any of the Konga banners on the right of the page.
Like our Facebook page and follow us on Twitter for more smartphone news and helps.
-
Infinix Set To Release New Hot Note Pro Smartphone With These Specs
It is safe to assume that Infinix Hot Note smartphone released earlier this year was a success. One of the specifications that contributed to its widespread acceptance aside from its design and features was its long battery life -- a battery that can...
-
Meet The New Infinix Hot Smartphone In Partnership With Konga (imagesand Price)
Today at the Protea Hotel in Ikeja, Lagos, Nigeria, Infinix took the wraps off the Infinix Hot smartphone, model number X507 in patnership with Konga, the Nigerian online retail store. The smartphone as said by the head of marketing Mr Peter Zhou is...
-
Meet The New Infinix Zero Smartphone: Images, Specs And Features
Earlier this year, we told you that Infinix is readying to release a smartphone with true octa (8) processing cores. The processor which is the latest and one of the most advanced processor from MediaTek is now on the Infinix device. Well, information...
-
Infinix Zero 16gb | X506 | Specs, Features And Price In Ngeria
Infinix Zero has a cutting edge design and a stunning body that makes it easy to hold and explore?.? The body is made of metal and it is wrapped in a very durable and damage resistant body glass casing?.? This makes the phone perfect for your active...
-
Infinix Smartphones - 5 Reasons Why You Need To Buy One
Recently, everybody has been talking about Infinix smartphones in town and a lot of people have bought these amazing phone. Many people have heard about infinix while some people may not have heard about it, either way, some don't know much about...
Nigeria Tech