Nigeria Tech
Line of Apple Fans Ahead of iPhone 6 Release
Whenever the iPhone is to be released it's usually accompanied by a lot of razzmatazz. One of such razzmatazz is that people start queuing to be amongst the first to have the newly released iPhone.
The iPhone 6 is no exception and today we have already seen people gathering and forming a sort of queue in other to be the first to see and have the iPhone 6 at Apple's venue in Sixth Avenue, New York, USA.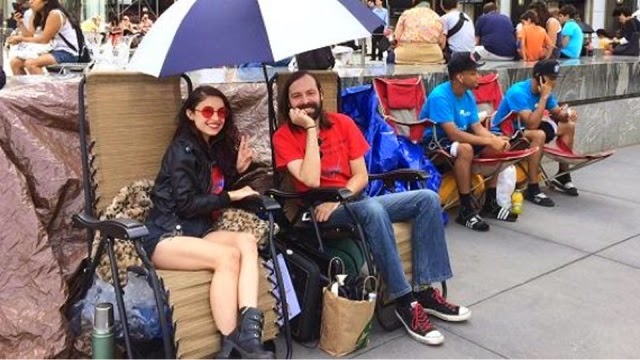 Even though it's 6 days away from the official launch of the iPhone 6 by Apple, it's a normal thing to see fanboys lined up for themselves, companies or news agencies days before the new iPhone launch.
Apple is expected to unveil the iPhone 6 alongside the iOS 8 on September 9th 2014.
We shall be giving you updates on the day of event when Apple officially takes the wraps off iPhone 6 so stay tuned to this blog site.
Like our Facebook page and follow us on Twitter for more smartphone gist.
-
More Detailed Images Of Iphone 6 Surfaces
As we move closer to the unveiling of the iPhone 6 by Apple come September 9th 2014 more clearer and detailed images of the next iPhone 6 are showing up. It's usually normal to see better images of a flagship smartphone leak to the world when...
-
Ios 8 Ready To Be Unveiled Next Week Alongside These Other Products
Apple is set to start it's WWDC 20014 in a week time; June 2nd - 6th to be precise taking place in San Francisco. This year's WWDC will see the unveiling of iOS 8, OS X 10.10 and other products Apple have been working on particularly the Home...
-
9 Million Iphone 5s/5c Sold Within 3 Days
When it comes to new Apple products, massive sales are always recorded during for first week of release of these new products so its usually expected that sales will go above the charts.. However with the launch of iPhone 5S/5C last week, sales didn't...
-
Iphone 5s And 5c Arrival Date
There had been a long break since Apple released a flag ship smartphone but that is about to change in few days when Apple shall unveil iPhone 5S and 5C to the world come September 10th. Well, once its unveiled, it would start shipping as fast as possible. ...
-
Apple Ios 7 Beta 6 And Ios 7 Gold Master Release Date
Apple is progressively developing iOS 7 and with the last release of beta 5, many minor and also important changes have been implemented to give an overall user experience. Apple iOS 7 beta 6 is due to drop on Monday 18th and according to the report...
Nigeria Tech