Nigeria Tech
How To Install a Working Appsync for iOS 8.0 -8.1 on Your Device
Once an Apple device is jailbroken, one of the things done by many folks is to install apps from Cydia store and to also install apps that were not permitted into the Apple Store but found elsewhere aside Cydia e.g Vshare and AppCake.
The thing is, without AppSync installed on your device, none of the apps downloaded from non-Apple Store would work. Another problem is that old versions of AppSync do not work and some are having trouble getting the new version to work.
The guide below will show you on how to install a working AppSync on your Apple device. Its being tested and it worked on all test devices. This tutorial is meant to help you install apps outside the Apple App Store and not to promote piracy.
Requirements
1. A jailbroken apple device on iOS 8.0 - 8.1
2. Internet Connection on your apple device
1. Launch Cydia on your phone and click on Sources at the bottom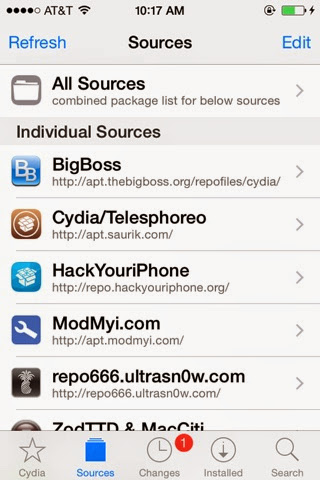 2. Tap on Edit at the top-right orner of the screen and then tap on Add at the top-left corner of the screen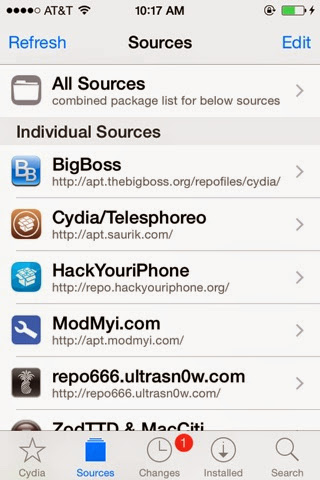 3. when the box appear, type in http://repo.hackyouriphone.org and tap on Add Source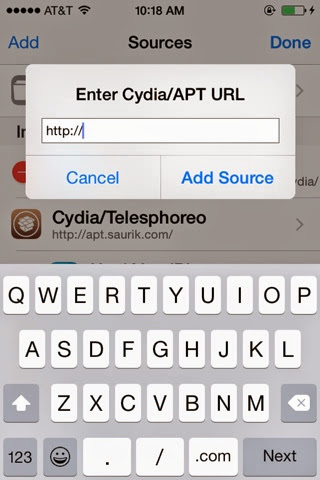 4. Tap Add Anyway when prompted about the integrity of the source
5. After download of source is complete, go to Search at the bottom and then type in AppSync Unified Beta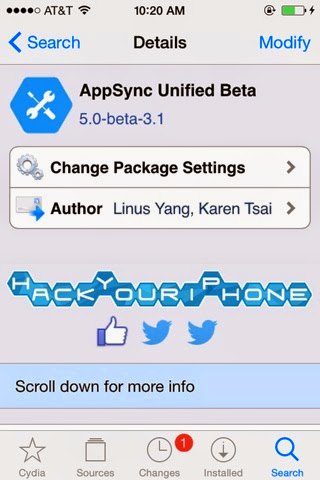 6. Install the package and then reboot your device.
7. Once reboot is complete, try installing any ipa. package downloaded from any store aside App Store to confirm that its working.
Like our Facebook page and follow us on Twitter for more smartphone info.
-
How To Install Appsync For Ios 7
The evad3rs team have released their untethered jailbreak for iOS 7 for about 2 weeks now and already the number of jailroken iDevices can't be less than millions. One of the very immediate reason to jailbreak an Apple device is to install apps for...
-
How To Download Cracked Apps With Appcake And Vshare
AppCake and vShare are little applications that took the place of installous. We know install0us was that application that most people have on their jailbroken Apple devices to allow them install cracked applications. During its time, Install0us did a...
-
Fix "no Service" Problem After Ultrasn0w Update & Evasi0n Jailbreak
Evasi0n untethered jailbreak of iOS 6 is still one of the best things that have happened in the jailbreak scene since iOS 5.1.1 jailbreak.While many have quickly jumped and grabbed on the oppurtunity to untether jailbreak their devices before Apple patches...
-
Alternatives To Installous After Ios6.x Untetherd Jailbreak
Alternatives Apps To Take Installous' Place It's being weeks now since Puy0 dropped the bombshell that his team is shutting down Hackulous and stopping support for the popular Installous app on most jailbroken idevices. While this is a good thing...
-
How To Update Jailbreak And Unlock Ios 6.0.1 Iphone 3gs
Straight to the point. Warning! If you are on new baseband week 36 2010 then don't install iPad baseband 1. Download iOS 6.0.1 and 6.0 for your iPhone 3GS 2. Connect your phone to your PC and fire up iTunes (latest version) 3. Hold down the Shift...
Nigeria Tech