Nigeria Tech
Fix "No Service" Problem After Ultrasn0w Update & Evasi0n Jailbreak
Evasi0n untethered jailbreak of iOS 6 is still one of the best things that have happened in the jailbreak scene since iOS 5.1.1 jailbreak.
While many have quickly jumped and grabbed on the oppurtunity to untether jailbreak their devices before Apple patches again, some have encountered many issues with the jailbroken device.
One is the issue of Cydia shrinking in size while some have the Weather app problem although these abnormalities have been fixed with new release of Evasi0n.
Just today, I tried to untether jailbreak an already Semi-jailbroken iPhone 3GS on iOS 6.0.1 new bootrom, baseband 5.13.04 (downgraded from 06.15.00).
Evasi0n 1.1 noticed that it was jail-broken and advised that I install the untethered jailbreak via Cydia.
I fired up Cydia, allow it to download packages, and then install Evasi0n untethered jailbreak files.
I was asked to upgrade some already installed programs. I Installed other packages including upgrading Ultrasn0w 1.2.7 to 1.2.8. Immediately Ultrasn0w 1.2.7 got upgraded, network bars disappeared and "No Service" was displayed. When you power on your device, Evasi0n will do some work on your device before it boots into the main screen. I was patient and allowed it to complete its untethered jailbreak - and still "No Service"
This network bar issue should only happen when I power on the device without booting tethered.
If you ended up like I described above, this fix should get you back.
Launch Cydia and go to Manage>Packages>Ultrasn0w. Click on Modify and then Remove
Also Remove Ultrasn0w fixer in like manner if you have it installed
Since you can't get Ultrasn0w 1.2.7 anymore from Cydia, you will need to download it manually and Install. To do that, click here to download Ultrasn0w 1.2.7. extract to a folder on your desktop when download complete.
Download iTool or iFunbox or DiskAid. For this tutorial, i am using iTools.
Plug in your device and launch iTools

Click FileSystem at the left side of the screen

at the top of the screen you will see a search bar, type this into it /var/root/Media/Cydia/AutoInstall

A blank page shows up. Click on Upload>file

Now select the Ultrasn0w files you deleted and enter. Both files will show up in the empty space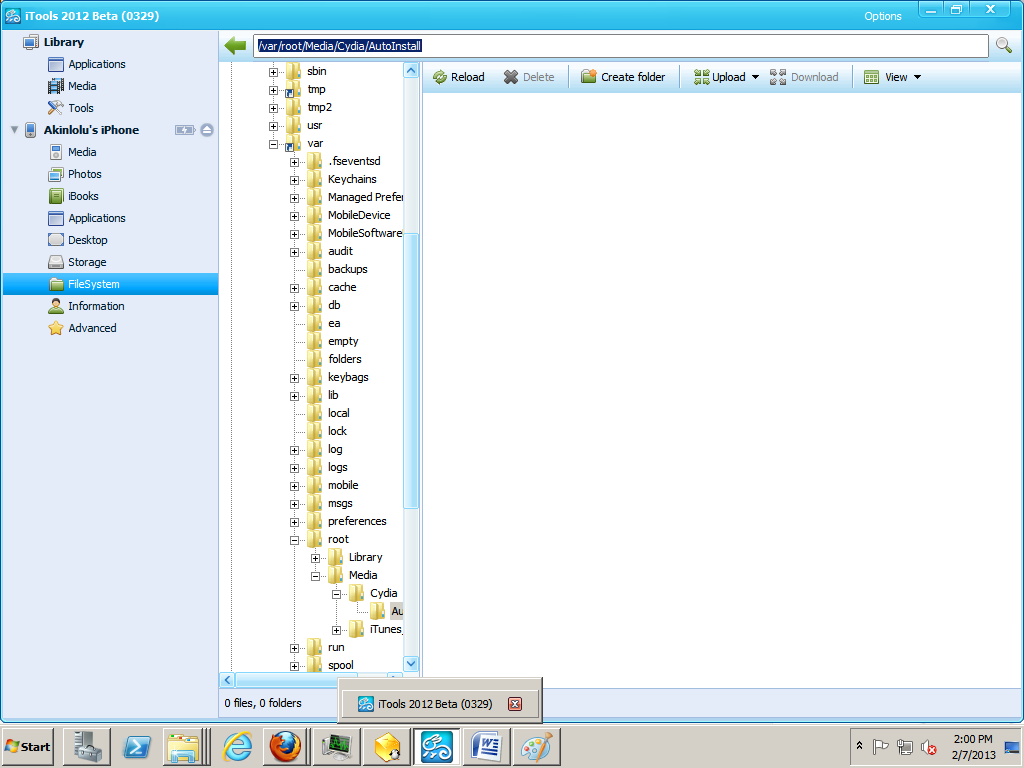 iTools
Switch Off and On your device twice. After that your network bars should be up again.
If not, you can go download Ultrasn0w fixer 6.0.1 if you find it.
I hope you do find this tutorial useful.
-
How To Update To Ios 6.1.3 And Unlock With Gevey Sim
As you all know already, iOS 6.1.3 is the most recent firmware for all iOS 6 compatible devices except for iPhone 5 which has iOS 6.1.4 as the most recent firmware. As of the time of this writing Apple is still signing iOS 6.1.3 and 6.1.4. It...
-
How To Downgrade Iphone 3gs Baseband
For one reason or the other one need to downgrade baseband. As of this writing, iPhone 4/4S/5 can't have their baseband downgraded once upgraded through a stock IPSW restore.However, iPhone 3GS can have its baseband downgraded. Follow these steps...
-
How To Jailbreak Iphone 4s Ios 6.1.1 Untethered
The Evad3rs team have been very sturdy with the way upgrades and releases have been made to their Evasi0n tool.Just recently, Apple seeded iOS 6.1.1 to developers. Although @Musclnerd have warned that iDevices users who love their untethered jailbreak...
-
How To Make Gevey On Ios 6.1 Iphone 4 Work Flawlessly
Updated: I decided to upgrade an iPhone 4 with baseband 04.10.01 running iOS 5.1.1. The device was hacktivated and unlocked using Gevey. After 30 minutes I successfully landed on iOS 6.1 baseband 04.10.01 and still unlocked with Gevey sim. Ultrasn0w...
-
Appsync Now Ios6.1 Compatible And Stable
Since evasi0n jailbreak tool lauinch, it was said not less than 2 million hits have been recorded on Cydia. There are many reasons to jailbreak an iDevice and one of them is to install cracked apps with the help of AppSync. However, AppSync have caused...
Nigeria Tech