Nigeria Tech
How To Fix BBM 10.3 Error On BlackBerry Devices
BBM 10.3 is the latest BBM update for BlackBerry devices which packs many features; however, some users have not been able to use the update to the error its giving as shown in the image below.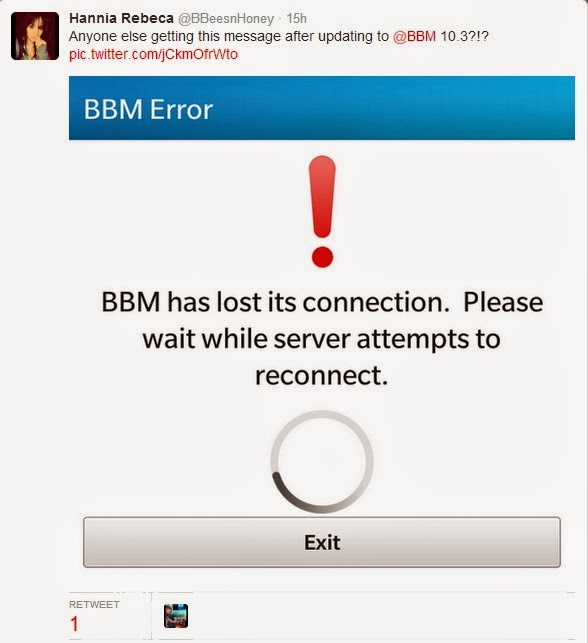 The error is affecting those using BB10 OS below 10.2.1.1925. Consequently, to fix this its just a matter of upgrading the BB10 OS running on y our device.
Download links to get this BB10 OS to fix this error is situated below. Grab it and get on with life.
BlackBerry Z10 STL100-1

BlackBerry Z10 ? STL100-2, 3, 4, 5

BlackBerry Z30

BlackBerry Q10/Q5
Just so you know, the OS links above are for leaked BB10 OS but will update to the 10.2.1.1925 and fix the lingering BBM error issue.
If you encounter any other problem please feel free to drop i t in the comment and we can try resolving it for you.
Like our Facebook page and follow us on Twitter for all your smartphone helps and information.
-
Temple Run Oz Now Available For Blackberry 10 Phones
Good news are always fun to hear and today we give you one more good news for the BlackBerry 10 users out there. Temple Run OZ native BB10 app is now available for Download. Temple Run is one of those games you would enjoy playing during a free...
-
Blackberry 10.2.1 Features And Release Date
BlackBerry is set to release its newest version of the BB 10 operating system version 10.2.1. The BB 10.2.1 is scheduled for release come January 28th 2014. Why is their so much anticipation for this new BB10 update? Find out after the break. BB10...
-
How To Fix Evasi0n7 Configuring System 2/2 Error When Jailbreaking Ios 7
There are all kinds of errors that can happen when jailbreaking iOS but when it comes to using Evasi0n7 tool there's is only one error that have become noticeable during the jailbreak process. This error happens when you begin the process of jailbreaking...
-
How To Solve Error "couldn't Install On Usb Storage Or Sd Card"
Have you ever wanted to install something on your Android device from Google Play Store and found that after downloading the app, it becomes a problem to install to the device. Usually, it would present you with an error like this "Couldn't install...
-
Blackberry 10: Why You Should Buy It
Four days to go for RIM to unveil the new line of Blackberry devices known as Blackberry 10. RIM had been on the design and making of this new line of Blackberry products since last year. A lot of time energy and design have been put into this phone to...
Nigeria Tech