Nigeria Tech
Untethered iOS 6.1.3 Jailbreak For iPhone 4 Has Been Found
There's a strong possibility that iOS 6.1.3 will see an untethered jailbreak soon for iPhone 4 as tweeted by a hacker by the Twitter handle @Winocm.
Presently, only iPhone 3GS old bootrom can be jailbroken untethered on iOS 6.1.3. iPhone 4 and 3GS (New BR) can be jailbroken tethered only while iPhone 4S and 5 can't be jailbroken at all.
However, according to @winocm, he believes that he has found a binary code that can be used to achieve an untethered jailbreak for iPhone 4 on iOS 6.1.3 but "it needs some work". That was the good news which lasted for about 2hrs, then came the bad news.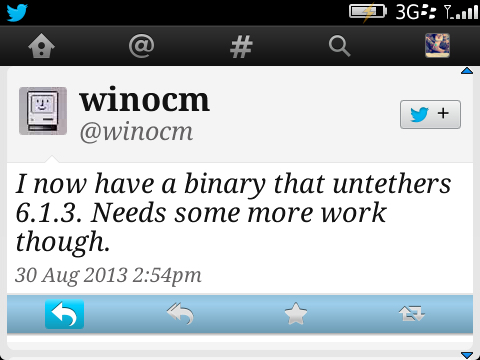 Although he was quick to point out that the code "barely work on the iPhone 4" and thus he's not too sure it would work out. That is just wicked! That was the bad news.
Seriously! Some people's hope were just dashed! Some may come down with a heart attack for they have waited for a news of untethered iOS 6.1.3 jailbreak for their iPhone 4 like forever.
Anyway, seeing how close we are to officially getting iOS 7 on our iPhone 4, 4S, 5, 5S devices, and how more notable hackers are working indefatigably and consistently to release a jailbreak for iOS 7, there should be little cause for worry.
Let's wait on the super heroes, the usual suspects we've always known to bring us a good and working untethered jailbreak for iOS 7 rather than getting our hopes up by news from someone who we barely know.
Like our Facebook page and follow on Twitter to be among the first to know of jailbreak good news.
-
Iphone 5 Running Ios 6.1.4 Has Been Jailbroken
Few weeks left before Apple releases the latest iteration of the iPhone top the world, that is, iPhone 5S and 5C and something interesting just popped up. @Winocm, the hacker and coder who tweeted few days back that he had gotten a way to jailbreak both...
-
Ios 6.1.3 Untethered Jailbreak
iOS 6.1.3 Untethered Jailbreak? well, consider the following. Apple released iOS 6.1.3 to fix minor bugs and also to patch the exploits used by Evasi0n to jailbreak all iDevices running iOS 6. Consequently, many Apple device users who didn't adhere...
-
Untethered Ios 6 Jailbreak
Four months after iOS 6 is released, there's still no public release of untethered jailbreak for idevices except for old bootrom iPhone 3GS. All other devices with the A4 processor have only tethered jailbreak while newer devices have no jailbreak...
-
Ios 6.0.2 Untethered Jailbreak Now Available On Iphone 5
Popular hacker Planetbeing have brought hope to many with his statement today via reditt saying that he has an untethered iOS 6.0.2 jailbreak running on his iPhone 5. He however insisted that it cannot be released now because of the release of iOS 6.1...
-
Ios 6, 6.0.1 And 6.1 Beta 2 Jailbreak Status For Idevices
Updated: Is there hope for untethered jailbreak for iOS6, 6.0.1, 6.1 beta 2 on even new devices? Maybe, considering the recent tweet by popular hacker: @p0sixninja as depicted in the twitter images below. With the recent release of iOS 6.1 beta 2 to developers,...
Nigeria Tech