Nigeria Tech
Samsung is Dishing Out All These For Free
Samsung is giving out a lot of freebies to customers that would be buying the new Samsung Galaxy Note 4 and Samsung Galaxy Edge smartphones. These freebies are meant to entice and are detailed below.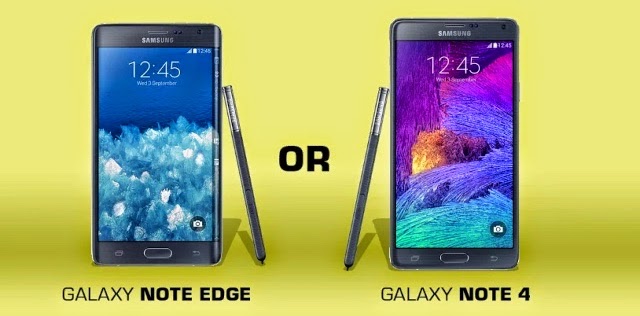 There are four categories of apps and services: Productivity, Entertainment, News and Reading, plus, Lifestyle and others. In the Productivity category you will receive 50 GB of Dropbox storage for 2 years, a full 6-month subscription to Parallels Access which allows you remote access to your 5 favorite desktop apps, a full version of SketchBook, Hancom Office, a 6-month subscription of Pocket Premium, ArtRage and a 6-month subscription to RealPlayer Cloud. Next up is the Entertainment category which will entitle you to a 3-month subscription to OnLive, 100% Games for access to Gameloft games, Diddeo and AmpliTube which unlocks all amps and settings.
Under News and Reading you will receive a 3-month subscription to Audible which allows for listening to books on tape, a 12-week subscription to the NYTimes, 1-year subscription to Bloomberg Businessweek+, a 6-month subscription to The Wall Street Journal and Kindle for Samsung which will give you one free ebook every month. Finally, Lifestyle and others will include a 3-month subscription to Magisto, a designated Samsung PayPal on-line page for exclusive offers, 6-months to Life360, CameraAce, Perfect365, 6-months of Workout Trainer Pro and ?special features? on TripAdvisor for Samsung users, although no features were disclosed.
Please keep in mind that none of these come pre-installed on either phablet device so you will need to secure these gifts by downloading them from Samsung?s own app store. There are quite a few, great, subscriptions included for free, so don?t miss out! Galaxy Note Edge buyers will also be eligible to receive these gifts alongside consumers hoping to grab Samsung?s Galaxy Note 4.
The Galaxy Note 4 has already been released in certain markets but will launch in the US on October 17th with pre-order already in place. The Galaxy Note Edge still does not have a very clear release date for the US, however, Samsung has confirmed a Japanese launch slated for October inching us closer and closer to a US release date.
As usual, we shall be giving you a hands on review of the Samsung Galaxy Note 4.
Like our Facebook page and follow us on Twitter for more smartphone news.
-
Samsung Galaxy S6 Active Specifications And Features Leaked (images)
Rumors from a while ago suggested that there will be a new improved version of the latest Samsung Galaxy S6, seem to be true. About two days ago, first leaked images of the Samsung s6 surfaced online. Based on the images, we can notice that...
-
Samsung Note 3 Hits 10 Million Sales In 2 Months
Samsung devices are always selling in numbers but the Samsung Galaxy Note 3 has broken records. Samsung Note 3 which was released 2 months ago has sold about 10 million pieces in just its 2 months of release even surpassing that of Galaxy Note 2 which...
-
Bbm For Android And Iphone Wrong Assumptions
What we do know is that BBM will become available for Android devices and iPhone come September, in fact it's in matter of days. Sequel to this, many wrong assumptions have been made regarding BBM for Android and iPhone and we are here...
-
Samsung Galaxy Note 10.1 2014 Edition Specs & Features
Samsung is giving its latest Galaxy Note series a stylish and hardware specs makeover with soft, leather-like back. It feels like you're holding a fancy leather-bound journal. The 2014 edition Samsung Galaxy Note 10.1 is a hell of a tablet....
-
Clash Of The Titans: Samsung Note Iii Vs Htc One Max
September this year would be a power struggle among smartphone makers as each of them would try to out do the other in terms of device specifications and sales. Consumers are not left out too as they will have a harder decision to make as to what device...
Nigeria Tech