Nigeria Tech
How To transfer Your game apk + data from Your Android to Another Android Phone
Recently, I felt a strong urge to play Real Racing 3 game on my Android tab instead on my Infinix Alpha android smartphone. The thing is I don't want to download the 809mb size game on my tab 'cause I don't have that time, so I improvised and got it working finally.
Perhaps, you are looking at doing the same thing; may be from phone to phone or phone to tab. Regardless of the convention, there is a very easy way to get it done.
Many ways have been suggested in achieving this. One way is to use Carbon (Helium) App Sync and Backup but there are issues with it and can be very slow. This method is faster.
To achieve your aim, follow the following steps: We shall assume that you are trying to transfer Real Racing 3 to your tablet
1. Download and install Titanium Backup app and install on both devices. You can install on one device and then use Flashshare or myappsharer to transfer the Titanuim apk to your other device. Also transfer RR3 apk to your tab.

2. Now install Titanium, make sure you have Developer mode enabled.

3. Now launch Titanium, click on Backup/Restore and look for Real Racing 3 (RR3) in the app list.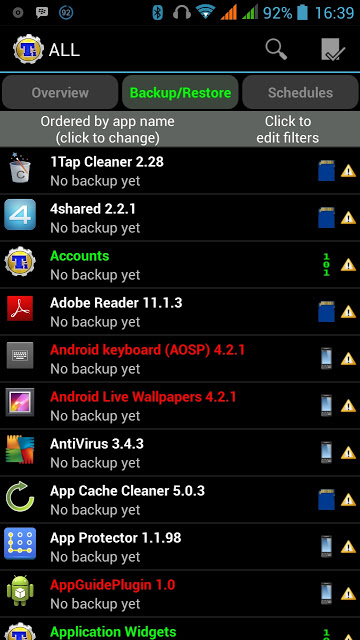 4. Click on RR3 and then select Backup located at the left side as shown in the images below.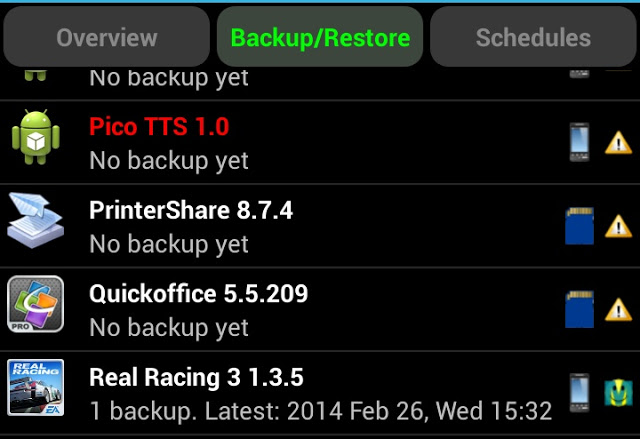 5. Connect your device to computer so that you can access your storage. Navigate to Android/data and look for com.ea.games.r3_row: copy the file to your desktop

6. Navigate to TitaniumBackup folder on your phone storage and copy the 3 files you see there to your desktop.

7. Connect your other Android device the computer and access the storage.

8. Copy the com.ea.games.r3_row to the same Android/data and also copy the TitaniumBackup files too just like it is in the other device to the tab.

9. Disconnect both devices from computer. Install RR3 on your tab but don't launch it.
10. Launch TitaniumBackup on your tab and restore files for RR3.
11. Launch RR3 now and your game will play normally including the files intact.
It is a very easy and useful process especially when you are in no mood to re-download the app to the new device.
Like our Facebook page and follow us on twitter for more smartphone guides.
-
How To Unbrick Infinix X509 Aka Zero 2 After Software Update
There are times we forget that it is forbidden to install updates for Infinix Zero 2 if it is rooted. Well we get a fix for you and it is very easy to unbrick the bricked Infinix Zero 2.What you Need1. Bricked Infinix Zero 22. Good USB cable3. A Windows...
-
How To Root Infinix Zero 2 With One Click
I know a lot of Android users can not do without rooting their devices. One of the reason to root is to have full access to the device settings. The tutorial below will help you root your Infinix Zero 2 aka 509 without any issues. Please before...
-
How To Transfer Your Data From Your Old Smartphone To Samsung Galaxy
Samsung Galaxy S4 is still the best Samsung Galaxy out there and as such shipment is rising by the day. It is not surprising seeing the specifications of the device.Having purchased a new Samsung Galaxy S4, you would need to transfer your data from...
-
How To Transfer Your Iphone Contact To Other Phones
Changing of smartphones is something that happens regularly especially with the rate at which smartphones are released these days. Most smartphones store their contacts on the phone memory, therefore it can become burdensome if one tries to transfer contacts...
-
How To Download Apps And Games On Your Android Smartphone/tablet Via Google Play Store On Pc
Downloading apps and games on our android devices (either smartphones or tablets) is not hard at all, all we normally do is to sign in to play store search for the app or game and start downloading. But, at times we usually get pissed-off when an app...
Nigeria Tech