Nigeria Tech
How To Transfer Your iPhone contact to Other Phones
Changing of smartphones is something that happens regularly especially with the rate at which smartphones are released these days.
Most smartphones store their contacts on the phone memory, therefore it can become burdensome if one tries to transfer contacts from the iPhone to another phone.
Therefore I decided to write a step by step guide in how you can transfer your contacts from iPhone to any other phone.
Requirements:
iTools 2012
iPhone cable
Computer
Steps
1. Download iTools 2012 http://dl.itools.hk/download/itools_win/software/iTools0216E.zip.
2. Install iTools and run it
3. Connect your iPhone to the computer and iTools will detect your phone.
4. Click on "Information" at the left pane of the page
5. Click on export at the top menu bar
(a box with arrow pointing up diagonally)
of the page then select "Export as VCF file" or choose Export to Outlook if you prefer Outlook
6. Choose a place to save it if you are going for VCF file. E.g Desktop
7. After saving to your desired location, you can copy it to the memory of your new phone or bluetooth it or even mail it to your new device
8. Once that's done, open the file in your new phone and all your contacts should display in the contacts folder of your new device.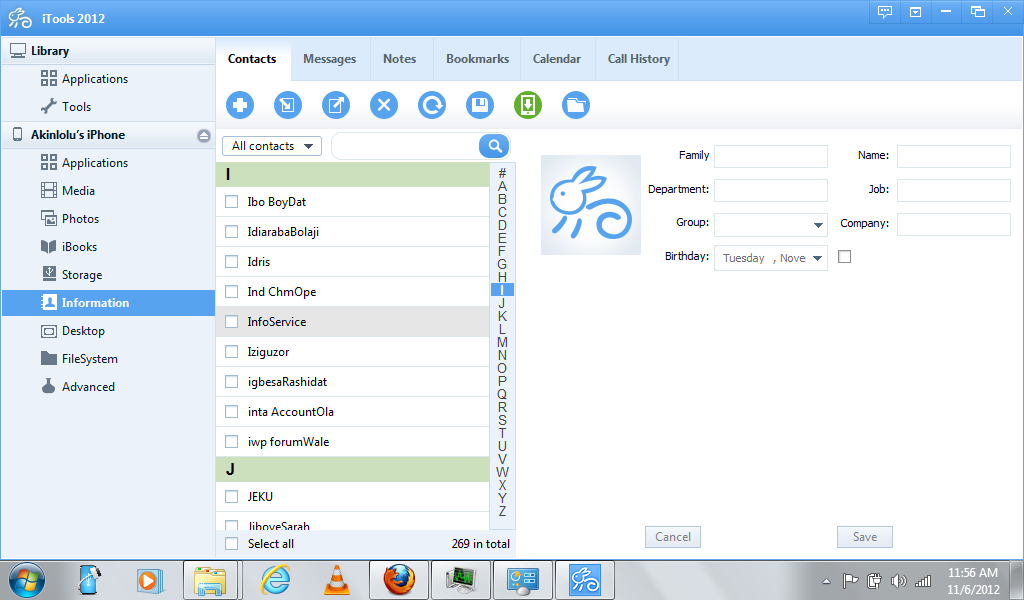 -
Things You Should Do When You Buy A New Smartphone
At one point in time we get to buy a new smartphone, these smartphones are not like the phones we use back in the day when we only receive calls and send text messages. Smartphones do much more and therefore what you do to when purchase a 21 century smartphone...
-
How To Make Gevey On Ios 6.1 Iphone 4 Work Flawlessly
Updated: I decided to upgrade an iPhone 4 with baseband 04.10.01 running iOS 5.1.1. The device was hacktivated and unlocked using Gevey. After 30 minutes I successfully landed on iOS 6.1 baseband 04.10.01 and still unlocked with Gevey sim. Ultrasn0w...
-
Fix "no Service" Problem After Ultrasn0w Update & Evasi0n Jailbreak
Evasi0n untethered jailbreak of iOS 6 is still one of the best things that have happened in the jailbreak scene since iOS 5.1.1 jailbreak.While many have quickly jumped and grabbed on the oppurtunity to untether jailbreak their devices before Apple patches...
-
How To Update Your Blackberry Os Simplified
How to update your blackberry OSOne common task that smartphone owners would always like to do issue updating of new operating system for their devices.Blackberry device owners can update their device by following the step by step guide below. Please...
-
How To Untethered Jailbreak With Redsn0w 0.9.15b2
Just recently the Dev-Team released redsn0w 0.9.15b1 to tether jailbreak pre-A5 devices like iPhone 4 and 3GS running iOS6. However the team released an update to the redsn0w 0.9.15b1 tool to 0.9.15b2. This new updated redsn0w tool is packed with a good...
Nigeria Tech