Nigeria Tech
How To Automatically and Manually Update Your Android Smartphone and Tablet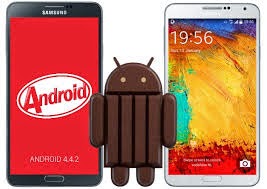 Google, the developer of Android Operating System is bringing out new version time after time. Updating your android device to a newer version will give new features and best performance. Most previous versions are 2.3.3 - 2.3.7 Gingerbread, 4.0.4 - 4.0.4 Ice-cream Sandwich, and 4.1 - 4.3 Jelly bean. The most newer version of android now is the 4.4 Kitkat, but Android L is expected to hit the air soon.
Many android users (both smartphone and tablet) want to update or upgrade their devices to enjoy latest cool and better performance, especially on camera improvement, snapping fast moving scenes, auto-faster focusing and many more.
Most update on android devices should be available Over-the-air (OTA), which some people have surely received on their device. This avoids the need for cables and PC connection. Using the OTA will be determined by your manufacturer and model. Manufacturer for phone such as Samsung Galaxy, HTC, LG....can expect the operating system update. You should check if the update is also available on your phone by going to the settings>about phone or version>software update (this will provide you information if you are using the latest version, or you can update over-the-air)
How To Automatically Update Your Android Smartphone and Tablet
Before you start, it is advisable as a precautionary measure to back-up your contacts, videos, picture etc. Although, the update should not affect them, but "prevention is better than cure".
1. Go to your settings menu on your android device (smartphone and tablet) and scroll down to about phone or tablet (depending on your device).
2. Click on about phone or tablet, and a section will appear.
3. Click on 'software update' or similar button (to know if an update is available for your device)
4. Your phone or tablet will automatically search for an update.
5. If an update is available, select yes to download and the installation will automatically be applied after downloading. (Your device may have to reboot itself during this process)
Note: It is advisable to download the software update over Wi-Fi, beacuse of the large file.
How To Manually Update Your Android Smartphone and Tablet (with ADB sideload)
First Step. You need to download and install the Android SDK.
Second Step. Plug your device to your machine; you can use any Operating System as long as you can install the SDK. Make sure USB Debugging is enabled.
To make sure you have everything set to start, lets test and see if ADB is properly working. Open command prompt.
You should get a serial number followed by a device.
List of devices attached 
01a8uf2804eb20ad device
If you see something like the above then you are on the right boat.
Download Android 4.4.1 (KOT49E)
Nexus 4 (51.9MB)

Nexus 5 (54MB)

Nexus 7 (2013) LTE (52.8MB)

Nexus 7 (2013) WiFi-Only (52.8MB)

Nexus 10 (51.3MB)
Download Android 4.4.2 (KOT49H)
Nexus 5 (1.7MB)

Nexus 4 (1.8MB)

Nexus 10 (1.2MB)

Nexus 7 LTE 2013 (52.8MB)

Nexus 7 WiFi 2013 (1.7MB)

Nexus 7 WiFi 2012 (39.3MB)
Once download is finished, rename it to something like android442.zip.
Third Step. Type
Your device will reboot to the bootloader, use Volume Down button until you reach ?Recovery?, and press the Power button.
Your device will boot to an Android logo with an exclamation mark. Just press Volume Up Button and select Apply update from ADB, press Power button to select it.
Fourth Step. Type
adb sideload 

<

filename or path of android442

.

zip

>
If everything went fine, you should see your update file being transferred and the update will be executed automatically.
Once it?s finished just reboot and you are good to go.
Special Thanks to:
Queiroz.org
For the manual update of your device, I do not guarantee perfect operation (apply the update at your own risk)
-
How To Upgrade Infinix Hot 2 To Android 6.0 Marshmallows
Infinix is not resting in making sure her customers gets the best and latest as far as product design and operating system go. Recently, the French based smartphone company started rolling out Android Marshmallows 6.0 to those using the Infinix Hot 2...
-
Apple Releases Ios 8.1.3
Talk of Apple releasing another iOS 8 update is been circulating for sometime and it has finally materialized today. The iOS 8.1.3 update was released and most peo. e that haven't jailbroken their device can immediately download the update...
-
Blackberry Update 10.2.1 Goes Live, Download Now
BlackBerry 10.2.1 update is now live worldwide for all BlackBerry 10 devices. BlackBerry 10.2.1 is one with the most significant update so far bringing huge number of makeovers, new features and enhancement of existing features. If you are ready...
-
Android Kitkat 4.4 Coming To Nexus 7 And 10 Today
Google's Android KitKat 4.4 is already in the wild for a couple of days now and was shipped with Nexus 5. However, Google just announced that Nexus 7 and Nexus 10 users would get their own KitKat 4.4 upgrade today when the OTA update starts...
-
How To Update Your Blackberry Os Simplified
How to update your blackberry OSOne common task that smartphone owners would always like to do issue updating of new operating system for their devices.Blackberry device owners can update their device by following the step by step guide below. Please...
Nigeria Tech