Nigeria Tech
Configure Your Google Account To Delete Automatically After You Die
We are in a age where information is the other of the day. Exchange of emails is even more rapid than ever. Information stored on all these emails are huge.
Credit card transactions, meeting, social media alerts, etc all have a way of connecting and sendig information to one's email. This is why access to the email is very restricted.
Death is inevitable to all. What happens when the owner of a particular email dies? Information will still continue to be sent to that email account non-stop therefore, Google came up with an idea.
This idea gives you the power to tell your Google account to behave in a certain way when you die.
You can set it to self - destruct if you don't access it in 6 months, 1 year etc.
This affects all of your Google apps, like Google+, Mail, Calender etc
To learn how to activate this feature, click here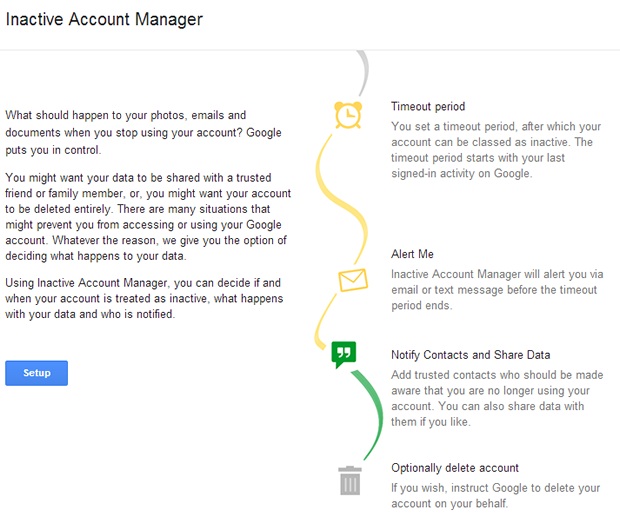 I think it is an excellent and cool feature. Although, I know you all have some questions like, if indeed an account is set to delete automatically, will it still be in Google's archive/server? Can it be re-activated with all data intact?
Well more about this feature will come out. Stay tuned for more news and info
-
How To Unlock Samsung Galaxy Phone With Forgotten Password Or Pattern
Have you ever been locked out of your Samsung Galaxy Phone because you forgot the password or the unlock pattern? Usually this happens if you just bought a new smartphone and you put a password or unlock pattern that is hard to remember forgetting that...
-
How To Stop Google From Using Your Picture In Online Ads
Am sure by now, you may have received a little notification on your email stating that Google has changed its privacy agreements and I believe that not so many people bother reading the long list of information in the page. However, a very interesting...
-
Things You Should Do When You Buy A New Smartphone
At one point in time we get to buy a new smartphone, these smartphones are not like the phones we use back in the day when we only receive calls and send text messages. Smartphones do much more and therefore what you do to when purchase a 21 century smartphone...
-
How To Increase Your Google Account Security
We are in that age and era where cyber crime and account hijacking are on the increase. So many a people have fallen prey to these attacks due to little knowledge on how to securely increase the security of their online accounts.A lot of people...
-
How To Minimise Data Usage On A Smartphone
Using a smartphone is a beautiful thing. You have so many applications installed, most running in the background. The ability for smartphones to multitask compared to other phones gives it the superior edge over other kinds of phones. However, this multitask...
Nigeria Tech