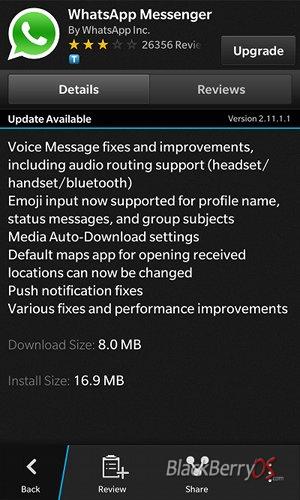 Various updates have been rolled out by Whatsapp over these past few months.
This could be due to the announcement by BlackBerry to make BlackBerry Messenger a cross platform app to run on Android and iOS.
Of course, if BBM goes cross platform, Whatsapp usage will diminish significantly .
In other to stay useful and not lack any feature that the BlackBerry might have, Whatsapp have decided to release various recent updates that would give users better experience and more stability.
The latest Whatsapp update to BlackBerry 10 comes with bugs fixes, enhancements and including the following:
1. Fixes and Improvements to voice message
2. Emoji input support for Messages
3. Default maps app opening when received.
4. Push notifications fixes
5. Media auto download settings
As usual, this update can be downloaded from the BlackBerry World.
Source: BlackBerryOS