Nigeria Tech
Samsung Galaxy S5 With New User Interface Unveiled
Samsung soon to be released flagship smartphone have been in the news for some time now. One of the information we already have is that the device will have a fingerprint scanner just like the iPhone 5S and
will
also feature two different casings; one with a metal casing and the other with aluminium casing.
Aside this, something new has reached us, which is a new redesigned TouchWiz user interface that would be coming with the new Samsung Galaxy S5 smartphone aside with the 551PPI display that is rumoured to be slammed on the device.
The interface which is similar to that seen on the Samsung Galaxy Note Pro tablet (pictured above) will be ported into the Samsung Galaxy S5. This means that the icon set will change and the home screen will be more dynamic to show things that are more relevant to the user something akin to the Windows Phone design.
The screenshots shown below shows that Samsung is more about providing consumers with rapid information that they need more than ever.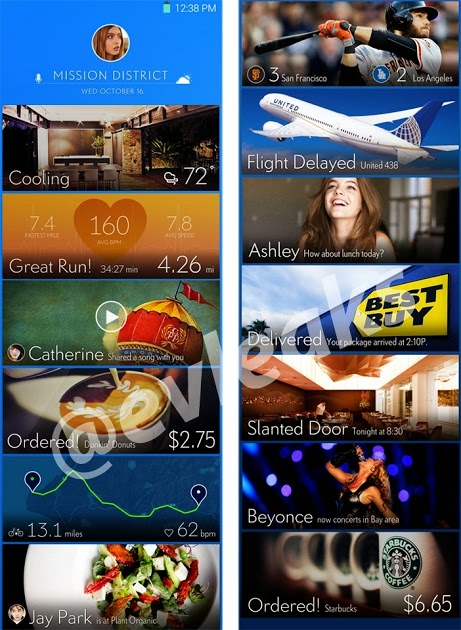 Samsung Galaxy S5 may be released in March 2014, will pack in Android 4.4 KitKat and may come with a 3GB RAM.
We are yet to see all that Samsung Galaxy S5 has to offer but we know that more leakages and information will keep coming out until the day of official unveiling. Till then, be sure to stay with the site to get all the smartphone info you need.
Like our Facebook page and follow us on Twitter for more smartphone news
-
Samsung Galaxy F Series Smartphones Unveiling
Samsung have lifted the veil off the Samsung Galaxy S5 in a less noisy way to the world. Although, the North Korean based company have added good numbers of new features and enhancements to the device, yet, a few number of folks are unsatisfied with the...
-
5 Things To Expect From Samsung Galaxy S5
Samsung Mobile is doing a good job with the "S" series line of smartphones. It is the product that have made Samsung Mobile what it is today. The standard that Samsung created with the S4 needs to be surpassed ever than before in the S5. Based on all...
-
Finally, Samsung Galaxy S5 Spec Sheet Released
Usually, when a new high-end smartphone is about to be released, leaked images of the phone will rapidly pop up. Also, spec and feature sheet is bound to be leaked days to the launch of the product. In the case of Samsung next S series smartphone, Samsung...
-
Samsung Annouces Samsung Galaxy J: S4 Now Look Weaker
the smartphone industry is too dynamic! you can't afford to sleep or stay still if you are in the smartphone business else you lose customers. As far as we know, Samsung Galaxy S4 is suppose to be the biggest boy and the most advanced of the Galaxy...
-
Samsung Galaxy S7 Coming In January - Specifications
Samsung Galaxy S7 release date has been Leaked as confirmed by Samsung Electronics, with latest reports suggesting the handset will be formally unveiled in January. Samsung Electronics announced that in January 19, 2016 they will be announcing the next...
Nigeria Tech