Nigeria Tech
New YouTube Update Supports Multitasking
YouTube recently updated their app for both Android and iOS to versions 5.0 and 2.0 respectively.
This new update brings a new very important feature to the table. This new feature allows one to watch a video and in the process search for another video to watch.
This new multitasking feature is almost like having a split screen, where one screen play the present video being watched and the one below gives you the option to search for playlist or view comments to currently playing video.
Alternatively, you could move the screen of the present video below in one corner and then search for videos at the top part of the screen. At any point, you could move the presently playing video to any part of the screen or make it full screen by turning your device horizontally.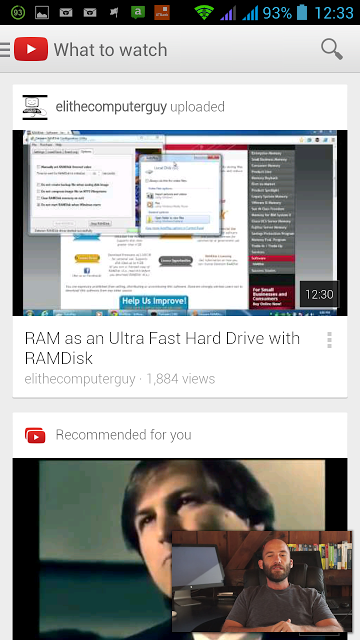 Furthermore, when your search results are returned, you can click on the "play all" button to play all the videos in the search result. Isn't this awesome?
YouTube user experience is getting better for every update released and Android and iOS users are really loving it. However, Windows Phone users won't have this same experience as there is still issues between Google and Microsoft that is making Google block Windows Phone devices from enjoying the latest YouTube experience.
You can download or update your YouTube app from the Google Play Store and Apple App Store as needed by your device.
-
Split Screen Multitasking On Ipad With Ios 8 Announced
iPad is set to receive split screen multitasking feature when loaded with the iOS 8 firmware as announced by Mark Gunman of 9to5Mac. calendar and safari shown in split screen This new feature would make the iPad able to display 2 or more apps on...
-
How To Download Youtube Videos Directly To Your Ios 7 Iphone
One of the great things of having a smartphone is that you want to watch videos, sometimes, you don't want to stream the video online but you want to download and watch at your convenient time. While Android devices have a variety of YouTube video...
-
Youtube Owners Launch Instagram & Vine Rival Called Mixbit
YouTube founders Chad Hurley and Steve Chen today launches MixBit which is like Instagram and Vine. Instagram and Vine have gained considerable popularity as a media sharing platform over time. Instagram is owned by Facebook and Vine by Twitter. ...
-
Google Search App V2.5.0: A Siri Rival,new Improved Search App
So many people using apple devices have been looking to have Siri on their devices; especially those with pre-iPhone 4S. Some have even started saving for iPhone 4s because of Siri. The thing is, there are lots of Siri alternatives out there whether in...
-
How To Use Some Important Features Of Windows 10 And Download
Microsoft Company started in 1981 and since then there have been different OS released by this company. These include Windows 95,98,2003 and most recently Windows 7 and 8. On July 29, 2015 Microsoft announced the release of Windows 10, which is the latest...
Nigeria Tech