Recently, many iPhone users are complaining bitterly about how their iPhone battery run low within a very short period. If, like every single iPhone user in the world, you also find your phone's battery running low sooner than you would like it to, then iOS9 gives you a way to make it last longer. Most of the apps consumes battery like a hungry dog. And it's obvious that facebook takes the lead.
If you want to know which apps or parts of your phone that are eating up your battery, then all you need to do is go to
Settings>Battery
, and wait for the battery information to come up. No doubt, as mentioned earlier you'll probably see that Facebook uses the most battery, even if you're not always on it.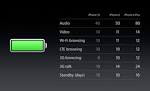 The company's come under fire for the sheer amount of power their app uses up, with tech journalist Federico Viticci saying: "The fact that a company the size of Facebook can't optimise the energy consumption of their iOS app is simply ridiculous." LOL...... Although, the claim is that facebook wants to keep you up to date, so it refreshes in the background a lot, so, you may get notifications in a matter of seconds. However, its autoplaying videos also put a strain on the battery, meaning the app can use up a lot of power even if it hasn't been on your screen that much.
In addition to Facebook, many other apps - such as news apps, weather apps and/or other social media platforms also drain battery a lot.
What Can You Do?
In order to make your battery last longer, you may need to turn Low Power Mode on. Besides this, it turns background app refresh off, meaning the constant updating doesn't eat up your battery or data.
However, by stopping background App Refresh, messaging or mail apps can be delayed. You might not mind missing yet another Facebook notification, but you'll probably want to keep up with your emails and WhatsApp messages.
To tailor which apps refresh, you need to go to
Settings>General>Background App Refresh
. Using the switches, you can choose which apps refresh in the background - so you might possibly want to turn Facebook off, but keep Snapchat and Gmail on, so you won't miss important mails.
The new iOS9 battery features are basically the same as what Android phones have been doing for years. Nonetheless, it's a nice feature, and you'll feel grateful for the few extra hours of battery life the customisation gives you.
Few days ago Google showed us the next version of Android operating system known as the Android L with complete UI (User Interface) overhaul, 3D textual elements and very smooth flow at the Google I/O event. We put together 5 cool things we like about...
Batteries, batteries, batteries, they are very precious in our present age. I remember watching a movie set in the year 2050 where electronic devices don't use batteries anymore, once there is air, it will be powered on and since air is infinite in...
Smartphones and technological gadgets are very important to us in this era and dispensation. Its so important that we can hardly go anywhere without them. However, without batteries, these devices will be just a pile of fancy, expensive junk. Therefore,...
Using a smartphone is a beautiful thing. You have so many applications installed, most running in the background. The ability for smartphones to multitask compared to other phones gives it the superior edge over other kinds of phones. However, this multitask...
Recently, i started writing posts on How to track your smartphones if stolen or lost. I have written on Apple devices and Blackberry devices. So it is time to see what apps are out there for you to enable you track your Android device. There are a huge...