Nigeria Tech
BBM Update App version 1.0.1.108 Fixes Crash On iOS 7.0.3
Update:
BlackBerry have released an update to fix the BBM crash issue encountered on iPhone running iOS 7.0.3 firmware. You can get the download here.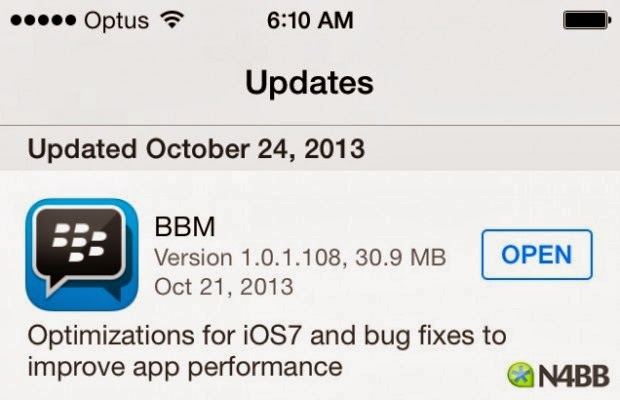 Some reports have been sent out that BBM for iPhone is having a crashing problem and in particular, it affects those running iOS 7.0.3 on their iPhones.
The BBM app crashes as a result of font compatibility issues. One of the fonts used by BBM is no longer supported in iOS 7.0.3 and therefore a crashing happens when such fonts are employed in sending messages
BlackBerry is now aware of the problem and have submitted an update to fix the issue.
However, if you are not ready to wait for BBM update fix, one way to quickly fix this annoying situation is to kill your existing conversation and end all chats. This means you would lose your chat history (if you don't mind).
1. At the Chat section, end chat of all the people you are conversing with
2. Close the BBM app and relaunch again
Once you have done this, the problem will be no more.
And alternate fix is to wait for BlackBerry to release the BBM update that will fix this without having to delete chat history.
Like our Facebook page and Follow on Twitter for latest news on smartphones.
-
How To Fix Bbm 10.3 Error On Blackberry Devices
BBM 10.3 is the latest BBM update for BlackBerry devices which packs many features; however, some users have not been able to use the update to the error its giving as shown in the image below. The error is affecting those using BB10 OS below 10.2.1.1925....
-
Whatsapp Messenger For Blackberry 10 Updated
The popular cross platform Instant social messaging app Whatsapp for BlackBerry 10 just got an update. Various updates have been rolled out by Whatsapp over these past few months. This could be due to the announcement by BlackBerry to make BlackBerry...
-
Blackberry Ceo Says Blackberry Messenger Would Be Available Before Summer End
Mi BlackBerry CEO Thorsten Heins announced that Blackberry messenger for iOS and android would be available before the end of summer this year.  This means that before the end of September there should be BlackBerry Messenger in the Apple app store...
-
How To Jailbreak Ios 6.1.2 Untethered With Evasi0n 1.4
Apple released iOS 6.1.2 last week to fix some lingering issues experienced by iPhone 4S and to a lesser degree other iPhone users. Although battery drain issue due to excessive Microsoft exchange communication between the Microsoft server and iDevice...
-
How To Make Your Blackberry Perform Faster
Its really annoying when a smartphone lags and hangs. One particular smartphone that have such issue is the Blackberry device. I have used an Android device and am currently using an iOS device and non of this phones hangs and lags like the blackberry...
Nigeria Tech