Nigeria Tech
Where To Download Paid Android and iOS Apps For Free
If you have been looking for where to download games, wall papers, etc for free especially those paid ones and you want to test them out before spending your hard earned money on them, then I will list 2 very reliable places you can get all these apps.
The first place is www.pandaapp.com which have been existing for quite sometime now. Its one of those websites that have up to date apps and they are all free to download. You not only get to download Android or iOs apps, you can also download BlackBerry, Windows Phones and Symbian apps.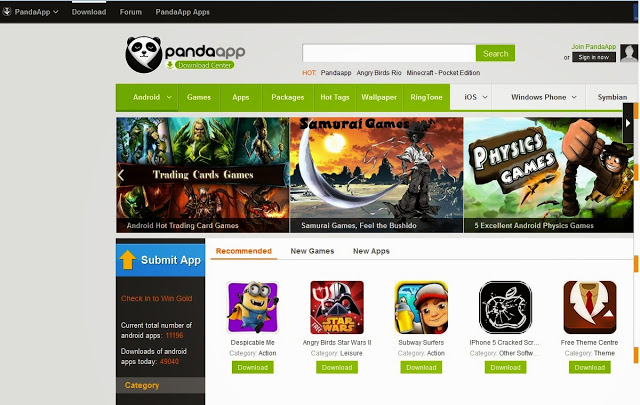 So whether it is games, ringtones or wallpapers for your smartphone, pandaapp will serve you just fine.
The second place which we all know is torrent sites and my favorite one is www.piratebay.sx followed by www.kat.ph
Although torrent sites are blocked in some countries like UK, etc but however, its still the best place to get your downloads especially if you don't have a very fast internet connection. You can download your file at your own pace.
So, next time you feel like downloading an app that catches your fancy, try the links mentioned above.
Like our Facebook page and follow on Twitter for more tech news, info and guides.
-
How To Install Instagram, Fruit Ninja, Temple Run And Candy Crush On Blackberry
BlackBerry 10 latest update 10.2.1 added a lot of new features and enhancements to the BlackBerry 10 devices. Among the new features is the ability to install android apps directly on the phone without issue. So, I have decided to give you tips...
-
How To Download Apk File Directly From Google Play Store
Have you ever wanted to download a file and couldn't because its not available in your country yet or not compatible for your device at that point in time? Google does this because perhaps the developer wants to roll out the app country by country...
-
Cool Apps For Your Android Phone
One of the beauty of owning an Android powered smartphone is the huge amount of applications available for download. Indeed, the power of a smartphone lie in the number of tasks in can perform and also in the amount of apps available to achieve numerous...
-
Win $500 - $10, 000 App Store Gift Card Now
Now is your chance to win a lot of money just by downloading an app from the Apple App Store. Yes you read it right. Apple says App Store download is approaching 50 billion downloads and therefore would be giving out a cool $10, 000 worth of...
-
Alternatives To Installous After Ios6.x Untetherd Jailbreak
Alternatives Apps To Take Installous' Place It's being weeks now since Puy0 dropped the bombshell that his team is shutting down Hackulous and stopping support for the popular Installous app on most jailbroken idevices. While this is a good thing...
Nigeria Tech