The Tecno S7 comes with a 5.0 inch TFT FWVGA display with resolution of 480 * 854 which gives you a pixel density of 195.93PPI. This may not go well for some folks but hey! its a low end smartphone.
Processor and RAM
Tecno S7 comes with a dual core 1.3GHz MediaTek MT6572 processor which runs the software on the device. The area that is really going to piss people off is the area of RAM.
It is believed that Tecno shouldn't be doing any 512MB RAM smartphone as of 2014. Alas, Tecno S7 comes with 512MB of RAM.
This is not the only Chinese company with a RAM of 512mb. Others like Gionee P3 and some Micromax devices comes with 512MB. However, to be above these upcoming devices trying to take market share from Tecno in Nigeria, it would have been better if all their low end device now come shipped with 1GB RAM and their high end device comes with 2GB RAM minimum. That is what competition is all about.
Operating System and Memory
Tecno S7 comes with Android Jelly Bean 4.2.2 which is near the stock Android version. As it stands, we still don't know when Tecno will step up their game and start bringing devices with at least 4.3 Android Jelly Bean.
As far as memory goes, the internal memory of the S7 is 4GB while a memory expansion slot already carrying 8GB SD Card is provided in the device. The memory card can be expanded to 32GB if you please.
Camera
Tecno S7 comes with 5.0MP AF back camera with flash while the front camera comes with 1.3MP camera.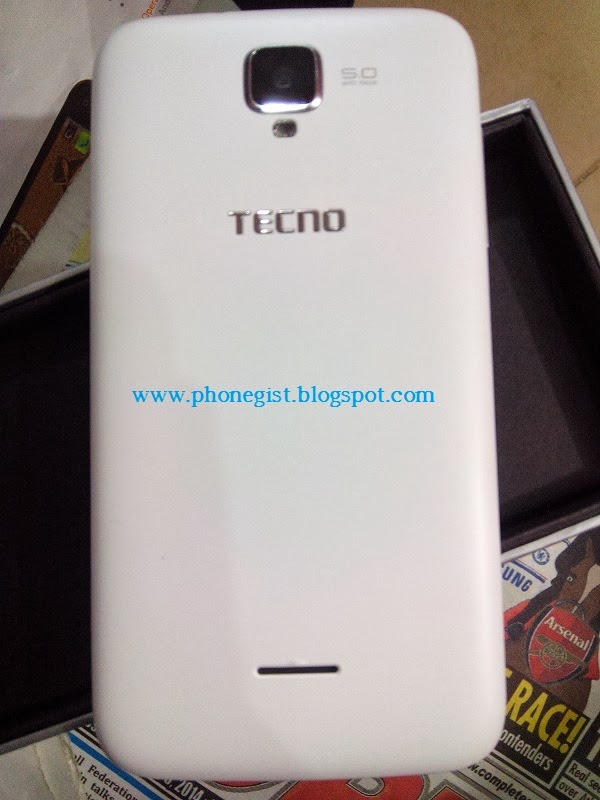 Connectivity and Battery
The usual suspects when it comes to connectivity are GPS, WiFi, Bluetooth, 3.5mm Earphone and that is what you would find on the Tecno S7.
Battery powering the S7 is a Li-ion battery with power 2000mAh with 3.7V emanating from the device at any point in time.
According to Tecno, talk time on the device stands at 6.5hrs with 200hrs of standby time. Daily and real life usage will test the dependability of the battery.
Sensors, Messaging and SNS
With sensors, we were not really expecting anything grand aside what we were already used to. The Tecno S7 comes with Gyro, Light and Proximity sensors.
For messaging and SNS, Gmail, Palmchat and Facebook are pre-installed on the device. Also, Twitter, Operamini, Whatsapp and other apps come bundled with the smartphone. BBM isn't preinstalled so you would have to download that by yourself.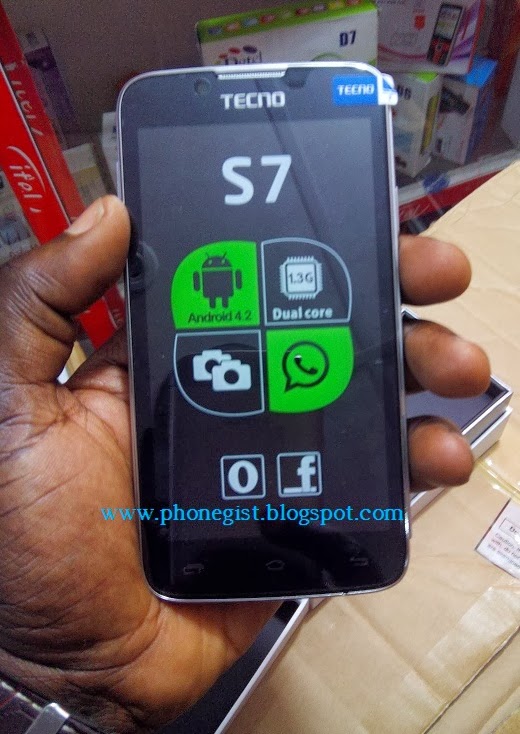 Other apps in stored on the phone but not installed include Camera360, Power Saving, Quick Office, Holy Bile, Quran, Angry Birds, Moboplayer, Fruit Ninja Free, Google+, Light Wallpaper, English-Dictionary, Espn Score Centre, Yahoo Messenger, Twitter, UC Browser, CamCard, Peacefmonline, Adobe Flashplayer, VIBER, Shazam, Linkedin, 2go, Spinlet, Skynews /Yahoo News,Instagram
The price for this Tecno S7 is N23,000 from Divine Anyi Communications, Zenco Plaza computer village, Ikeja, Lagos.
Other stores don't have it yet and the one we saw that now have it is selling for N24,000. Consequently, if you are thinking of getting this device, you should go to the store with the cheaper price. You can call this number 08060791362 to get yours.
Is the Tecno S7 a good phone looking at the specifications? You should be the judge of that. Drop your thoughts in the comment section.
Like our Facebook page and follow us Twitter for more smartphone information and downloads.