Nigeria Tech
Hurry Infinix Alpha Buy and Win Promo
Infinix Alpha is the latest iteration of the Infinix smartphone product line. The Infinix Alpha is a 5.7" smartphone with quad core 1.2GHz processor and 1GB RAM pulling some weight lately. For a better review of the device, you can see a post on the Cons and Pros of Infinix Alpha. You can also see a video review here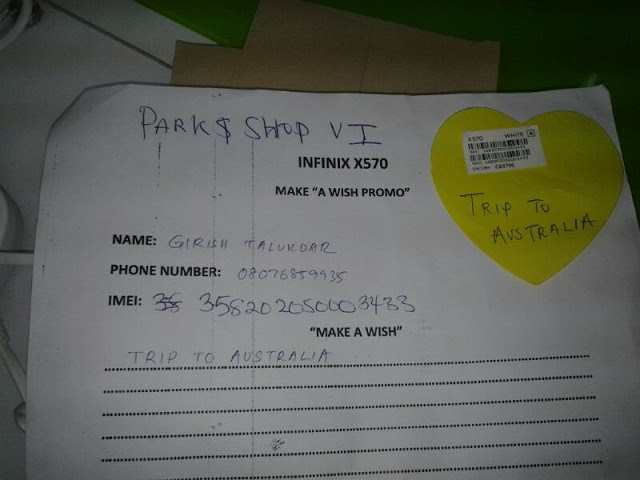 A promo is going on now in which when you buy any infinix Alpha device aka Ultimate Force or Infinix X570, you get to wish what you want on a paper. Its almost like Infinix is giving you a blank cheque and telling you to state what you want to withdraw.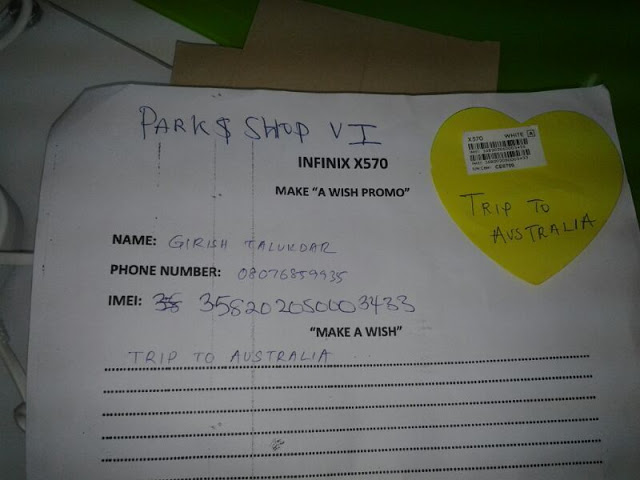 Stores that are participating in this promo are Slot Ikeja, Lagos, Park N Shop, VI and some other selected stores.
All you need to is purchase an Infinix X570 (Infinx Alpha) smartphone which is around N45k- 46k depending on the store and then fill in your wish as shown in the images below by those already involved.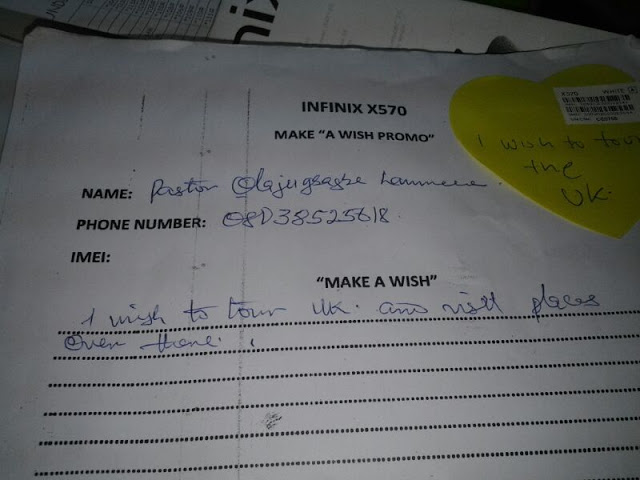 This promo runs till October, grab it now, who knows, you might be a winner when the draws are made.
Like our Facebook page and follow on Twitter to get informed on BBM when it drops for Android devices and iPhones
-
Infinix Alpha 8 And Q2 Specs Unveiled
Infinix is set to launch two new smartphone by the beginning of the second quarter of this year. The devices are called the Infinix Alpha 8 and Q2. According to sources, the device will pack in an octa - core processor clocked at 1.5GHz. The Alpha...
-
Infinix Alpha Marvel (x502) Detailed Hands - On Review
We have spoken about the Infinix Alpha Marvel smartphone recently and now its officially available for purchase. its expected features were talked about which were not far at all from the real thing. Today, we had an opportunity to lay our hands...
-
Infinix Alpha Marvel Available For Purchase
The long awaited Infinix Alpha Marvel smartphone that was hinted of by me few weeks back would be available for purchase in Nigeria from next week. A quick background information in case you are wondering what's up with the smartphone. ...
-
How To Root Infinix Alpha Aka X570 Sharply
Infinix Alpha also known as Infinix X570 is the latest Infinix product in the block, you can see a Video review here. Its a 5.7" screen phablet with stunning colourful display. Like almost every Android person I know, ability to root and...
-
Infinix Alpha Ultimate Force Smartphone: Pros And Cons
Okay, we know Infinix is really gearing up now and are working tirelessly to bring nice smartphones to its loyal customers especially in Nigeria. That being said, a new Infinix smartphone is now with the name Infinix Alpha or X570 which comes right after...
Nigeria Tech