Nigeria Tech
How BBM Helped Rescue A Little lost Girl
It is well known that bad news travel faster than any other news, but we also know that news of missing persons travel even faster when sent through social media especially through BlackBerry Messenger Broadcast channel.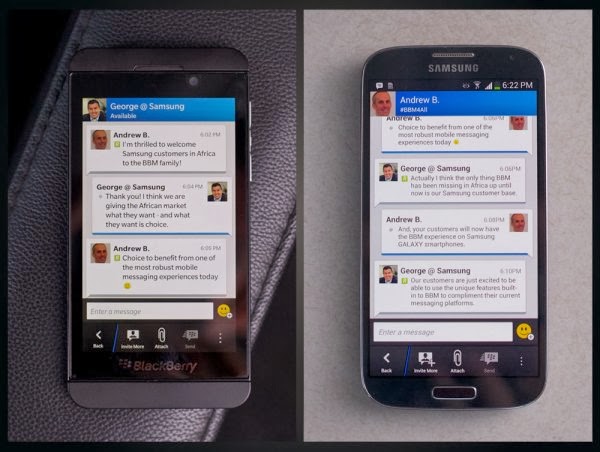 The story is that of a little girl called Alma who went missing in Jakarta when she went to the National Monument Park in Central Jakarta along with her parents and aunt.
Apparently, the aunt allowed Alma to wonder off on her own which result in the 7 year old girl not able to find her way back in the crowded central Jakarta park.
Alma went missing for four days but was found by Aja Suharja, a business man who rents bicycle. Suharja could locate the little girl's family so he took her home with his family for four days. The police said that Suharja didn't realise that it was most best to contact the police and notify them of a missing persons.
When Roy, Alma's father couldn't find his daugther, he quickly turned to social media and changed his Facebook profile to his daughter, and wrote, "My daughter is missing, please help me find her".
Another woman by the name Dwiska Kartinia, who said she saw Alma by the park 5 days before playing with a bycicle from Suharja but didn't know she was declared missing until a BlackBerry broadcast got to her through BBM.
Fortunately, she knew Suharja and quickly took the girl to the police station and Alma was eventually re-united with her family.
Who says those BlackBerry Messenger Broadcast don't have their usefulness? Hell, some people have gotten jobs through it.
So on a lighter note, next time you see a BBM broadcast, especially from me, give it some attention. you could a nice gift.
Like our Facebook page and follow us on Twitter for more smartphone gist
-
No One Knew Apple Watch Would Be This Cool
Up until now, the reaction to smart watches released by the likes of Samsung, Google, Sony and even Pebble had been met with a lot of dissatisfaction; like there was something missing with the various types that were released by this tech giants. But...
-
Whatsapp Messenger For Blackberry 10 Updated
The popular cross platform Instant social messaging app Whatsapp for BlackBerry 10 just got an update. Various updates have been rolled out by Whatsapp over these past few months. This could be due to the announcement by BlackBerry to make BlackBerry...
-
Skype Celebrates 100m Skype Installation With New Skype Update
Skype installation on android devices have passed the 100 million mark.Skype have seen its share of success since it debut on smartphones and yesterday that growth becomes evident even on the Android platform as 100 million Android devices have...
-
Blackberry Ceo Says Blackberry Messenger Would Be Available Before Summer End
Mi BlackBerry CEO Thorsten Heins announced that Blackberry messenger for iOS and android would be available before the end of summer this year.  This means that before the end of September there should be BlackBerry Messenger in the Apple app store...
-
Apps To Track Your Android Devices When Stolen
Recently, i started writing posts on How to track your smartphones if stolen or lost. I have written on Apple devices and Blackberry devices. So it is time to see what apps are out there for you to enable you track your Android device. There are a huge...
Nigeria Tech