Nigeria Tech
Bluetooth Powered Smart Shoe Unveiled
We are in a world of smart-everything. Smartphone, smart watch, smart car, smart TV, smart glass etc but now a new company based in India is introducing the smart shoe.
The purpose of the smart shoe according to the Indian based company, Lechal, is to track movement and also to give directions without depending on your smartphone. Hence, you don't have to hit an obstacle or pass a traffic light because you are trying to read the map on your smartphone - keeping your eye off the road.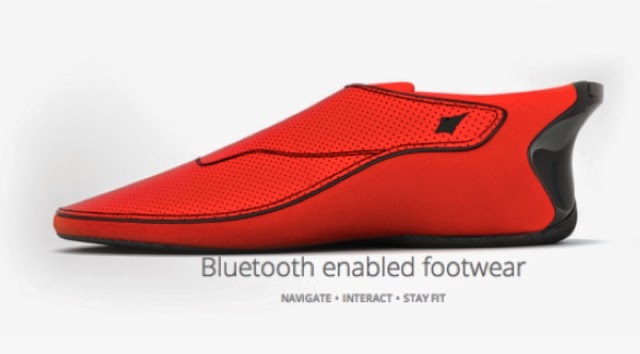 Unlike the smart watch which stays on your wrist and connected to your smartphone all the time, the smart shoe want to do away with connecting to your smartphone all the time.
To achieve this, the smart shoe can be paired with the smartphone and then directions or maps for the intended destination can be pre-programmed into the shoe. Once this is done, smart shoe can be disconnected from phone and then the shoe can give directions offline.
To give directions, Lechal says that if one is to turn right, the right foot will slightly vibrate and if one is to turn left, the left foot will vibrate slightly. When you arrive at destination, both feet will vibrate twice.
Other actions that can be performed by this smart shoe is count number of steps taken to a place and track accurate location.
Although from the commercial, it looks like the company has a dedicated smart show and a foot mat (insoles) that can be purchased solely and then placed inside a regular shoe.
This smart shoe is expected to be available in September and will be in the same price range as other fitness and tracking smart devices.
What do you think about this? What is the next smart thing that can be invented? A smart spermertozoa? Drop your comments.
Like our Facebook page and follow us on Twitter for more smartphone news.
-
Google New Smart Contact Lens Unveiled
We are now in the age of wearable computers, we knew we were coming there since the development of Google Glass and smart watches but now wearable gadgets is going gaga. Just recently, Google unveiled her plan to design a smart contact lens as if the...
-
Intel Unveils A Sd Card Sized Computer
CES 2014 so far as been exciting with all these technologies companies unveiling things that are very outstanding and cutting edge. Among all the things unveiled is one that caught the attention of everyone, the Intel Edison - a computer you can hold...
-
Hands On Review Of Galaxy Note 3 + Galaxy Gear Smartwatch
Samsung unpack event which started on the 4th of September was really great as it shows us what the guys at Samsung have been up to all this time. The high point of the event was the unveiling of Samsung 's galaxy note 3 and Samsung galaxy Gear...
-
Samsung Galaxy Gear Smartwatch Unveiling
At a time, technology focus was on cars, later on Screens, Computers and software and hardware. Now, technology focus have shifted towards phones; producing phones that are very powerful and making life easier. However, there's a new focus...
-
Ubuntu Os For Smartphones
Smartphone business is a serious business now, more serious than when it first began. However, a more serious business is the OS that runs on these smart devices. From Android, Windows Phones OS to iOS, there had been a steady release to how these OS...
Nigeria Tech